Two more aprons to come up at airport, for a total of eight
Mangalore Today News Network
Mangaluru, June 18,2016:Expanding infrastructure at the Mangaluru International Airport as passenger traffic is also going up, the Airports Authority of India (AAI) has begun constructing two more aprons (parking slots for aircraft) in addition to the existing six.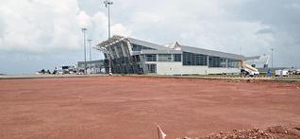 With this, the airport would have eight aprons by this year-end as the work on the additional ones are expected to be completed by December 2016. More number of aprons would help the airport handle more flights at a time.

Director of the airport J.T. Radhakrishna told The Hindu that the aprons were being built at an estimated cost of Rs. 4 crore.

The director said that once the additional aprons were ready, two of the existing six aprons would be modified for installing two more aerobridges in addition to the existing two aerobridges.

Then, of the eight aprons in the airport, four would have aerobridge facility. The two additional aerobridges coming up at about Rs. 8 crore are expected to be ready after a year.

An aerobridge connects an aircraft directly to the terminal building with no need for passengers to alight to the parking ground.

Mr. Radhakrishna said that larger planes such as Airbus 320 and Boeing 737 could make use of the four aprons with aerobridge facility. As ATR type of planes cannot use aerobridges, four more parking stands would be available for such flights.

Passenger traffic

Now, the airport handles 350 flight operations a week, including arrivals and departures.

The total passenger traffic witnessed a 28.1 per cent rise in one year, from 13.07 lakh in 2014-15 to 16.74 lakh in 2015-16. Domestic passenger traffic went up by 21.5 per cent, from 8.29 lakh to 10.7 lakh during the same period. International passenger traffic went up by 39.67 per cent, from 4.78 lakh to 6.67 lakh during the same period.

Mr. Radhakrishna said that in the current financial year the total passenger traffic at the airport is expected to go up further by 15 per cent. The passenger amenities at the terminal building have been increased.He said that now the airport handles about 275 tonnes of domestic cargo a month.
Courtesy: The Hindu

Write Comment
|

E-Mail
|
Facebook
|

Twitter
|

Print