Truckers begin nationwide indefinite strike today to bring down fuel prices
Mangalore Today News Network
Namakkal, Jun 18, 2018 : Even as the All India Motor Transport Congress (AIMTC) has decided against taking part in the nationwide indefinite strike that begins on Monday, the All India Confederation of Goods Vehicle Owners' Association (AICGVO) is determined to go on with the transport strike.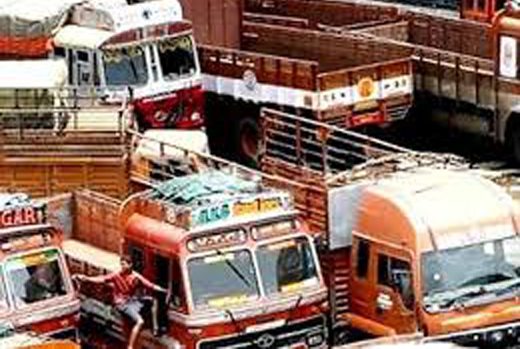 According to the association, over 50 lakh vehicles will be off the road from Monday, demanding to bring down the spiralling fuel price immediately.

The Insurance Regulatory and Development Authority of India (IRDAI) has revised the third party liability insurance for the year 2018-2019 by up to 30 per cent. The basic methodology adopted for calculation of the proposed premium rates is dependent on the accident costs of the previous years and the age factor of different category of vehicles. The proposed new rates were hiked by 18, 19 and 30 per cent over the existing premium rates.

This has upset the lorry operators who say they are already suffering owing to escalating diesel price, increase in cost of tyres and spare parts, vehicle maintenance, interest on vehicle loans and road tax among others. Under these circumstances, the AICGVO issued strike notice on April 23, urging the government to check the mounting fuel price and is resorting to indefinite stir accordingly.

The AITMC, however, has differed and decided to go on strike from July 20. This has created confusion among the truckers and also the public.

R Sugumar, President of Tamil Nadu Lorry Owners' Federation (TNLOF) said though the Centre, called them for peace talks, they demanded to form a committee with representatives from oil companies, NHAI, transport ministry and associations.

'15 per cent of trucks already off the road'

CHENNAI: Prices of vegetables and fruits at the Koyambedu market here and other northern parts of Tamil Nadu are likely to go up in the coming days. R Sukumar claimed, "The lorry transportation industry is already in a deep crisis in the last few years after thousands of small and medium-scale business units closed across the State. About 15 per cent of trucks are already off the road.

With this, if fuel prices increase everyday, we are unable to fix the vehicle rent," he explained. When fuel prices increase on a daily basis, truckers have to bear the additional burden. They are not getting compensated by the clients.

In addition, truckers are subjected to road cess and GST as well.

"Insurance companies have increased the third party insurance premium from Rs 41,000 to Rs 43,000 a year for a truck, for which GST has increased from 12 to 18 per cent. While we already pay Dfour for every one km as toll charges, cess is also collected from truckers," he said.

The government should constitute a high-level committee comprising officials from transport, petroleum ministry, NHAI and insurance companies to look into the truckers' demands, he said. The other trade union, All India Motor Transport Congress, had announced it will begin the strike on July 18.


courtesy:NIE

Write Comment
|

E-Mail
|
Facebook
|

Twitter
|

Print