Tri lingo poetry flows to thrill literary gathering, Kavita trust memorial evening, July 30
Mangalore Today News Network
Mangaluru, July 31,2017: In a thrilling tri-lingual (Konkani, Kannda, Tulu) poetry evening July 30, Sunday, the Maurice and Benedicta D'Souza Memorial Multi-lingual Poetry Session organised by Kavita Trust in association with the Kannada and culture department, at Rohan Corporation, Balmatta; under the baton of Dr M Prabhakar Joshi, well-known poet, teacher, writer, and Yakshagana artiste. Literary connoisseurs and admirers of Kanara were spell bound. Central Sahitya Akademi awardee Konkani poet and president of Kavita Trust Melvyn Rodrigues, Kavita Trust trustees Kishore Gonsalves, Averyl Rodrigues and William Pais welcomed the guests and the poets with flowers while Titus Noronha took the evening through it's course.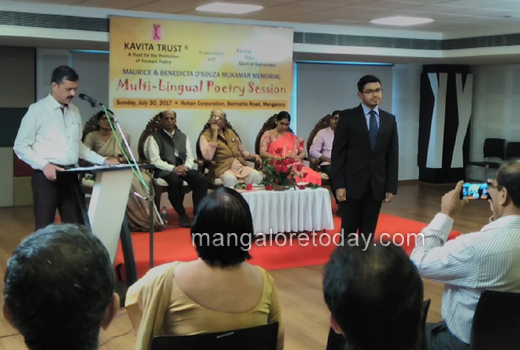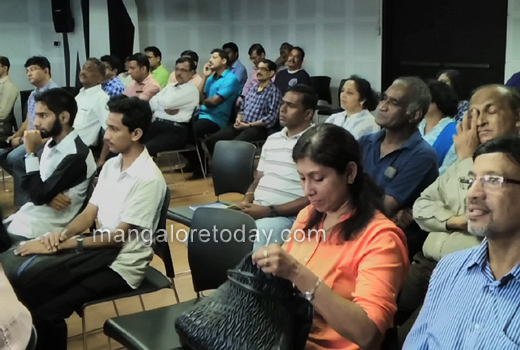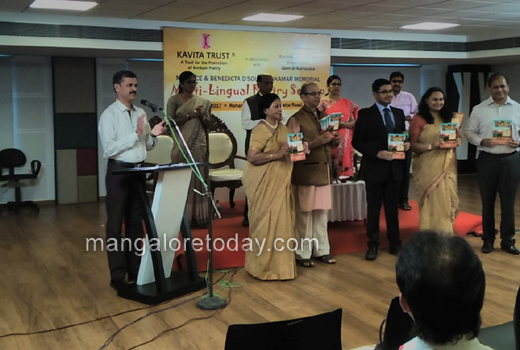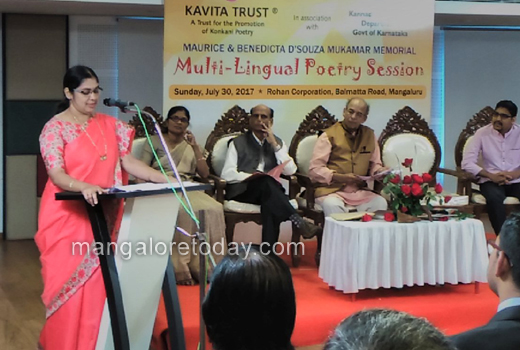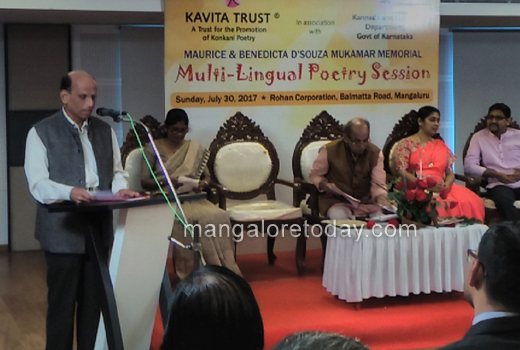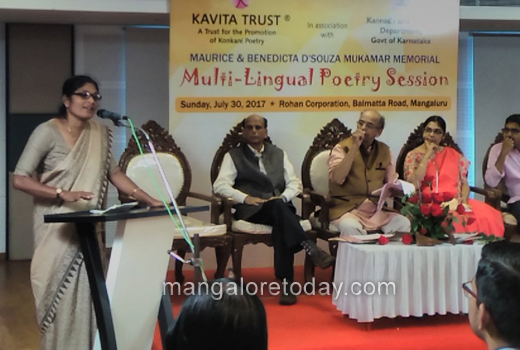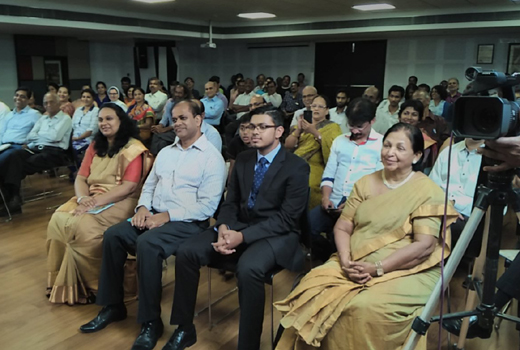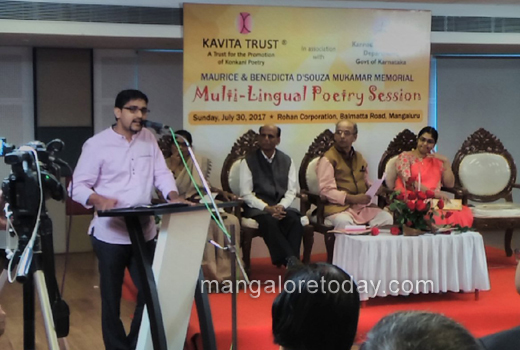 An unexpected sidelight was the release of book 'Bucky the Cowboy', a novel, set in the 'wild west' by 15-year-old Ronan Almeida, a student of Cambridge International School, Dubai,(whose parenyts and mentor were also present), this provided an opportunity for the knowledgeable audience to stretch out it;s imagination to relax and enjoy the session in a wider perspective during the programme.

The main part :

Celebrated Kannada poet Ja Na Tejashree, read 'Gandhi Nanage Gottu', 'Yakshini Kannadi', 'Kolalu Mattu Amina' and 'Ahalye' . Her 'Gandhi Nanage Gottu' poem received deep appreciation and wows from the audience that felt a lot.

Well-known Konkani poet and activist and teacher Arun Sakhardande from Goa who recited poetry here with his 'Raag', 'Asam', 'Sangath' and 'Nat Samrat' poems were thoroughly enjoyed by the audience with the subtle humor and taste.

Activist and Tulu poet Amritha Atradi read her Tulu poems 'Mapu Depada', 'Nadake', 'Balegonji Pathere', and 'Amasara Bodchi'. Rev Joseph Cyril Siddhakatte OCD thrilled the audience with his poems 'Kuchelachi Pirngon' , 'Gay', 'Hanv ani Balpon', 'Bidi Bandcha Chedvalagim'. His 'Kuchelachi Pirngon' spoke on different dimensions of Vedic period and current situations.

The doyen of the evening Dr Joshi proved the beauty, advantage and importance of knowing many languages. "Fair prowess of knowing languages is a key to a world of multi levels all the way. Bringing together wider perspectives by values of 'share with care' surfacing new ideas abound. One can palpably feel one savour tastes of a many languages. A taste for ancient vintage languages and today's modern languages can go hand in hand the generation gap forgotten. Just a deeper look into a language can taste and feel its unseen beauty. Mangaluru people know at least three to four languages, and everyone loves to feel the influence of every language in their lives. Look at Konkani, that is pregnant with Vedic 'Prakrit the fore runner of Sanskrit', aspects of the Vedas have great influence and respect leaning towards Konkani in all it's total splendour. .

On, built-in feminine ways of Konkani Dr.Joshi said, "Feminism is one even platform consistently used, to deal with social injustice, especially that of exploitation of women. Poets see and work beyond this. There are various ways to expose social injustice and express one's innermost feelings. We need to explore all possibilities in this super realm."

Dr. Prabhakar Joshi, moderated a session of poetry recitation where 17 poems were read by various poets. He lauded the poems for their depth and composition. The evening was a great memory indeed and very stimulating.




Write Comment
|

E-Mail
|
Facebook
|

Twitter
|

Print