Traditional and mod - 5 day 'Yakshayana' program at Moodbidri
Mangalore Today News Network
Moodbidri, June 30, 2015 : The five-day 'Yakshayana' is set to begin at Moodbidri from July 1, 'Yaksha Gayana Vaadana Vaibhava' using the likes of guitar and tavil along with traditional yakshagana musical instruments is all set to enthrall Yakshagana fans for the first time on the inaugural day.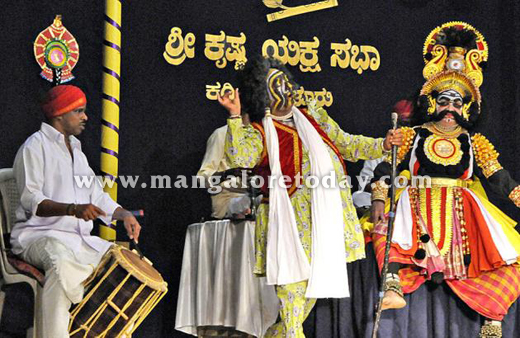 M. Devananda Bhat, executive president of the Kalamandali, said that nowhere in any experimental form earlier have tavil, guitar and naadaswara been used in yakshagana. Violin and flute, however, have been used earlier.Main attractions of the Yaksha Gayana Vadana Vaibhava would be using five non-traditional music instruments with the traditional yakshagana music instruments and the 'bhagawathike' (singing) to synchronise yakshagana music with them.

Yakshagana bhagawathike is traditionally accompanied by chende, maddale, chakratala and harmonium. But Sri Yakshadeva Mitra Kalamandali, Beluvai, the organiser of five-day event, will introduce tavil, guitar, naadaswara, flute and violin, along with traditional instruments — a total of nine instruments.

Veterans Balipa Narayana Bhagawatha, Padyana Ganapathi Bhat, Puttige Raghurama Holla and Dinesh Ammannaya would be the bhagawathas at this programme. Dharmasthala D.K. Suresh, who is Kanchi Kamakothi Asthana Vidwan, will be on the tavil, A.K. Umanath Ashwathapura will be on the naadaswara and Sharath Haleyangady will play the guitar.

Others in the programme starting at 5.30 p.m. would be Adoor Ganesh Rao (maddale), Murari Kadambalithaya (chende), Vasantha (chakratala), Sridhar Achar Padigar (violin) and Nitesh Ammannaya (flute).

The valedictory : on July 5 would have another unique programme. A Yakshagana episode will be staged thrice by three different set of artistes one after the other. In the 'Hiranyaksha Vadhe' episode, the lead character of Hiranyaksha would be played by noted actors Manya Santhosh, Nidle Govinda Bhat and Jagadhabirama Padubidri. The character of Varaha would be donned by Satish Nainadu, Mijar Balakrishna and Harish Mannapu. Three different bhagawathas will direct these shows.

Other programmes scheduled include a conversation on Yakshagana on July 2, talamaddale Haridarshana and staging of Yakshagana Kurukshetra on July 3, and two talamaddales, Bharata (in Kannada) and Tulunada Baliyendre (in Tulu), on July 4.

It would be the 18th annual Yakshagana programme being organised by the mandali.

Write Comment
|

E-Mail
|
Facebook
|

Twitter
|

Print