Tipu's place in history is indelible : MLA Khader
Mangalore Today News Network
Mangaluru, Nov 01 2019: Former Congress minister MLA U T Khader said on Oct 31, Thursday stated at DCC hall in the city that if the BJP government erases lessons on Tipu Sultan from the text books, it is not a loss for the Congress or Tipu Sultan; It is a loss to the students and the future.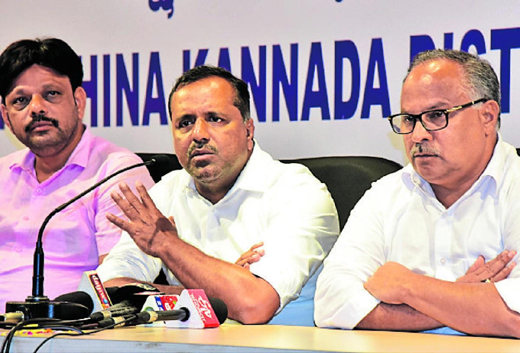 "They may even erase lessons on Mahatma Gandhi and Ambedkar from the text books," he said, while responding to the government's decision to erase lessons on Tipu Sultan.

"Even if the BJP government erases the lessons, Tipu Sultan's place in history and in the museum in the UK cannot be erased," he stressed.

Tipu's fort : "At Devanahalli, ask about the Fort, people will say it is Tipu's Fort. If you go to Srirangapatna and ask who built the Ranganath Temple, people will say

that it was constructed by Tipu Sultan. In Kollur, people perform the Tipu Salam," he said, highlighting how Tipu Sultan's name has been inbuilt in history.

MLA Khader also criticised the BJP government for spending crores on advertisements when it did not even have Rs 50,000 for a beneficiary in Chembugudde who had lost his house.

Tipu row:

BJP MP V Srinivas Prasad, on Oct 31, Thursday, criticised the state government in connection with the Tipu Sultan row and said the move to drop topics on Tipu from textbooks was hasty.

The state is under stress due to severe floods and the state government must pressure the Union for more funds, rather than taking up the Tipu Sultan issue.

The BJP is already labelled as a communal party, so the chief minister could have taken a careful decision on Tipu issue, the MP said.

Prasad said there is a lot of intriguing information on Tipu and the facts must be reviewed before deciding what's right and what's wrong.

Sait ridicules Simha

MLA Tanveer Sait ridiculed MP Pratap Simha for his remarks that the history of father and son, Hyder Ali and Tipu Sultan, should not be in the textbooks.

Sait said, he did not understand whether Simha spoke about Tipu Sultan or Chief Minister B S Yediyurappa. "Should the students learn about the mining scam, Operation Kamala or about Yediyurappa's jail sentence?" Sait said. There is hot reaction to this controversy.

Write Comment
|

E-Mail
|
Facebook
|

Twitter
|

Print