Tiger Caged, Monument Wasted: ASI installs steel barricade to 'Protect' Sultan Battery
Mangalore Today News Network
By Mahesh Nayak

Mangaluru, December 23, 2019: Mangaluru's most famous protected archeological monument – the Sultan Battery - is getting some real 'protection' from Archeological Survey of India (ASI). In a bizarre move the ASI – which is supposed to be the monument's guardian - has thrown aesthetics to the wind and installed an ugly 8-foot high steel fence all around the monument. As a result the monument now looks like an animal caged and an awful eyesore. The new steel enclosure surrounding it blocks the view and is sure to disappoint tourists and visitors. Despite being situated amidst scenic surroundings, Sultan Battery is no longer photogenic thanks to this atrocious obstruction.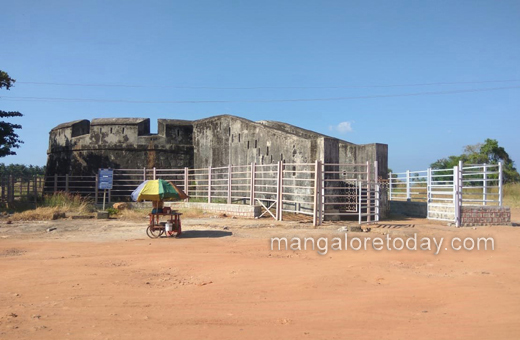 Sultan Battery with Steel Barricade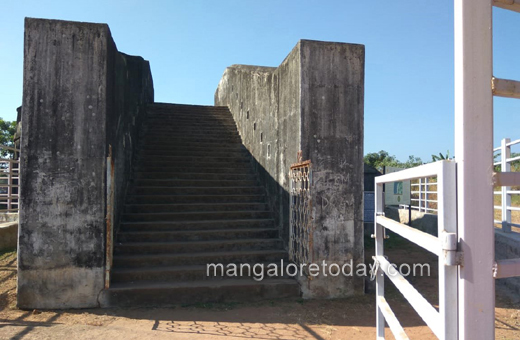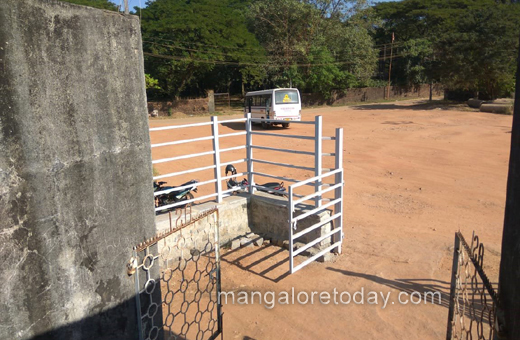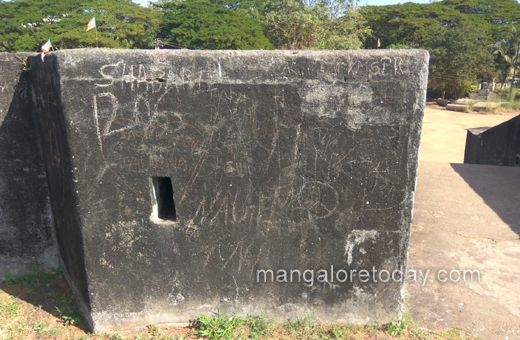 Defaced walls of the monument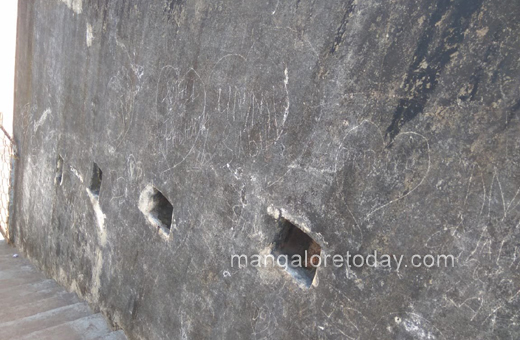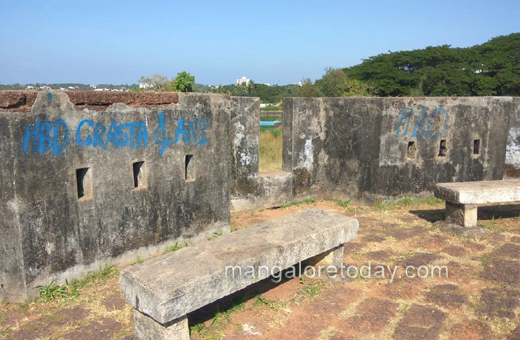 Grafitti on the monument's walls

Sultan Battery lies on the banks of River Gurupur. It's said to have been built by the 'Tiger of Mysore' Tipu Sultan in the year 1784 to serve as a naval outpost to prevent enemy ships from moving upstream. There is a small room in the basement of the structure which is off limits to visitors. It was probably a gun room or stores. The legend is that it is the entry point for an underground escape tunnel leading directly to Tipu's palace at Srirangapatnam.

It is inexplicable how ASI could mete out such a shabby treatment to the Sultan Battery. Normally ASI gives a lot of attention to maintain the surrounding environment of the monuments under its watch. Lush green lawns and free open spaces are commonplace at ASI protected monuments.

When contacted, Dhanalakshmi Ammal, Curator of Shreemanthi Bai Government Museum said that Sultan Battery does not come under her jurisdiction. The museum is run by the state government's Department of Archeology, Museums and Heritage. "Protected monuments are managed by Archeological Survey of India, which is a central government undertaking. At present Sultan Battery and Mangaladevi Temple are the two places within Mangalore city coming under ASI protection," she explained.

This is not the first time that Sultan Battery has been defaced. Some two decades back there was quite a furor when all of a sudden a civil works contractor descended on the scene and began to do patchwork on the monuments wall and then painted it in blazing yellow. By the time the District Administration came to know of it, it was too late. The civil contractor had claimed that he had been assigned by ASI to undertake the 'maintenance' work. Little did he know that maintenance of archeological monuments has to be done by professionally trained restorers taking due care not to damage the monument's historicity or destroy its aesthetic appeal.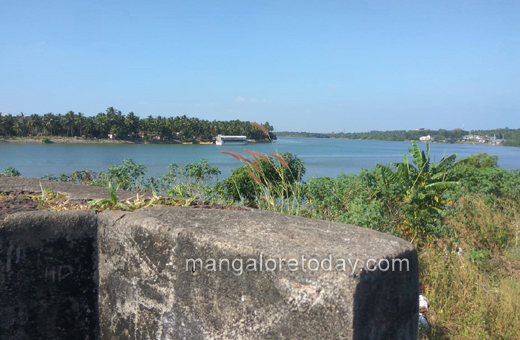 Architect Niren Jain, who is also the co-convener of INTACH Mangalore Chapter, feels that more can be done to protect national monuments. "Monuments are notified because of their historical, cultural or aesthetic significance. If we are not sensitive as to how we treat the environment around these monuments, it defeats the purpose of declaring them as monuments," he says.

He feels that with the present pace of rapid urban development of both public and private spaces around these structures might have made the authorities to be concerned about encroachments into the notified premises. "The highly understaffed and underfunded authorities designated to protect these monuments are wary of frequent vandalization of monuments by tourists. Hence they are forced to take up such measures," Niren said, adding that the authorities concerned often work in isolation rather than in collaboration with the urban local bodies.

Niren Jain suggests that such barricades and enclosures should be appropriately designed so that they compliment or accentuate the landscape setting of these monuments or highlight the significance of the monument at that particular location.

How the steel fence came up continues to be a mystery. According to locals, the fence was installed about three months back. It is learned that the owner of an adjacent land has also taken objections to the fencing and taken legal action. Confusion also prevails over whether ASI is actually to be blamed for the anomaly. ASI, Bangalore Circle which oversees the monument has denied that it had anything to do with the erecting the fence.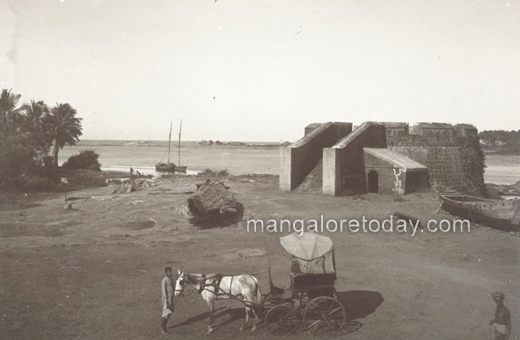 View of Sultan Battery as it looked in 1900s. Photo: Basel Mission

Dr. Shivakant Bajpai, Superintending Archaeologist of the circle, when contacted, said that such construction work around monuments is not done by ASI but by a separate entity called National Monuments Authority (NMA) coming under the Union Ministry of Culture. He said he is new to the job as he had taken charge only recently. Expressing grave concern, he assured to immediately visit Mangalore to take stock of situation and see what can be done.

Despite putting up the fence, no effort has been put to actually protect the monument. Obscene graffiti is seen strewn everywhere, and the two centuries old structure continues to be in a sad state of neglect. Sultan Battery offers a splendid opportunity for the placed to be developed into a tourism attraction. With adequate upkeep, beautiful surrounding greenery, water sports and recreation facilities, it can be made into a showpiece to market Mangalore to the world. Unfortunately, it might be too late as lots of other structures have come up in the vicinity, in what was once vacant and available land.


Write Comment
|

E-Mail
|
Facebook
|

Twitter
|

Print