Three day solemn rituals for St.Antony feast and 120 years in city begins
Mangalore Today News Network
Mangaluru, June 11, 2018: The three day 'Triduum' solemnity heralding the festival was launched by hoisting Saint Anthony's flag at Milagres Church at 5.45 pm on June 10, Sunday. Rev Fr Cyprian D'Souza(Capuchin) inaugurated, followed by then celebrated the Holy Mass. Rev Fr Dolphi Serrao(Capuchin) preached a homily on 'Saint Anthony-hope for the destitute and distressed'. In his sermon he said Jesus went about preaching, healing and comforting. Yet HE was accused, but Jesus unmindful of accusation went about doing good.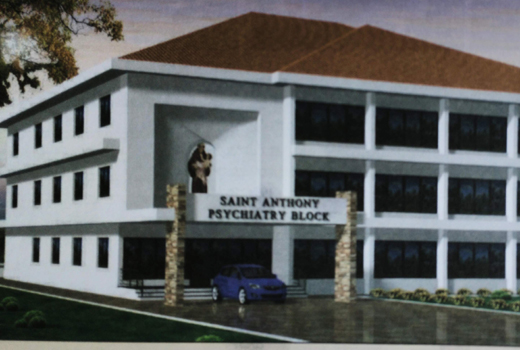 Saint Anthony who tried to follow Jesus went about doing good. He used his God given talents and gifts to reach out to the most needy ones. That's why even after his death during the past eight centuries people all over the world approach him to intercede for them in their difficulties. St Anthony has proved to be a dependable power in difficulties, always caring.

Fr Francis D'Souza conducted the Novena. Fr Thrishan D'Souza, Fr Valerian D'Souza were present. At least a thousand devotees from all walks of life participated in the devotion. Fr Onil D'Souza the director expressed gratitude to all for their enthusiastic participation and invoked blessings on the city.

Today : June 11. Monday : At the Ashram Jeppu...@ 11.am. At Milagres church...@ 6.pm.

Programme for celebrations - June 12 & 13 :


Now, launched to mark 120 years with solemn celebrations, as well as launching of a land mark boon to the people of Mangaluru. The crown of the celebrations are to be on June 12 & 13. The highlight will be, the blessing of the foundation stone for a modern 100 bed block for mentally ill people. "Miracles of Saint Anthony" a Souvenir published in memory of 120 years is released.

Bishop of Mangalore, Rev Dr. Aloysius P. D'Souza, highlighting the needs for a mental asylum in St.Anthony Ashram housing hundreds of destitute and orphans for more than a century, he stressed that there was considerable justified expression of need from families to have such a facility, as the impoverished cannot look after the mentally-challenged in the circumstances. "Now it is decided to build a 100-bed facility for the mentally-challenged, where half of it will be dedicated to females. It will have psychiatrists, nurses and caretakers in a modern frame work", he said.


June 12 Tuesday : The Shrine completes 120 years. Most Rev Dr Bernard Moras the Bishop Emeritus of Bengaluru will be the main celebrant of the Holy Mass. He had served the Ashram from 1968 to 1970 as an Asst Director. Priests who served the Ashram in the past will be concelebrating the Holy Mass on that day. Besides this there will be a Holy Mass in the morning at 8.15 am at Milagres Church, at 11 am in the Ashram and 5 pm Holy Mass in Malayalam at Milagres.

June 13, Wednesday : The traditional feast day, Most Rev Dr Aloysius Paul D'Souza the Bishop of Mangaluru will preside over the Holy Mass at 10.30 am at the Ashram. It will be followed by the blessing of the foundation stone for a hundred bed block for the mentally ill people. "Saint Anthony the Miracle Worker" a short play written and directed by John M Permannur , creation by Vincent Fernandes of Mogachi Lara fame will be staged on the occasion.

On the same day June 13, Wednesday, Holy Mass will be celebrated at 8.15 a.m at Milagres Church, at 4.30 p.m Holy Mass in Malayalam at Milagres and main festive Holy Mass at Milagres Church at 6 pm will be celebrated by Bishop Aloysius D'Souza, at Milagres.

CONTACT :
ST ANTONY'S CHARITY INSTITUTES
Fr Muller Road, Jeppu, Mangalore 575 002. Karnataka, India
Email: sabjeppu@gmail.com.
Ph: 2418065 (Director), 2417065 (Office)
http://www.stanthonyshrinemangalore.com


Recap - St Anthony's Ashram Jeppu : It was on June 12, 1898 Msgr. Michael Placid Colaco the then Asst Parish Priest of Milagres Church started Novena prayer to Saint Anthony. On the following day was the feast of Saint Anthony. A large number of people from around Mangalore gathered for the feast. Since then on every Tuesday Novena has been held in honour of Saint Anthony at the Shrine Altar at Milagres Church. People irrespective of caste and creed come to Saint Anthony in their need and never went away empty handed. That is the strong belief of Saint Anthony's devotees. The Saint is specially invoked when any thing is lost. It is believed that when things are lost and if Saint Anthony's help is sought the lost things are found. It has been testified in number of cases by the devotees. As the people received favours from the Saint the people in gratitude offered their mite in kind and cash. It was in turn distributed to the needy. Gradually houses were put up to house the destitute. In 1930 the land was purchased in court auction in which the present Ashram is situated at Jeppu. After purchasing the land houses were built and the inmates were moved to the present location in 1936. The Institutes also fed hundred of hungry people every day during the World War-I when there was extreme poverty and people didn't have enough food to eat. Rice was brought from Rangoon(Burma) to feed the hungry who used stand in long queues. At present there are over 400 destitute are sheltered at the Ashram. All their needs are taken care free of cost. People irrespective of caste and creed are looked after here, people of Mumbai and all over India and abroad have a special place for St.Anthony and this divine shelter at Mangaluru. Presently, Fr Onil D'Souza, is the director of the Institutes, Fr Francis D'Souza, is the Administrator, Fr Trishan D'Souza is the new Asst. Director. This Ashram is a heavenly blessing to the city.



Write Comment
|

E-Mail
|
Facebook
|

Twitter
|

Print