Those 15 minutes still rankle me,says Sepoy Satish Kumar
Mangalore Today News Network
Mangaluru, Apr 17, 2017: Shock was writ large in the eyes of 32-year-old Sepoy Satish Kumar as he narated to media on April 1, Sunday, his fight of 15 minutes with terrorists holed up in a house in Kupwara in Jammu and Kashmir in October 2016. Sepoy Satish Kumar is from mudipu on the peripheri of Mangaluru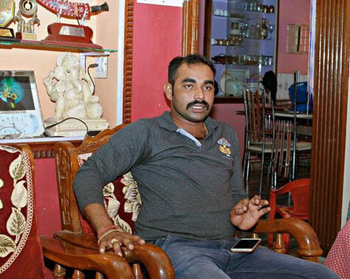 "Those 15 minutes are still shocking to me. Three of my close colleagues fell victims, including Jnanender and Biswas," Satish Kumar gets emotional as he continues to explain: "Images of my mother and wife also came before my eyes as I fell to the ground after being hit by three bullets on the (right) leg and two on the (right side of) my chest. It is such uncertain situations that we [soldiers] are trained to overcome."

Satish Kumar, a native of Mudipu near Mangaluru, was among the group of Indian Army commandos who raided a hideout of terrorists. The commandos blew up the house in which four terrorists were killed. Three soldiers died of bullet injuries following cross firing and Satish Kumar was among the two army men who were injured.

Following five months of treatment for injury on his chest and a fractured right leg, Satish Kumar has taken medical leave to meet his mother Vimala, who earns a living by rolling beedis and wife Deepika, a teacher in a nearby private school, in Mudipu.

It was only a week ago that his mother and wife came to know of the seriousness of the injury that he had suffered, when Satish Kumar came home. "It was only my brother in-law Prasad and his close friend Varadaraj who knew about my injury and treatment. It is a norm in the Army to keep only two close persons informed in case of injury during operations," the sepoy said.

Wife Deepika said that her husband, who regained consciousness after 15 days of the injury, only spoke of the valour of his team. He did not disclose anything of his injury and treatment, she said.

Mother Vimala said that the need for sustained income for running the family following the death of her husband prompted Satish Kumar join the Army Service Corps in 2003 after completing his Pre University here.

Asked if she was willing to send her son back to duty following the injury, Vimala turned emotional and said, "I leave it to God. Service to the nation is also important," she said.

Satish Kumar will leave his native on April 23 for medical examination at the Army hospital in Jammu and Kashmir. "I will be get back to work only if and when I am medically fit," he said.

Write Comment
|

E-Mail
|
Facebook
|

Twitter
|

Print