The strange murder story of Bhaskar Shetty
Mangalore Today News Network
Udupi, Aug 10, 2016: The murder of Bhaskar Shetty (52), an NRI businessman from Udupi, is becoming increasingly bizarre with each passing day.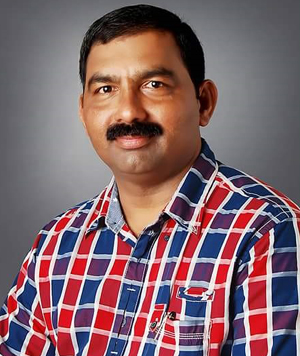 Bhaskar's wife Rajeshwari (46) and son Navaneeth Shetty (20) were arrested by the police for the murder on August 7. An astrologer named Niranjan Bhat a.k.a Niranjan Asranna, who was allegedly having an affair with Rajeshwari and had been absconding, was also arrested in Nitte in Udupi district on August 8, due to his fiery role in the murder.

The oddities began almost immediately. At the very start, even as Niranjan was produced in the Manipal police station, he collapsed with stomach pains. On questioning, Niranjan revealed that he had earlier swallowed his diamond finger ring and ear studs, in the apparent belief that this would kill him instantly.

Police rushed him to the nearby District Government Hospital, where an x-ray confirmed that the jewellery was inside of him, and doctors gave the verdict that the items would have come out 'naturally'. Police confirm that his condition is stable.

In the meanwhile, the mother and son confessed a twisted plot to the police.

Police state that Bhaskar's son Navaneeth has revealed that he and his mother had murdered his father, and then used Niranjan's help to burn the body of his father inside a two-foot by two-foot ritual fire, usually used for performing homas.

The motive for the murder was an affair and money.

The affair was the one that police say Navaneeth's mother was having with the self-proclaimed astrologer Niranjan Bhat of Nandalike. The 26-year-old Niranjan had made a name for himself as an astrologer after trying a few other careers and was 'close' to Rajeshwari.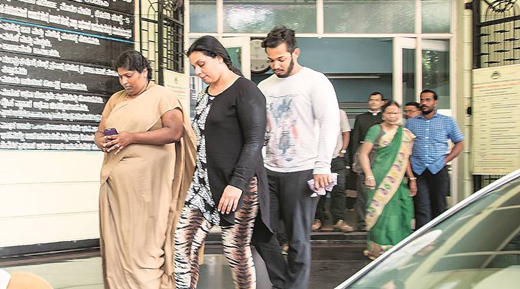 The money came in the form of a hotel and some other properties in Udupi that Bhaskar owned, but Rajeshwari managed while Bhaskar ran other businesses in Saudi Arabia.

On discovering the relationship between Rajeshwari and Niranjan and also uncovering financial irregularities in the hotel, Bhaskar began to cut off Rajeshwari and Navaneeth from his funds and extensive properties.

Police, who are piecing together the story, stated that Bhaskar had also declared that he would divorce his wife, without paying her any alimony.

The threat severely shocked both Rajeshwari and Navaneeth, who had grown accustomed to their lavish lifestyles. Some time later, they came up with a plan to murder him.

The Saudi-based Bhaskar would visit Udupi regularly. Estranged as he was from his wife and son, he preferred to stay in the hotel he owned, rather than his family bungalow in Indrali - a locality in Udupi. He would come home once a day during these visits, for his daily prayers.

On July 28, as usual, he stopped over in his bungalow. As Rajeshwari later narrated to the police, she picked up a fight with him that day. When he was distracted, she used pepper spray to disorient him, while his son beat him unconscious with an iron rod.

The mother and son then dragged Bhaskar to the bathroom and drowned him in the bathtub. To ensure that he was dead, they even poured poison into his mouth.

In preparation for the murder, the duo had already purchased cans of ghee and petrol and large packs of camphor.

They packed these flammable materials and Bhaskar's body in their car and drove 36 kilometers to Nandalike in Karkala, where Niranjan was waiting for them, ready to help them dispose of the body in his yagashale (a holy house which arranges large pujas and homas for devout Hindus).


Niranjan, who is also a priest, allegedly used a fixed homa kundam (a small, prepared spot set up for ritual fires) to incinerate the body. The trio later stuffed the remains of the body and charred floor tiles into several sacks and reportedly dumped them into a nearby stream.

Police are yet to fully uncover the remains of the body, finding only a few of the sacks. They have currently seized Niranjan's yagashale to prevent any further destruction of evidence. A few blood stains were discovered in the yagashale, which police say ties the location to the crime.

Udupi police began their investigation based on a complaint lodged by Bhaskar's mother Gulabi Shetty on July 28. Police initially suspected a kidnapping for ransom but focused on Rajeshwari when her mother-in-law accused her of mistreating Bhaskar.

For her part, Rajeshwari originally claimed Bhaskar was having an affair, but police could find no proof of any such relationship.

The investigation broadened to include Navaneeth and Niranjan when another relative of Bhaskar - Joggu Shetty, shared details of their strained relationship with Bhaskar.

With that lead in mind, police hunted down evidence and arrested the mother and son. They had questioned Niranjan as well due to his closeness to Rajeshwari and his frequent visits to the house in Indrali. But they had let him go the same day.

Niranjan promptly vanished when he was asked to return to the station, which police took as a sign of guilt and proceeded to trace him down, arresting him a day later.

Niranjan's actions are being seen with disbelief by his neighbours, who described him as soft-spoken and religious. Speaking to Daijiworld, a local news organisation, one neighbour opined: "It is extremely difficult to believe that Niranjan is involved in this murder case. It is especially hard to believe that he burnt the body to ashes as a 'homa' in his own house,"


All three are currently in judicial custody and the case shall soon be brought to trial.

Interestingly, during his confession, Navaneeth stated that the idea for the crime came to them while watching a series of crime re-enactment shows on television.

However, the accused seem to have forgotten that crime stories only appear on television after they were cracked by the police.


Courtesy: asianetnews

Write Comment
|

E-Mail
|
Facebook
|

Twitter
|

Print