The pros and cons of prepaid autorickshaw counter
Mangalore Today News Network
Mangaluru, Aug 10, 2016: Among the range of public complaints, made against the prepaid autorickshaw counter at Mangaluru Central Railway Station. The counter operator does not follow directions from the RTA, Regional Transport Authority.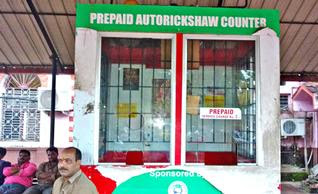 The operator is supposed to provide the service round-the-clock to passengers. Mangaluru Central-Chennai Central-Mangaluru Central West Coast Superfast Express is the last train to depart from and first train to arrive at Mangaluru Central at 10.20 p.m. and 3.55 a.m., respectively, every day. In all, 26 trains arrive and depart Mangaluru Central every day.

The second train to arrive is Thiruvananthapuram Central-Mangaluru Central Maveli Express at 8.05 a.m. Regular departure of trains commences from 5 a.m. with Mangaluru Central-Nagercoil Parasuram Express.

However, the prepaid counter gets closed by about 9 p.m. to open only around 9 a.m., leaving passengers during at the mercy of regular autorickshaw drivers. Passengers are forced to pay exorbitant fares, said a regular traveler.

The operator must prominently display the fare chart for important destinations at the counter, which has not been done. While he has to issue computer-generated fare slips, only hand-written slips are being issued now.

G.S. Hegde in-charge Senior Regional Transport Officer, Mangaluru, told media that the department would issue a show-cause notice to the operator and make him follow the directions. City Police Commissioner M. Chandra Sekhar said the traffic police would take necessary action. He also wondered why only police were being "questioned" and asked, "Are other departments not responsible."

While passengers at times allege intimidation by autorickshaw drivers, the counter operator, another regular user, claimed that police personnel were not present near the counter for about one-and-a-half-years. "It is difficult to discipline drivers. Also, some drunk drivers create nuisance during night and hence the counter is not operated during nights," he claimed. He told that the counter was being shifted to the parking space opposite to the existing location in about a week. Thereafter, it would function round the clock, would have a fare chart, and issue computerised receipts, he said.

However, sources in the Railways said shifting might take a couple of months as there are plans to lay interlock blocks at the parking lot. While Corporation Bank had sponsored the counter, Kanara Chamber of Commerce and Industry had provided a simputer to issue slips. The simputer was never used it was pointed out.

A user had complained that he was asked to pay Rs. 35 for a distance within the minimum chargeable limit, after the traffic police closed the U-turn in front of City Centre on K.S. Rao Road, drivers have to go till Yenepoya Hospital to take the a U-turn to reach City Centre, a distance of 1.9 km. Hence the fare was Rs. 35, the booth operator claimed.

It was also clarified that the RTA, Regional Transport Authority, Dakshina Kannada, has allowed collection of Rs. 2 service charge with certain conditions.

Write Comment
|

E-Mail
|
Facebook
|

Twitter
|

Print