The noblest resolution made in 2018: APD Mangalore celebrates fulfilling their promise
Mangalore Today News Network
Mangaluru, Jan 09, 2019: Weight loss, exercise, save more money, spend less on partying...these are some of the most common resolutions that were made on December 31-January 1, 2018 and broken on January 2, 2018. There was one resolution however, that not only stood out from the rest, but remained unbroken throughout the year.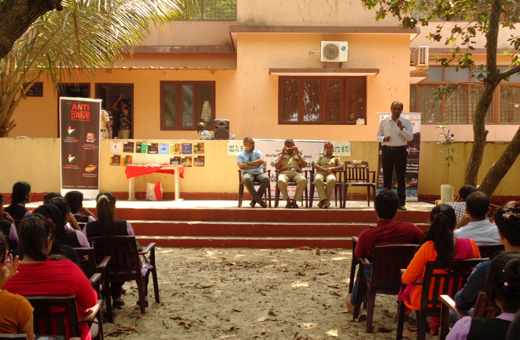 Anti-Pollution Drive (APD), a non-profit organization in Mangalore made a resolution at the start of 2018 to 'celebrate every environment-related day/eco-day throughout the year'. While most people who read this news thought it wasn't a resolution that was easy to keep, APD proved them wrong. On Saturday, January 5th 2019, APD celebrated their victory in commemorating every environmental day of 2018.

Starting with an awareness programme on the level of air pollution in Mangalore on the occasion of MakaraSankranthi (January 15th, 2018), APD went on to commemorate several other significant ecological days: Planting crops in the field with students of Ramakrishna College on Wetlands Day (Feb 2), celebrating 'Plastic-Free Day' with PA College of Engineering (Feb 22), planting saplings on Forest Day with the Forest Department (Mar 21), conducting competitions for the students of Yenepoya Institute of Technology on World Water Day(Mar 22), organizing a Beach Clean-up with MCC on World Environment Day (Jun 5), conducting a drive with the Karnataka Veterinary, Animal and Fisheries Science University on World Ocean Day (Jun 8) , World Soil day with Ladyhill primary School with Mr.MadhavUllal (Dec 5th) and more.

"It's a tremendous achievement for us to be able to pull this off. Our Hope is to educate people to set aside atleast one day a month to the environment. We are incredibly proud of the APD team for doing whatever it took to ensure that we honour our commitment to Mother Earth with this resolution of ours. Looking forward to a great, driven 2019!" said Abdullah A. Rehman, Founder & Chief of APD Foundation.

Every Mangalorean should certainly join hands with the APD Foundation and help make our city and world a greener, sustainable place to live in. If you want to donate to APD and their avant-garde work or volunteer, visit www.antipollution.org or mail them at info@antipollution.org

List of Eco Days 2019

Feb 2nd – World wet land Day
March 18th – Global Recycling Day
March 21st – World Forestry Day
March 22nd – World Water Day
April 7th – World Health Day
April 22nd – Earth Day
May 22nd – International Day for Biological Diversity
June 5th – World Environment Day
June 8th – World Ocean Day
September 2nd or 3rd week – Costal Cleanup Day
September 16th – World Ozone Day
September 22nd – Car free Day
December 5th – World Soil Day.

Joining hands together lets contribute our responsibility towards our environment,be a part of the Eco days 2019.


Write Comment
|

E-Mail
|
Facebook
|

Twitter
|

Print