The Culinary Legend of 'Omelette Bhandary'
Mangalore Today News Network
At a time when eating egg was taboo, Ramachandra Bhandary ventured out to become a successful omelette entrepreneur. Bhandary started his outlet in 1966. After making delicious omelettes for 52 years, he will be serving for the last time on New Year Eve. Being on the other side of 70, he wants to retire and live in peace. But he's going out in style. With the media making him out to be an instant local celebrity, for the last two weeks, he's been flooded by loads of old fans nostalgically dropping in for one last bite. Here we reproduce a profile of Omelette Bhandary, written by his old acquaintance V. Shyamsundar Kamath and published in the September 2011 issue of Mangalore Today.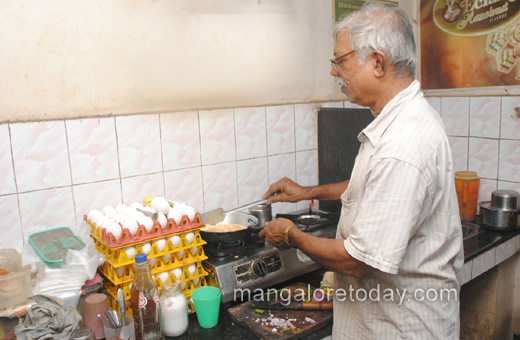 By V. SHYAMSUNDAR KAMATH

Mangaluru, Dec 31, 2018: Omelettes have universal taste whatsoever the method one adopts to prepare it. But Omelette Bhandary's omelette has the distinction of being different. There is no explanation for this unique status. I can ask any resident of Mannagudda, whether they have tasted the omelette at Ramachandra Bhandary's shop. The answer will be an affirmative yes.

It was in the year 1970, when getting a job or venturing a business enterprise was difficult. With the burden of his elder brother's family welfare on his shoulder, he was on the look out for a good opening. Omelette outlet was the innovative idea that erupted when two of his close friends and he sat exchanging pleasantries.

Eating egg was a taboo those days and omelette eateries were a rarity but the challenge was taken up. Bhandary plunged into action industrious as he was, being a diploma holder in Automobile Engineering. There arrived the stove, frying pan, knife, plates etc. The first omelette rolled out on an auspicious day. A wooden bench was provided for a comfortable omelette treat. People were curious to eat. Most of the people had not prepared omelette at home or eaten it.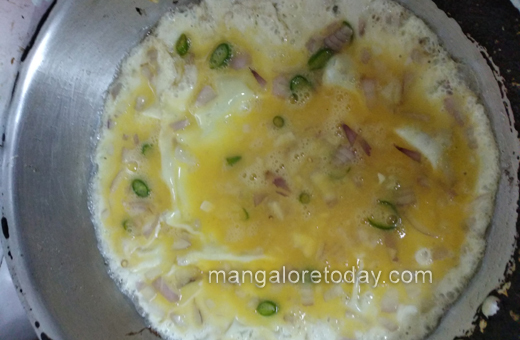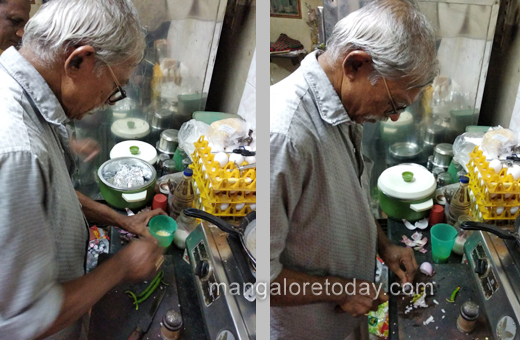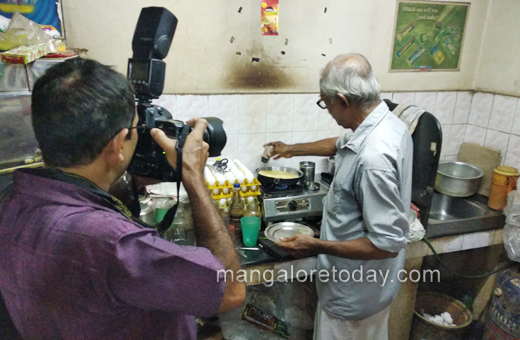 Omelette man of Mangaluru - a media celebrity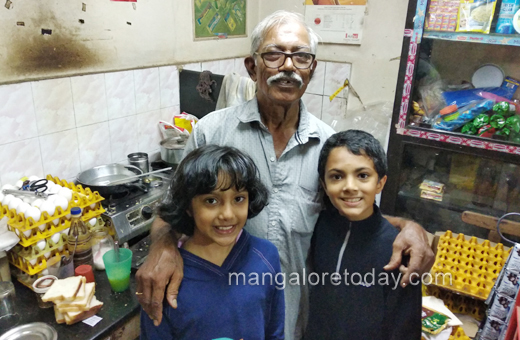 Omelette Bhandary with two young fans Ambika Devi and Krishnan


The sales increased to 100 in a few months and the number rose to 300. Soon omelette become synonymous with Bhandary and 'Omelette Bhandary' became a house hold name. "Have you eaten egg omelette at Bhandary shop?" was the part of conversation when Mannagudda residents met. Along with popularity, he earned curses also. Many a concerned mothers came and literally emptied their abuses on him for having spoilt their 'kid' by getting him into 'omelette habit'. Soon came the universal popularity. People from other parts of Mangalore started pouring in. Among the prominent visitors, Dr. Venkat Rao, the famous surgeon of Fr Mullers Hospital became addicted to the omelette. For two years he visited at night to have double omelette though he resided in Kankanady.

Soon omelette became other doctors' favourite. A parcel service was started to attend the hungry doctors on night duty in hospitals or for doctors who were attending surgeries of long duration. Having omelette after late night movies had become a practice with many youngsters. Many addicts who left the place for better future to USA, UK and Gulf countries, used to compulsorily mark their attendance at his shop during their visit to Mangalore on vacation. Many who are on their way to become senior citizens or already in that category cherish their memories of his omelette.

One would wonder, why such a popularity for an 'omelette joint'? Friendly and pleasant nature of Ramachandra Bhandary may be the reason. His benevolent activity contributed a lot to his success. His popularity started in the early 60's from his temple service. He was known as 'Captain' who took lead in maintaining steady glow of 100 petromaxs, which were the only illuminating tools at the temple precincts during the car festival. This is apart from his active participation as volunteer in food distribution.

'Shava Sumskara', carrying dead bodies to the cremation ground was his commendable social service. People still remember his free service for serving food during marriage ceremonies. As a donor of blood he was a wanted figure. AB+ve being his blood group (rare type) he would volunteer to donate blood whenever there was a demand.

A few days back when, during my visit to his shop, I casually asked him the present sales figure of omelette. "About 25-30," came the reply. There are many omelette eateries around and people prepare it at home also. Selling omelette at a cutlery shop may sound too simple. But the innovation that lay behind its marketing is commendable. Present day entrepreneurs need such innovations.

---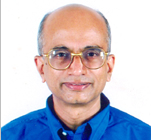 V. SHYAMSUNDAR KAMATH is a regular contributor to Mangalore Today. He is a former executive of Syndicate Bank. He can be reached at: kamath.shyam49@gmail.com

Write Comment
|

E-Mail
|
Facebook
|

Twitter
|

Print