Temple is not a private property, women must be allowed to enter Sabarimala temple: SC
Mangalore Today News Network
New Delhi, July 18, 2018 (News18): After hearing several petitions challenging the entry of women in Lord Ayyappa temple at Sabarimala in Kerala, the Supreme Court on Wednesday announced that a temple is a public property and if a man is allowed to enter the public property, then a woman should also be allowed to enter the same.

Chief Justice of India Dipak Misra said, "There is no principle of private temple in the country. Temple is not a private property, it is a public property. In such a case, if a person is allowed to enter the public property, then the woman should also be allowed to enter. Once you open the temple, then anyone can go to it." He added, "How can restriction on women of certain age group be covered by the ground of untouchability?"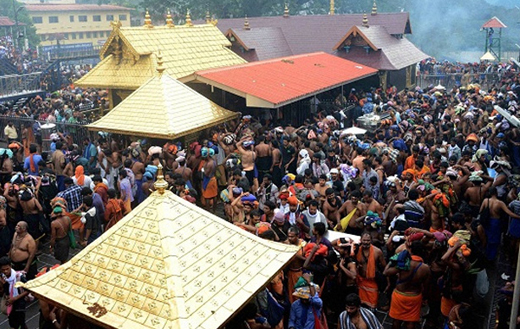 The constitutional bench of five judges made several important comments on the second day of the hearing in the case.

Justice DV Chandrachud said that under Article 25 of the Constitution, all citizens are free to practice or spread any religion. "Your right as a woman to pray is equal to that of a man and is not dependent on a law to enable you to do that. If the age prescribed by notification has no basis on menstruation, then it is arbitrary on the face of it since age cannot be a criterion for restricting right to worship," he said.

Following the decision, the Kerala government has come out in support of women's entry in the temple adding that the government is in support of the entry of women of all ages.

CJI Misra said that the state government has changed the stand for the fourth time. Significantly, in 2015, the Kerala government had supported the entry of women, but in 2017 it changed its stand.

The bench will resume hearing on Thursday.

Write Comment
|

E-Mail
|
Facebook
|

Twitter
|

Print