Tailors protest to continue them in NPS Lite scheme
Mangalore Today News Network
Mangaluru, March 02, 2016: A rally was taken out from Shanthi Kirana Maidan to the DC's office. Association President Vasanth B said the NPS Lite Scheme should be continued for tailors in the age group of 40 to 60 years. Instead of shifting the beneficiaries in the age group of 18 to 40 years from NPS Lite to Atal Pension Yojana, they should be continued under NPS Swavalamban Lite Scheme, he demanded.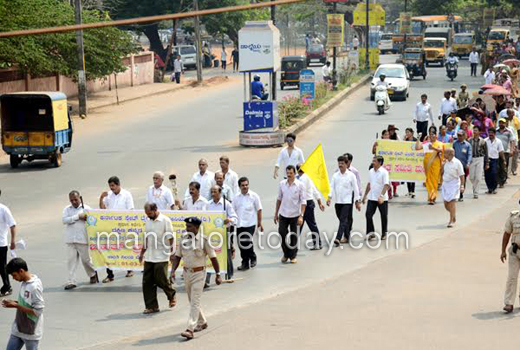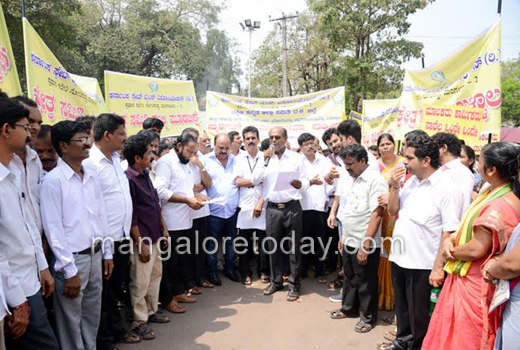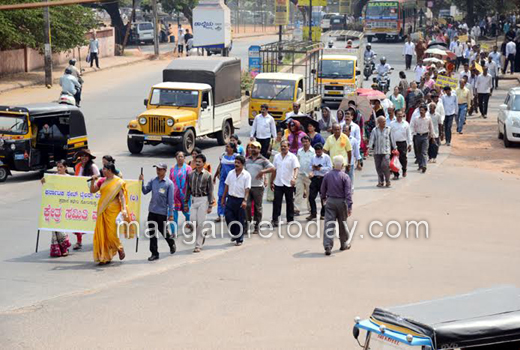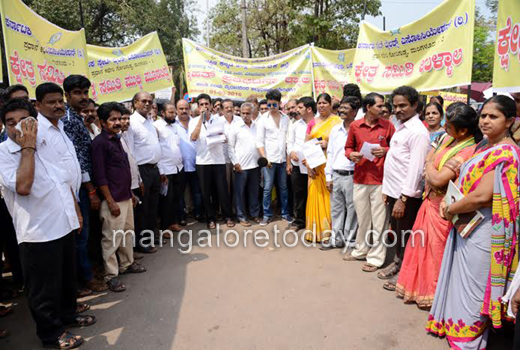 The Karnataka State Tailors' Association staged a protest against the Union government's move to shift the unorganised sector labourers from NPS Swavalamban Lite Scheme to Atal Pension Yojana on Mar1, Tuesday.
He said the scheme, when introduced in 2010-11, was applicable to all labourers in the age group of 18 to 60 years. The labourers in unorganised sector had paid Rs 100 per month towards the pension scheme. However, the Union government has stopped the enrolment of new beneficiaries under the scheme from April 1, 2015. The government has been exerting pressure on the labourers who are below 40 years to join Atal Pension Yojana. About 10,000 tailors have registered their names under NPS Lite Scheme. With the change in the rules, they are in doldrums. The NPS Lite should be continued, he added.

He said that the government should also pass an order to include labourers from unorganised sector belonging to APL and BPL families under Rashtriya Swastya Bheema Yojana and Aam Admi Bheema Yojana. The goverment should also announce scholarships for the children of tailors and provide financial assistance for the construction of houses.

In udupi - Welfare fund :

The association members here staged a protest seeking the formation of a welfare fund for tailors in Udupi on Mar 1, Tuesday. They took out a rally from Tiger Circle to the DC's office and submitted a memorandum to Deputy Commissioner Dr R Vishal in this regard.

The association's district unit President William B Machado said the NPS Lite Scheme should be extended to the tailors in the age group of 40 to 60 years. He demanded retirement income for retired beneficiaries who have already paid for NPS Lite Scheme and sought marriage allowance to the daughters of the tailors and maternity allowance for women tailors. William said compensation should be given to the families of the tailors who are the victims of accidental death. A sum of Rs 2.5 lakh should be given to the victim's families, he added.

Write Comment
|

E-Mail
|
Facebook
|

Twitter
|

Print