Surge in river water washes away construction equipment
Mangalore Today News Network
Bantwal, May 17, 2015: A flash flood surging in Netravathi river allegedly washed away construction materials stocked for the construction of new vented dam, at Thumbay on May 15, Friday night. Workers were seen on May 16, Saturday morning searching for machinery, iron rods and assorted construction materials.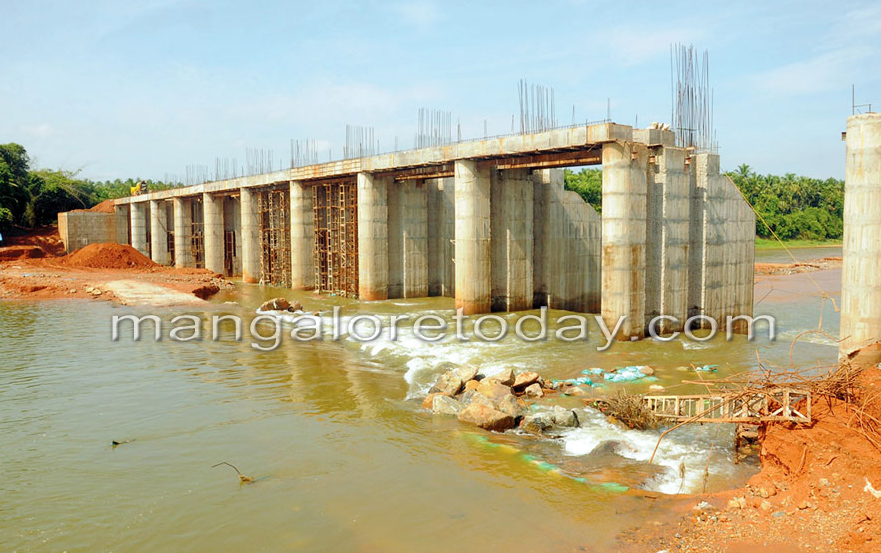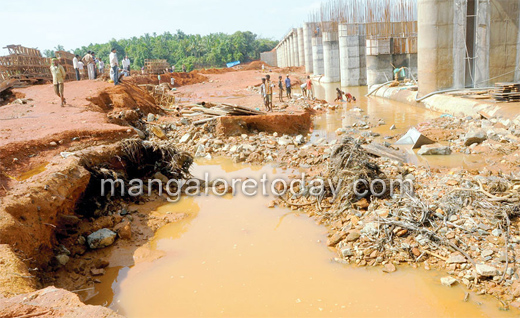 It was said that around 9.30 pm the previous night, a loud sound with a surge in water-level in the river was observed. When they got to the construction site, iron rods, diesel generator, pumps, pipes, and other materials were seen being washed away with the rush of water.

The labourers were successful in tying a concrete flooring machine worth Rs 5 crore and thus prevented it from getting washed away. Cement, machineries and mud road constructed to reach the dam site have been washed away in the flood. It is said iron rods worth about Rs 50 lakh have been struck in the mud. Pumps worth Rs 10 lakh have been soaked in water.

Three pumps have gone missing and another generator has been covered by mud. The total estimated loss is over Rs one crore, it is said. The labourers alleged that AMR dam belonging to Shambhur mini hydel power project, situated upstream, had released water without any intimation, which resulted in flash floods. The construction in-charge Section officer Shekar and Accountant Ravichandra said that the work on new dam was almost complete.

A few works were pending. New equipment were procured to complete the work at the earliest. With the flash flood, the construction materials have been damaged and scattered. Atleast two weeks to get the materials back and complete the work on a mud road to reach the construction site.

With the increase in inflow of water to the Thumbay dam (present old dam), about 50 wooden planks have been dislodged. Normally, when AMR dam releases water, siren blows, at Shambur, Baddakatte, Nandavara and neighbouring villages. There was no alert or information on this occasion.

As per the rules, the AMR officials have to release water three hours after blowing the siren. Bantwal Tahsildar Purandar Hegde also did not have any intimation on release of water according to reports.

Write Comment
|

E-Mail
|
Facebook
|

Twitter
|

Print