Support from government lacking, Chess Federation President at chess tourney for blind
Mangalore Today News Network
Manipal, Dec 27, 2015: Speaking after inaugurating the National Open FIDE-rated Chess Tournament and National B Chess Championship for the Blind as part of the Dr TMA Pai Memorial Trophy organised by Manipal University. The tournament has been organised in association with the Udupi district Chess Association.

Charudatta Jadhav, president of the All India Chess Federation for the Blind, however, expressed disappointment that the game lacks government support and is alive thanks to the support from corporate and institutions. He added that the chess for blind was in a traumatic state, but has recovered due to the influx of many number of talents in the scenario.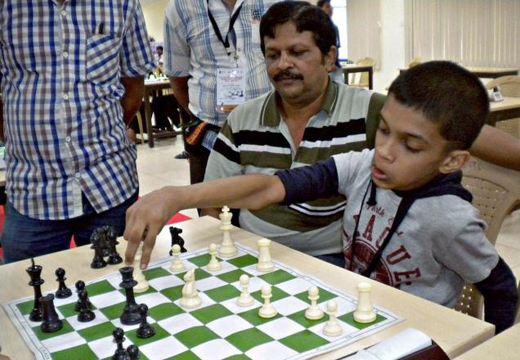 "Dedication being the main criteria, the game requires intellectual spirit. For the blind, chess is one arena, where the confidence level is higher owing to the sense of equality. The game offers an opportunity to play on par with normal people. The tools remain the same to a large extent - except for few changes to avoid disturbance from the player to the board," he explained.

Speaking on the matter further, Jadhav said, "Although India made entry into blind chess 47 years after the introduction of the game at international level, there is no dearth of talent in India. The Indian Blind Chess Association has conducted 400 events over a span of 17 years. A total of 23 teams are sent by the Association to play various international matches. Besides, India has organised the international tournament in Goa in 2006, which has enhanced the reputation of the nation worldwide. In 2012, Olympiad was held. In 2008, India had seven FIDE-rated players, while in 2012, there were 14 FIDE-rated players. Currently, there are 113 FIDE rated players with the nation in the fifth position," he narrated.

Udupi Superintendent of Police Annamalai, reminded that the origin of chess is traced back to India. "A similar sort of game is played in China which is called checker. The contribution of both Indian and Chinese civilization to the world is immense," he opined. Chess is an intellectual game which helps to improve the intelligence quotient, reminded

He said the chess board spread across half acre of land at Fatehpur Sikri near Agra dates back to the Akbar era and also testifies the fact that the game originated in India. He added the game also helps to expose the hidden talent.

There is progress in the field - however the pace needs a boost to excel at the international level. The technology should be inculcated on a larger scale to help the blind.

Manipal University Pro Chancellor Dr H S Ballal opined that chess should be promoted as it is one of the most intellectual games.

Write Comment
|

E-Mail
|
Facebook
|

Twitter
|

Print