Study Mechanical Engineering at NMAM Institute of Technology, Nitte
Mangalore Today News Network
Mangaluru, June 11, 2019: The Department of Mechanical Engineering of NMAM Institute of Technology, Nitte established in 1986 offers BE in Mechanical Engineering accredited by the National Board of Accreditation under Tier-1 category and M Tech in Machine Design and Energy Systems Engineering. The department is a recognised Research Centre of VTU, Belagavi since 2007.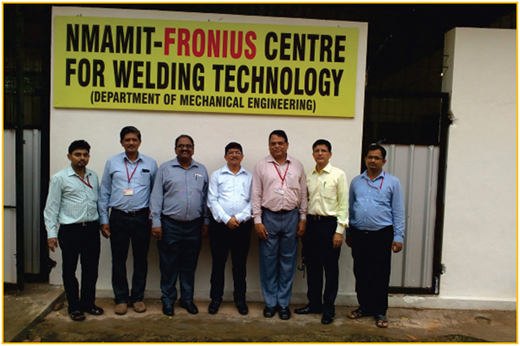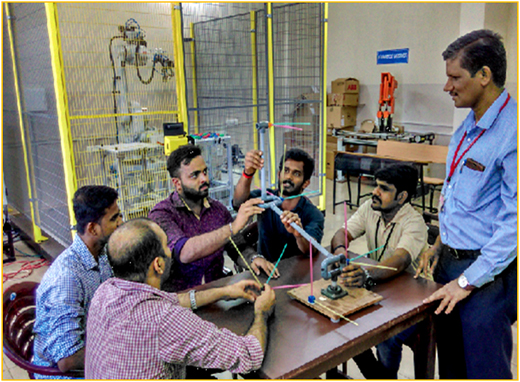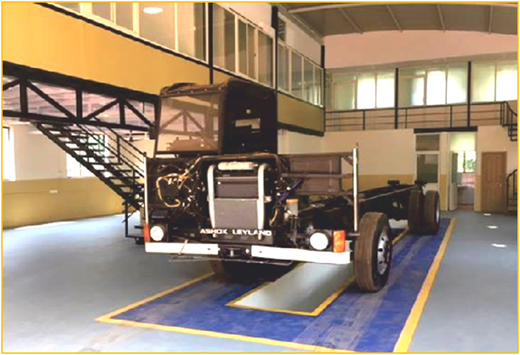 With highly qualified and experienced teachers including Adjunct Professors from industry, with varied socio-cultural and industrial exposures, the department has a very attractive student-faculty ratio. The institute being autonomous in nature enables flexilibility in framing the syllabus to suit industry needs. The curriculum is framed in such a way that along with Mechanical Engineering as the mainstream, there is ample opportunity to get minor specialization in 'Design' or 'Thermal' or 'Manufacturing & Automation' or 'Management' or 'Interdisciplinary courses - Information Technology' depending upon student interest. The student spends the 8th semester in industry, to get required exposure and complete the final year project work.

INFRASTRUCTURE:

The Centres of Excellence in Research focus on micromachining, vibration isolation, system design, advanced machining, IC engines, welding technology, alternative fuels, and Robotics and automation. In addition, the department has co-ordinated with companies such as Austria based Fronius India Pvt. Limited for Welding Technology; Ashok Leyland Limited for Bharat Stage 4 compliant Bus Chassis; Sweden based ABB India Pvt Ltd for industry version Robots and Germany based Festo India Pvt. Ltd for Pneumatics and Automation Technology. In order to improve employability, the department also offers industry supported skill development programs.

Automotive Learning Factory with Ashok Leyland latest Chassis:
An Automotive Learning Factory is established with Ashok Leyland latest emission's compliant 222 Viking BS4 – SCR Chassis & other related accessories with a total investment of about INR 100.0 Lakhs. The laboratory facilitates inter-disciplinary learning, curriculum and skill based training and to provide the commercial vehicle product knowledge to increase the employability.

NMAMIT-FRONIUS Centre for Welding Technology:

An Industry Powered Centre of Excellence 'NMAMIT - FRONIUS Centre for Welding Technology' is established in collaboration with Austrian based Fronius India Private Limited, Pune with an investment of about Rs. 60 lakhs. This centre of excellence facilitates Simulator based curriculum and skill based training, consultancy and research with modern welding facilities. The NMAMIT- Fronius Centre for Welding Technology also houses a modern Welding Simulator of Fronius make.

Active Learning Laboratory on Robotics with ABB Robot:

An Active Learning Laboratory on Robotics is established with "ABB India Limited IRB Multi Task Industrial Robot" and other desktop robots with an investment of about Rs. 40 lakhs. This laboratory facilitates the students to learn the basic concepts of Robot Kinematics by the robot models developed by NMAMIT and advanced robot programming and vision based control using the ABB Industrial robot with an integrated high-end industrial machine vision system.

Software:

Lab view, Robot programming & simulation, CNC Simulation Software, FEA and CFD, Creo Parametric, Solid Edge, dSPACE, Microscope Imaging Software, Fuel Cell Module of Ansys

Consultancy and start-up:


The faculty members are involved in consultancy activities in the field of welding, machining, energy conservation, alternate fuels, bio-safety labs, conditioning monitoring etc. The department has opened a start-up named Biosting Technologies at NMAMIT Incubation Centre on design and development of Bio Safety laboratories and modular operation theatres.

MoU:

The Department has active tie-ups with Lamina Suspensions Limited Baikampady; Lamina Foundries Limited Nitte; German-based Festo India Pvt. Ltd Bengaluru; University of Antwerp Belgium; Karel De Grote University Antwerp Belgium; SKF Boilers & Driers Pvt Limited Moodabidri; KH Design Bengaluru; Austria based Fronius India Pvt Limited Pune; Central Institute of Plastics Engineering & Technology (CIPET), Mysuru; Apex Hi-Tech Institute Bengaluru; Foreman Training Institute Bengaluru; Concur Global Engineering Solutions Bengaluru; M/s. Kakkunje Software Pvt. Ltd etc.

Internship:

To make the graduates industry-ready, a fast track semester in the final year (8th semester) is encouraged. This year 90 students have opted for the fast track semester and carried out the project work in reputed industries like JBM Buses Kosi Faridabad; Toyota Kirloskar Motor Pvt Ltd, Bengaluru; Allegion India Pvt Ltd Bengaluru; Autoliv Bengaluru; BHEL Corporate R&D Hyderabad; Wipro Infra Limited Bengaluru; Concur Global Engineering Solutions Bengaluru; Autoliv India Pvt Ltd Bengaluru; Indian Institute of Science Bengaluru; The Steel Planet Udupi; Vijaya Solar Katapadi; Bosch Limited Bengaluru; Alstom India Limited Bengaluru; Klonec Automation Systems Pvt. Ltd. Udupi; KS Hegde Medical Academy Mangaluru; Miven Mayfran Conveyors Pvt Ltd, Hubli; Indian Tobacco Company (ITC) Bengaluru; SKF-Elixir Moodabidri; Lamina Foundries Limited Nitte and Copernicus Mobility Mangaluru (start-up). Apart from the industries, the students carry out their internship at the University of Antwerp, Belgium; Swinburne University, Malaysia; National University of Singapore; project work with Ritsumeikan University, Japan.

Summer vacation institute-run skill programs:

To augment employability, the students undergo skill-based summer programs on "The Finite Element Analysis for Industrial problems and Welding Technology" and "Robotics & Automation" at the institute during May-July in association with industries.

Professional Society and Club Activities:

The students also have ample opportunities to participate in professional society activities such as Institution of Engineers India; Indian Welding Society; Solar Energy Society of India; Condition Monitoring Society of India; Fluid Power Society of India; Indian Society of Heating; Refrigerating and Air Conditioning Engineers; Society of Automotive Engineers India etc. The students are also being encouraged by the Institute to recognize themselves in technical and cultural clubs. The students participate in various national level competitions through technical and cultural clubs like Aero Club, SAE Club, Robotics club, Innovation club and so on.

Placement and Higher studies:

72% of students got placed, 4% students became entrepreneurs and 24% students went for higher studies in India and abroad.

The companies that visited the campus for recruitment include Jindal Steel & Power Limited; Toyota Kirloskar Motors Pvt. Ltd; Suez Water Technologies and Solutions; YG Cutting Tools; Blackfrog Technologies Pvt. Ltd; KPTL; Intech DMLS Pvt. Ltd; Accenture; Bosch Limited; Analytics Quotient; Bridge i2i; Autoliv; ITC; ID space; Alegion.
The students have opportunities for higher studies and many are pursuing higher studies in University of Aachen, Germany; Chalmers University; Sweden; Technical University of Denmark; NITK Surathkal; IIT Bombay; IIT Roorkee; Politecnico di Milano, Italy; ESC Rennes School of Business, France; University of Liege, Belgium; University of Twente, The Netherlands; University of Houston; University of Windsor, Canada; Hamburg University of Technology; University of Wollongong, Australia; Technische Hochschule Ingolstadt; Han University of Applied Sciences, The Netherlands; University of Louisville Kentucky USA; Leibniz University of Hanover, Germany; University of Applied Sciences Ravensburg-Weingarten, Germany and University of Freiburg, Germany.

Honors:

The students have secured best project awards in all-India level competition of Fluid Power Society of India in developing patient lift-shift system; prizes in all India competition of Aero modelling (1st place in Karnataka and 11th place in all-India level) Design, development and operation of all-terrain and formula type vehicles; regional, university level, national and international level prizes and awards in sports such as championship in body building, yoga, kick boxing, karate etc.



Write Comment
|

E-Mail
|
Facebook
|

Twitter
|

Print