Students seek new avenues of knowledge today
Mangalore Today News Network
Mangaluru, June 28, 2015: Addressing the graduation function of the fifth autonomous batch of Engineering, MTech and MCA of Nitte Mahalinga Adyanthaya Memorial Institute of Technology at Nitte June 27, N R Shetty Chairman, Universities' Review Commission Karnataka stated that Students are not just learners today, but actively seek centres to redefine knowledge and learning.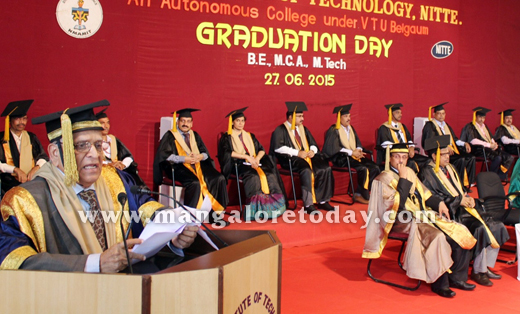 Shetty is also a former Vice-Chancellor, Bangalore University, he went on to say institutions of higher education must promote a culture of excellence and develop core competence with technology tools like e-class rooms, knowledge networks to enable sharing of ideas, intellectual resources like lectures and tutorials and so on.

He explained, education is meant to make one reflect inwards and help engage with the world in a better way. Never gauge success with the measure and scale of money. The target of education should not be limited to individual academic pursuit or merely securing more wealth and money. Knowledge and skills learnt must also be used for social, economic and political transformation of the society. As you move ahead do not forget that there are millions of your compatriots who are less fortunate than you are in terms of opportunities and prospects. They will remain on the fringes of society due to social and economic barriers and deprivation.

After felicitating the gold and silver medalists, N Vinaya Hegde, President of Nitte Education Trust and Chancellor, Nitte University told graduates to compete with the skill acquired with sincerity and loyalty.

Niranjan N.Chiplunkar, Principal administered the oath to the new graduates. During this occasion, 671 undergraduates and 248 Postgraduates in engineering and MCA received their degrees. The Rank holders (Gold and Silver medal winners) of various branches of Engineering are: Undergraduate: Biotechnology - Sandhya Kamath, Sanjana Chiplunkar. Civil Engineering- Neema, Prasanna Rao T. Electronics & communication Engineering- Mahesha Kumar, Shashanka Udupa K. Electrical & Electronics Engineering- Nishanth, Swathi V Shetty. Mechanical Engineering- Y Shriraj Rao, Sheldon Tellis. Information Science & Engineering - Ranjani Ravindra jadhav, Fathima Nishanth Rafeek. Computer Science & Engineering- Sapna S, Shrilaxmi B.

M.Tech Computer network Engineering- Saste Prasant Hanmant, Aadhiya mariya Thomas. Computer Science & Engineering- Sahana, Swathi Prabhu. Machine Design- Mohith S, Yajnesha P Shettigar. Construction Technology- Shwetha S, Thanushree A Hegde. Digital Electronics & Communication-Vaishali P, Anisha Maria Coelho Prabhu. Energy Systems Engineering- Sathya Praya C R, Ajith Shetty. VLSI Design & Embedded Systems- Sachin A S, Mokshitha. Master of Computer Applications- Venicia Rodrigues, Navya V P.

Write Comment
|

E-Mail
|
Facebook
|

Twitter
|

Print