State government has become lifeless: Yeddyurappa
www.mangaloretoday.com
Udupi, Sep 7, 2014: B S Yeddyurappa former chief minister of Karnataka and BJP National Vice President alleged that the State government has become lifeless and the development work has come to standstill.

Speaking to mediapersons on Saturday, the Shimoga MP said that the State government has failed to convince BJP led NDA government in Centre to release funds required for the over all development of the State. It has not forwarded a single proposal to the Centre demanding funds, he alleged.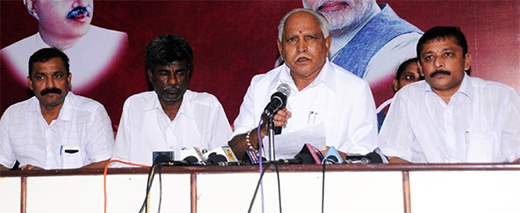 He said all attempts would be made to save Mangalore Chemical Fertilisers against shutting down. Nearly 3,000 families are dependent on the industry. The industry was recently converted into gas production using naphtha. Rs 350 crore was invested for the purpose. However, there was no progress in the status of the industry and Kerala government is not permitting to draw the gas line connecting Cochin and Mangalore. Plans are also being chalked out to set up the pipeline connecting Mangalore, Chennai and Kanyakumari. However, the success solely depends on the feasibility of the project. Closing down of MCF is delayed following the new order. Talks will be held with the Centre to save the industry, he added.

Coming down heavily on the State government for demanding marriage registration certificate of the parents to avail the benefits of Bhagyalaxmi Yojane to girls, the former CM said that the government should feel ashamed of, for demanding the marriage registration certificate of the parents. In the current fiscal year, only 1,00,416 beneficiaries have availed benefits of the scheme. While the number of beneficiaries was 2,54,463 in 2011-12, it was 3,99,823 in 2012-13, he lamented.

He said the Karthik Gowda episode is really disheartening and embarrassing, however the truth will come out. It is a conspiracy framed to defame the party as well as the Union Railway Minister D V Sadananda Gowda, he said.

Yeddyurappa assured that he would visit the flood-hit areas of Raichur, Yadgir, Gulburga and Bijapur from September 10 onwards.

Write Comment
|

E-Mail
|
Facebook
|

Twitter
|

Print