St. Mariam Baouardy Canonisation celebrated with joy at cloistered carmel Mangaluru
Mangalore Today News Network
Mangaluru, May 18, 2015 :At Sacred Heart Monastery, Cloistered Carmel, Kankanady Mangaluru, the Joy was palpable as hundreds of people from all walks of life congregated to mark canonisation of Saint Mariam Baouardy of Jesus Crucified by Pope Francis at the vatican Square in Rome.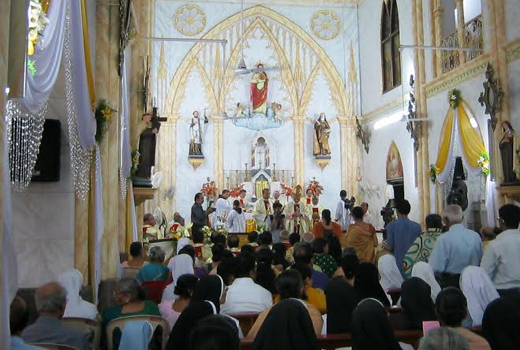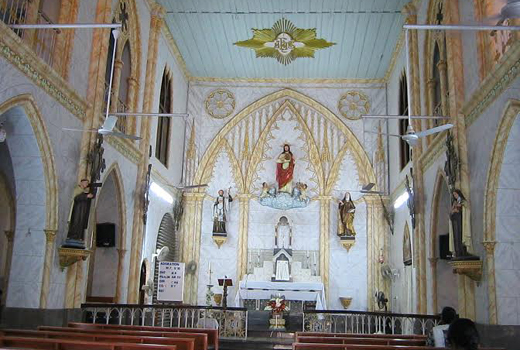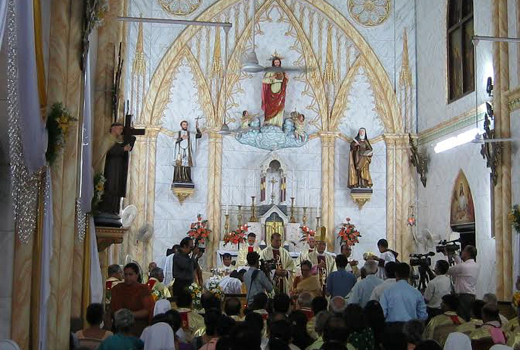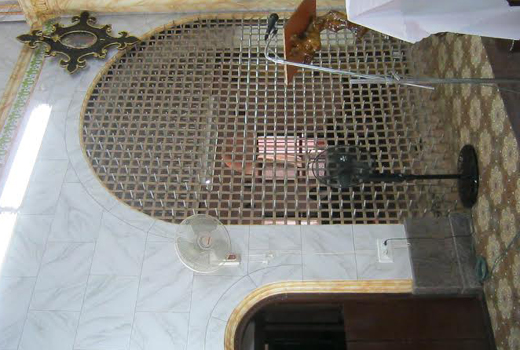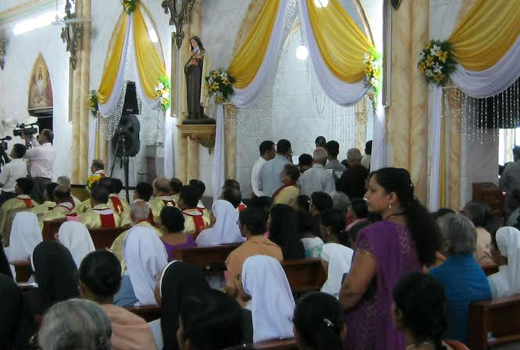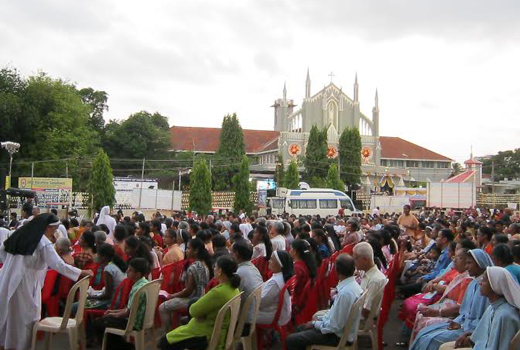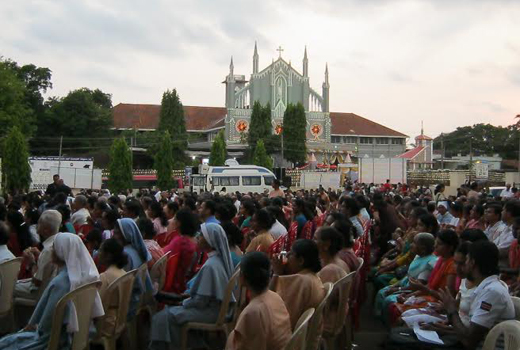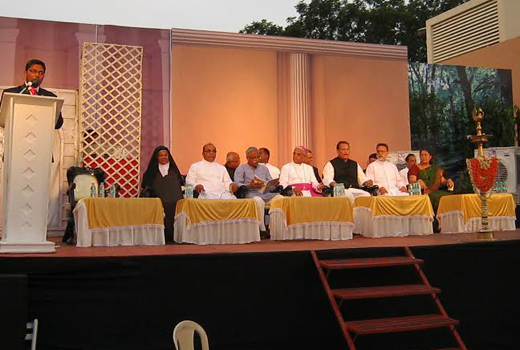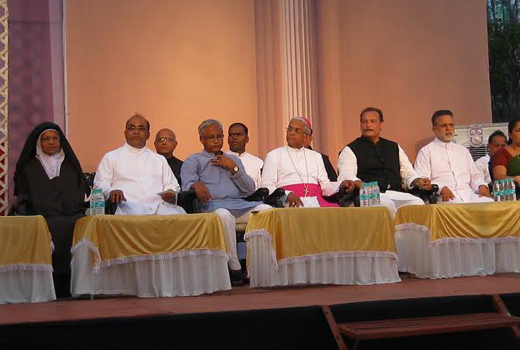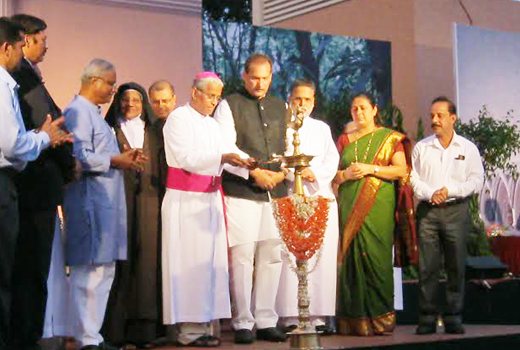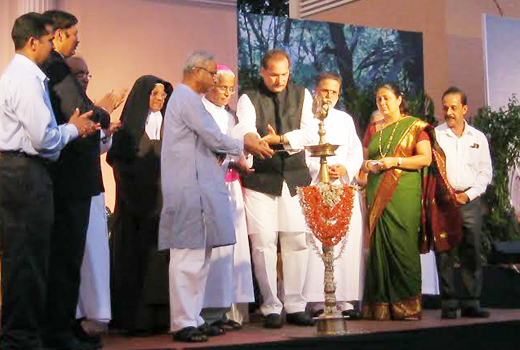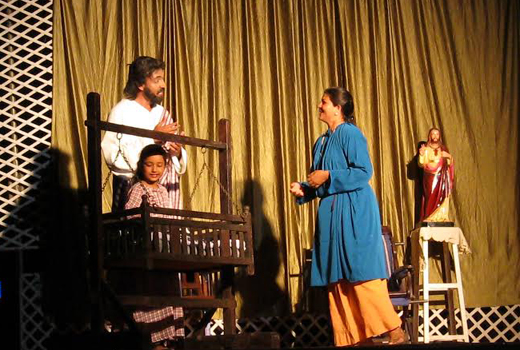 A solemn Eucharistic mass led by Bishop of Mangaluru diocese Dr Aloysius Paul D'Souza, Dr Robert Miranda, Bishop of Kalaburagi (Gulbarga) diocese, the concelebrants were Msgr Denis Moras Prabhu, vicar general of Mangaluru diocese, Fr Henry Sequeira, chancellor, Fr Pius James D'Souza, episcopal vicar, Fr Richard Coelho, administrator of Father Muller Charitable Institutions, Fr Joe Tauro OCD, Fr James D'Souza, parish priest of Valencia, Fr Elias D'Souza, and about 75 priests from the betharram, jesuit and diocesan clergy. The use of old Latin along with Konkani in parts of the Mass was a welcome reminder of the times of the new saint.

Bishop A P D'Souza stressed the fact that his predecessor Bishop Marie Ephrem OCD personally invited the cloistered carmel order in 1870, after approval of the Pope, to come to Mangalore and become a 'Power House' of prayer to for the region......this act caused the setting up of 36 convents all over India and has served the church of India by their seclusion and prayer power over 143 years now. Mangalore diocese it's clergy and laity has gained many blessings from God due this cloister.

In his homily, Fr Gregory D'Souza OCD, said that this 'little arab' now St Mary Boauardy is an worthy of a closer look and following in Mangalore. The fact that she lived for near two years 1870-72 at St.Ann's convent in the vicinity of Rosario Cathedral before the Kankanady facilities came about and mad her first profession in Cloistered Carmel order is a historical land mark for catholics in the area and has brought its blessings abundant and due to bring much more. The Word of God was her assurance in her short span of a life full of suffering and mysticism and it has bourne fruit in her canonisation as a saint of the church now.

St. Mariam sacrificed her simple spartan life for the faith she had in God in all humility and simplicity. The greatest gift which we have received from our ancestors and the missionaries is the Christian faith. To what extent are we ready to sacrifice and defend the faith in times of testing?

The mass was followed with an atmosphere of rejoicing with a brief stage programme on the aprking lot of the opposite Fr. Muller's Hospital. It was presided over by Bishop Robert Miranda as Bishop A P D'Souza had to be away due to circumstances, MLA J R Lobo, MLC Ivan D'Souza, Mayor Jacintha Alfred, Roy Castelino, president of Konkani Sahitya Academy, Sr Lynette, provincial superior, Apostolic Carmel, Karnataka province, Sr Jacintha of Cloistered Carmel, Fr Scervin, Betharram fatthers and other priests were present. The ceremony was inaugurated by lighting the lamp.

Addressing the gathering, bishop of Kalaburagi Dr Robert Miranda said that all are full of enthusiasm today to have a saint who lived in Mangaluru among our ancestors. It gives us renewed reasons to reestablish spiritual goodness in our lives and spread it to all around us.

It is happiness and honour to be present on this day of St Mary Baouardy's sainthood these her sisters in the carmel of Mangalore are lost in deep isolation praying for the needs of each one of us good or bad. It is indeed a happy day for all. Thanks to everyone, the clergy and the laity who toiled hard to make this day a memorable one.

MLA J R Lobo released a CD, 'Lipon Ashallen Dirvem' (Hidden Tresure), a documentary on St Mary Baouardy of Jesus Crucified, brought out by Divine Media and Cloistered Carmel, Kankanady. MLC Ivan D'Souza released a brochure. It was recalled that a few decades ago Fr.Norbert Fernandes, who is now in the Vianny Home first started a devotion to Mariam Baouardy a few decades ago. Secretary of Mangaluru diocese council M P Noronha welcomed the gathering. Sheldon Crasta compered. Fr Pius James proposed the vote of thanks.

Bannu Fernandes, wrote and visualised a sound and light depiction of the life of St.Mariam with the support of 'White Doves' the music group which was a mighty message. The effort and presentation will be loved and remembered by all who witnessed it, it was an edifying play.


Write Comment
|

E-Mail
|
Facebook
|

Twitter
|

Print