St Anthony relic feast celebrated with solemn grandeur at Milagres
Mangalore Today News Network
Mangaluru, Feb 16, 2017: The solemn feast of the Relic of Saint Anthony's tongue that has remained in-corrupt even after eight hundred years of his death was celebrated on February 15, Wednesday evening. it was preceded by a 9 day well patronized novena from Feb 6. Most Rev Dr Aloysius Paul D'Souza, the Bishop of Mangalore along with Most Rev. Jo Jo Anand the Bishop of Hazaribagh Diocese, and a large number of priests celebrated the Holy Mass in honour of Relic of Saint Anthony on 15th at 6pm at Milagres Church grounds, the original cradle of the devotion.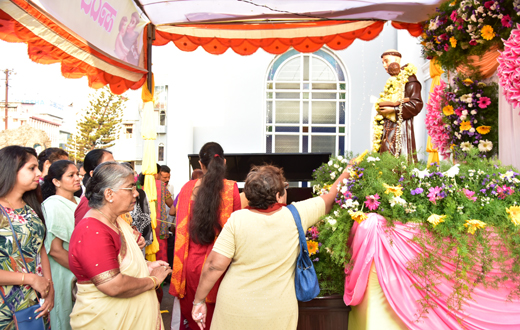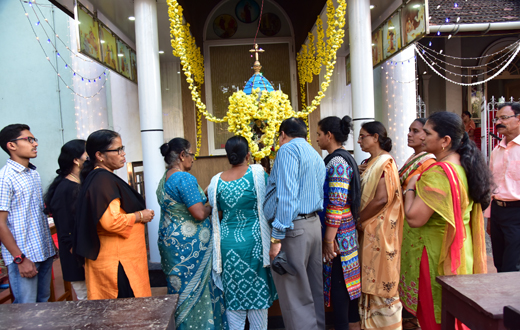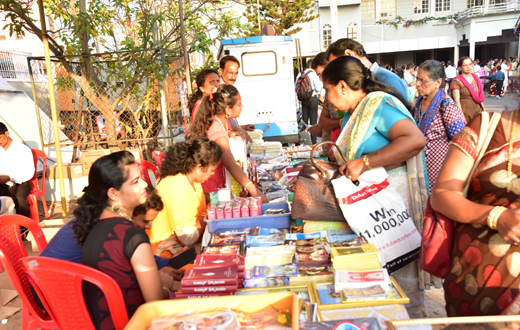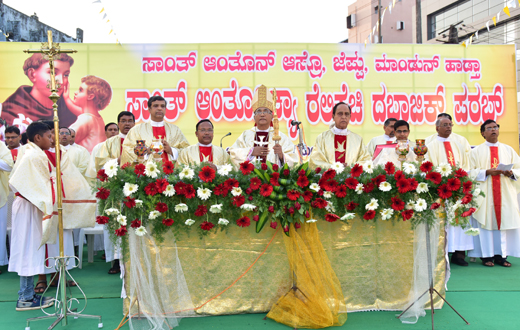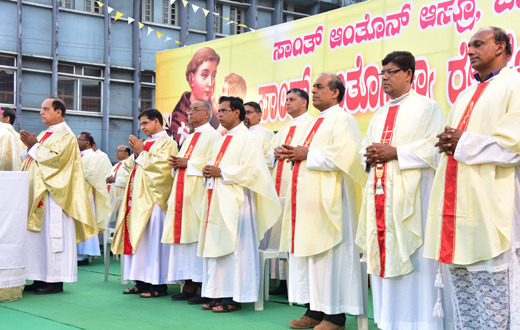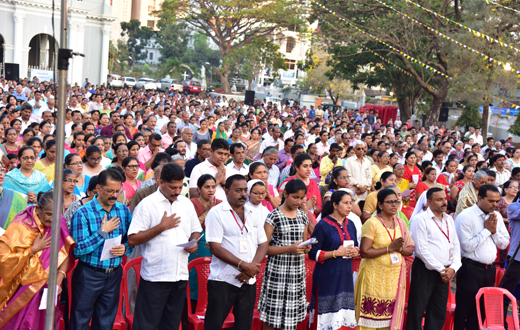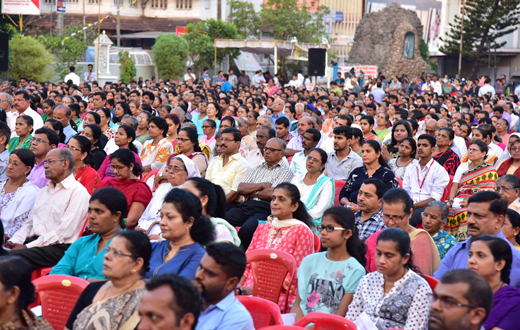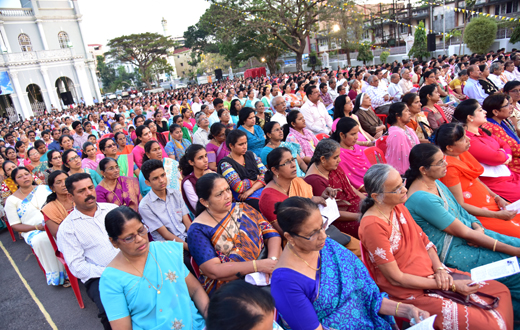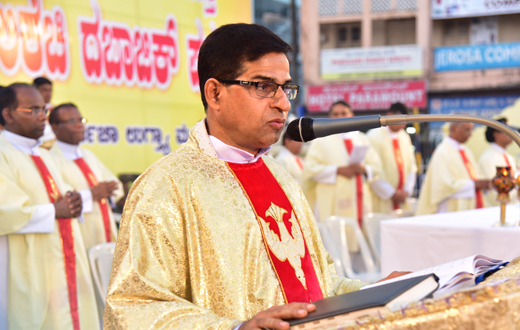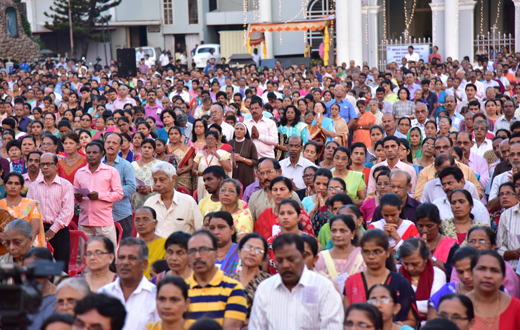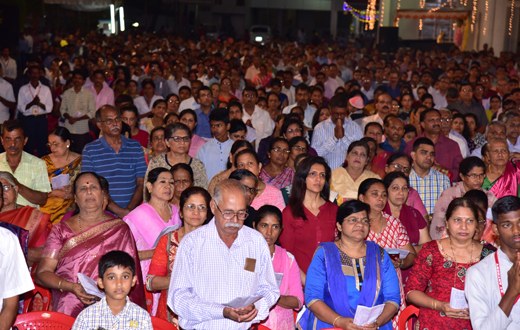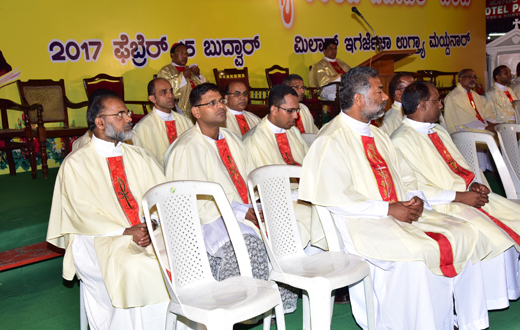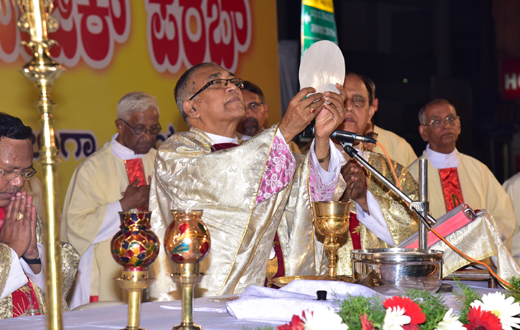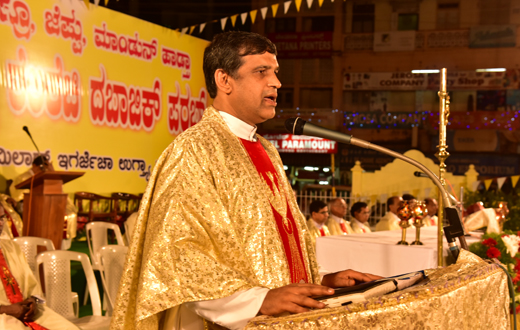 This episode of the saints tongue, is considered as a miracle. Saint Anthony lived in the 13th century. He was born in Lisbon of Portugal but he did his most of his ministry in France and Padua of Italy because of which he is known as St Anthony of Padua. Rev Fr Andrew D'Souza, the Parish Priest of St Lawrence Church Bondel preached a homily highlighting the life of St Anthony and asked the people to emulate the Saint in making the right use of the faculty of speech that is given to us by God. He said, like Saint Anthony the faculty of speech has to be used to praise God, to speak well of others, to encourage others and not to hurt others by our speech.

In the course of the day February 15, Fr William Barocas celebrated Holy Mass at 8.15am for the elderly. Msgr Denis Moras Prabhu the Vicar General of the diocese along with a dozen priests celebrated Holy Eucharist for the inmates and special invitees at 11 am at Jeppu Ashram (see previous detailed report of Mangalore Today). Fr Jerome Chinganthara the Parish Priest of St Theresa Chruch, Mahe celebrated Holy Mass in Malyalam at 4.30 pm at Milagres, which was well attended. At the end of the Holy Masses bread was distributed to all the devotees. 5000 people participated in the closing Holy Mass alone.

Brief history of devotion:
The 'Ashram' or 'St Anthony's Charity Institutes' had a simple start on June 12, 1898. At the Milaagres church (set up in 1680) on June 13, 1898, the feast day, a start was made and the devotion of the people became legendary. Devoted people brought offerings, what was realized from these offerings was distributed among the poor . A life size statue of St Anthony from the Vatican, Rome was obtained in 1900 blessed by Pope Leo XIII, it is venerated at the shrine even today. On February 15th 1899 a second Feast of St Anthony, that of his relics were commenced, the tradition has grown to this day.

In 1911, Rt Rev. Dr Paul Perini S.J. then Bishop of Mangalore, with rare vision and unusual faith in Providence the work became a separate entity, out of the Milagres Parish directly responsible to the Bishop. The "Poor Homes" to shelter the challenged, destitute, orphans and the aged who did not have any one to take care of them materialised with Fr Colaco leasing a plot across the road. He laboured hard for of 31 years honoured with the status of 'Msgr'; before he could retire he passed away on July 20, 1929, his mortal remains are interred in front of the Shrine Altar.

The number of inmates kept shooting up, a bungalow and the surrounding land of 27.36 acres at Jeppu, was acquired in an auction by Rt Rev. Dr Victor R. Fernandes, Bishop of Mangalore. Rev. Charles Lobo's extraordinary efforts and the Almighty's plan enabled Rev. Julian Rego, on October 15, 1936 to complete the work of shifting the inmates from Milagres to the new homes at Jeppu, the present site. The diocese of Mangalore will always prize this Ashram as most dear, urging it to strive even more to serve the suffering needy. In the modern era from Year 2000, Fr. Clifford D'Souza; then, late Msgr Fred V. Pereira were Directors; due to age and ill health retirement resulted.

In May 2008, Msgr Denis Moras Prabhu took charge of the Institutes in addition to his position as Vicar General of the diocese, for a while.The present Director Fr.Onil D'Souza along with the the long time Administrator Fr. Francis D'Souza, assistants, staff, volunteers are now doing admirable work. Many generous souls in past decades have contributed and are remembered always. Caring for helpless, gravely ill and physically challenged numbering around 400 day to day, is a task that is possible to human limitations only with the direct grace of goodness, St. Anthony is seen as a positive tool of the powetr of the Almighty.

St. ANTHONY OF PADUA, 1195-1231 A.D.: St.Anthony of Padua, also venerated as Saint Anthony of Lisbon, was born in Lisbon, Portugal, which was then a part of Spain, in 1195 A.D.His life is a legend that can be read in many ways, his extraordinary love for Christ and the poor transformed him to serve all mankind. On June 13,1231, the beloved preacher became ill he died at the young age of 36. His body was buried in a chapel, which is now enclosed by the Basilica of St. Anthony in Padua. In 1263, when his remains were transferred to the Basilica, his tongue was found to be still fresh and red in color. Saint Anthony was declared a saint 352 days after his death, by the same Pope Gregory he had met in life. St. Anthony of Padua is one of the most famous disciples of St. Francis of Assisi. He was a famous preacher and worker of miracles in his day, and throughout the eight centuries since his death, he has become known throughout the world as a wonderful support for suffering people.
By Ivan Saldanha-Shet.

Write Comment
|

E-Mail
|
Facebook
|

Twitter
|

Print