St.Anne's Capuchins Friary, Jail Road, to open new chapel on May 17,2015
Mangalore Today News Network
Mangaluru, Feb 15, 2015 : Fr Dolphy Joseph Pais, provincial minister of Capuchins in Karnataka province will inaugurate the new chapel. Dr Aloysius Paul D'Souza, the bishop of Mangaluru will bless the chapel and preside over the Eucharistic mass. Inauguration of the grotto and mini hall will also on the occasion take place. The inauguration and blessing of the newly constructed chapel at St Anne's friary will be held on Tuesday, February 17 at 10 am. The pictures are taken during the final stages of the construction.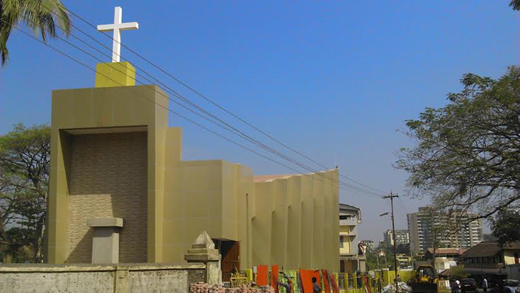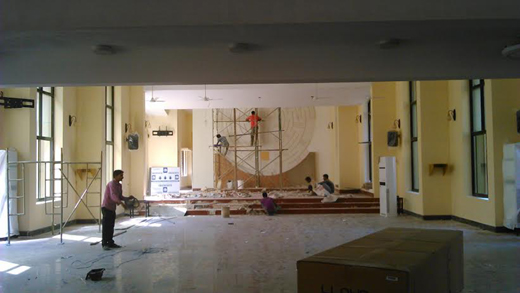 The Franciscan Capuchin Friary a growing center of catholic worship in Mangalore city is all set to open its new chapel on the spot that a crumbling historic 75 year old chapel stood. The Chapel will be opened on February 17, 2015 Tuesday at 10 am.


The new chapel presents an imposing modern concept and a rare cascading look. The interior is spacious with a balcony like gallery and could totally accommodate more than 850 people. The esthetic interior is designed for prayer, the uplifting of heart and mind. The basement provides ample parking and other support, for long term durability. A grotto and mini hall to accompany the modern chapel. The entire project is generously financed by donors.


Original History : The original property was near 50 cents and known as "Lawn View", owned by retired legendary Jailor and philanthropist George Lobo. In 1936 it was gifted to the Capuchin Friars of Farangipete who used to frequent it to conduct Franciscan prayers. It was declared a 'Friary' under St.Fedelis Fraiary of Farangipete and named as St. Anne's Friary, after George Lobo's wife Anne.


In 1941 it was given shape as a Friary and chapel, also a shrine to St.Anthony was raised in front at the junction of two lanes. George Lobo was a widower and he chose to live in a room of St.Anne's Friary. In 1950 after the death of donor Lobo, a residence was built for the resident Friars. Their life in those times was one of prayer and penance, wearing coarse brown habits with hoods, they lived a frugal life and seldom used any vehicle for transport, bicycles were the generally favoured. They cooked, cleaned, ran a garden and took care of all their needs; it was a practice to rise at 2 am every night for 35 mins of prayer. Their accommodation was of 'cells' and had no facilities other than the most basic, not even a mattress. Things have changed a lot since then.


Development : In 1955 an old house in the vicinity was taken on rent and young boys 14 years above who showed an inclination to become Franciscan Friars from out stations were accommodated to pursue their education. In 1960 a plot next door 'Grasmere', belonging to P C Lobo, brother of George was acquired and Assisi House became part of the Friary as it is now seen. Between 1977-79 the Friary was transformed to its new shape. Then the Divine Mercy Retreat Centre came up and devotion grew as also to the new Capuchin Saint – St.Padre Pio, who finds great fervor in the present centre.


The leaders of this Capuchin initiative have contributed a lot to the Catholic church of Mangalore. Fr. Cyril Andrade was a pioneer with SFO- Secular Franciscan Order. Fr.Vincent Lobo took this forward. Konkani Natak Sabha (KNS) – an active apostulate of the Konkani Stage started by a Jesuit Fr.Albuquesque Pai SJ, was handed over to the Capuchins with Fr.Philip Neri leading it for a long spell. Don Bosco Hall was put by this KNS in Hampankatta then a prestigious Hall, where local Konkani culture has been nurtured. Bro. Odorick (known as the snake swami) later became a priest and Bro. Otho along with several great monks have contributed to the progress over time. Fr. Vincent Lobo took the initiative of establishing "Sevak" a Konkani Magazine in 1959 and in 1970 started the Assisi Press which is a leading press here today. Several new services spiritual and temporal are now conducted in this place and the new chapel now will expand these faster. Several senior elderly priests are housed here too making available a wide range of advisory/counseling action. Fr. Cyprian Peter D'Souza is the present guardian of this Capuchin House and his initiative work is also lauded.

Write Comment
|

E-Mail
|
Facebook
|

Twitter
|

Print