St Aloysius Road name change unjust , unreasonable
Mangalore Today News Network
Mangaluru, June 23, 2017: St Aloysius College, en-masse has forcefully opposed the MCC - Mangaluru City Corporation's decision to rename the road from Catholic Club at Hampankatta to Dr B R Ambedkar Circle (Jyoti Circle).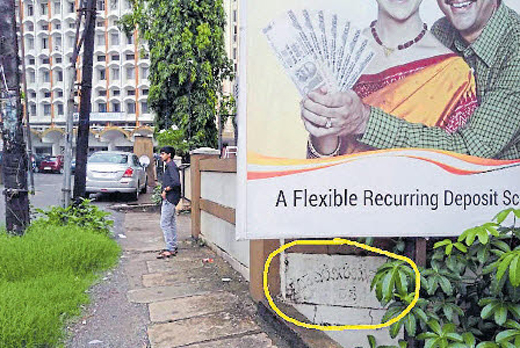 The stretch has as far as known borne the name 'St Aloysius Road' yet the MCC unilaterally decided to rechristen it 'Mulky Sundararama Shetty Road' in honour of the founder of Vijaya Bank. The regional office of the bank is located on the same stretch abutting Jyoti Circle.

Addressing media on June 22,Thursday, rector of St Aloysius institutions, Rev Dionysius Vaz SJ said, "This road has been historically known as St Aloysius Road, after it was named by the City Corporation authorities 20 years ago. Most importantly, the campus is a landmark and the single major istitution and the road encompassing a part of the campus is justly named so. The college chapel with rare paintings is a national treasure and prominent monument for tourists, it is known to all, and recognized world wide."

Rector Vaz strongly demanded the MCC authorities no to implement the decision, but also insisted on settling the issues, without any rancor.

Registrar of the college Dr A M Narahari clarified that the college authorities have nothing against Shetty, who has immensely contributed to the banking sector. However, replacing the name 'Aloysius' without cause is unjust. For record, Narahari said, most of the prominent buildings and also a road in Bengaluru bears the name of Shetty.

The road that was earlier known as Light House Hill (LHH) Road as well as Bavutagudde Road, was renamed St Aloysius by the Corporation authorities, concurred Narahari, who showed photographs of a cement plaque on the compound wall of a building on the same stretch with the name St Aloysius Road engraved on it.

Answering a query whether any objections were invited by the Corporation in this regard in keeping with the procedure, Narahari, quoted the City Corporation authorities, saying, "According to the authorities, a notification inviting objections to naming the road was published in newspapers two years ago. Barring that, there was no intimation in this regard from the Corporation authorities, as it was their responsibility to seek the opinion of the college authorities as well surely."

When a petition in this regard was submitted to Mayor Kavita Sanil, however, she claimed ignorance about the existing name. N G Mohan from St Aloysius College Alumni Association said, "The very development follows a memorandum in this regard from one of the employee unions of Vijaya Bank."

Many people who were born on this road at Glen View and Dr.Lucy's nursing home too are not happy about this development which is uncalled for.

St Aloysius College principal Fr Praveen Martis said, "It was an unseen move on the part of the MCC, when plans are in the making to elevate the college to a status of university."

Write Comment
|

E-Mail
|
Facebook
|

Twitter
|

Print