St Aloysius College (Autonomous) organized 'Samvedhana' program on Women
Mangalore Today News Network
Mangaluru, June 20, 2017 : The Department of Journalism, St Aloysius College (Autonomous) organized SAMVEDHANA, a developmental program on "Women's Issues and Violence" on 20 June 2017 at 3.45 pm in the Eric Mathias Hall in the campus. The program began with an insightful documentary that focused on women and the rise of crimes against them.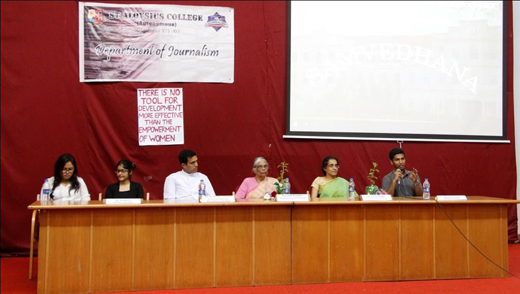 The keynote speaker, Rev Dr Melwyn S Pinto SJ, Vice Principal, MAFFEI Block and HOD, Journalism stressed on the role of men in promoting an equal society. Creating a substantial argument based on relevant statistics, he emphasized on the rising crime rates due to the general outlook of men as superior and women, inferior. Quoting examples from Indian mythology, he brought to light the evolution of women's role in India.
The Chief Guest was Prof. Hilda Rayappan, Founder, Prajna Counselling Centre who spoke at length about the women and children's issues and her personal experiences that she had encountered. Several instances were given about the violence against women and children that she had witnessed and the problems of intervention in such cases but the various laws today have helped make it better. Furthermore, she emphasized on the importance of men progressing in social aspects towards women in order to sustain equally in these modern times, "You live for yourself and your core family" is her advice for domestic bliss and a peaceful society. She agreed that women are not far from the development that they need, economically and socially and men can play their role in changing that by learning to nurture and respect the women.

Panel discussion followed which included various opinions of the students and several insights by the Special Guest of the program, Dr Shalini Aiyappa, HOD, Psychology who put across the idea "Feminism is all about equality and women issues are also men issues." The end note was that feminism is co-existence and not the superiority of one gender over the other. She said that change can only be brought about in the way we socialize men and women.

Write Comment
|

E-Mail
|
Facebook
|

Twitter
|

Print