Sr. Maria Shruthi nominated for IIPP Outstanding Community Leader award 2017
Mangalore Today News Network
Mangaluru, August 15, 2017: In recognition for her dedicated service to humanity through a passionate commitment to the cause of Mentally Challenged children, Sr. Maria Shruthi, Principal of St. Agnes Special Education School, has been nominated for the `Outstanding Community Leaders of Mangalore' Award by International Institute for Public Policy (IIPP), an international organization based in Mangalore for the cause of policy implementation for public good. Late Mr. James Serrao, Former Manager of Mahooz Coffee Estate at Chinna Halli in Hassan district has also been nominated for the award posthumously.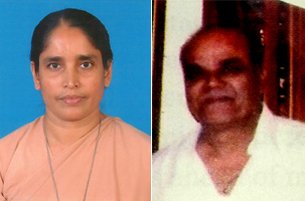 Sr. Maria Shruthi and Late Mr. James Serrao

The announcement of the awards is made on the eve of Independence Day every year by Max and Jessie Rasquinha, Houston/Dallas, Texas, USA, the Founders of International Orientation Centre and International Institute for Public Policy, who always cherish Mangalore as their beloved `Home Sweet Home' even after sixty years of their leaving Mangaluru, wherever they were while pursuing their daily life.

"He who wishes to secure the good of others has already secured his own" is a saying that may be aptly attributed to many a dignitary of Mangalore, for even from a distance one can observe, year after year, their dedicated service to the community. One can witness, moreover, their charity, generosity and nobility, animated by an attitude of selfless and joyful service. It is but proper that the community expresses its gratitude for all they have done for society by conferring on them timely awards.

The "Outstanding Community Award" is planned to be presented officially during October, 2017 near Mangalore during the visit of the Rasquinha family to their home town.

"We have in our list several such leaders who deserve to be recognized and honored. They are the prospective candidates for the award of recognition. But for practical reasons, we can select only a few each year to be the recipients of our award from the International Institute of Public Policy. Such timely recognitions are considered essential in order to encourage others to emulate their example and be motivated to render vibrant service to society", stated Max Rasquinha in a press release.

Max and Jessie Rasquinha are keen followers of all the developments taking place in their beloved home town of Mangalore. All the dignitaries that are dedicating their talents and efforts for our Community and our Society are always been noted and admired for future recognitions.

Late Rev. Fr. Ronnie Prabhu SJ., Sachitha Nandagopal, Mr. Joe Gonzalvas, Bishop of Mangalore Rev. Aloysius D'Souza, Eminent Singer and composer Wilfy Rebimbos, Former Lokayukta Santosh Hegde, Founder of Daijiworld Walter Nandalike, Rev. Mnsgr. Fred Pereira, Social Work Educationist and activist Dr. Olinda Pereira are among those who have received the `Outstanding Community Leaders' award in the past.

Sr. Maria Shruthi
"In Love We Grow", the motto of St. Agnes Special School in Mangalore, has been totally internalised by this selfless and dedicated nun who has been passionately rending her service for the cause of mentally challenged children for over two decades.
Having joined the Apostolic Carmel Congregation, Sr. Maria Shruthi has been actively involved in helping to draw out the children with special needs from cold isolation and neglect to the warmer atmosphere of love and understanding and provided them with the training necessary for their growth and development.

Inspired by Christ's Compassion for persons with disability and the charism of AC Foundress Mother Veronica, She along with her staff of the Special School, through constant professional endeavour have been helping those under their charge to accept their condition and to use their potential to the maximum extent, thus leading them to live a better quality of life. She has specialised in understanding the learners' skills of the ones with special needs for daily functional and value-based living and to earn while they learn programmes. She is loved by over 200 students under her umbrella along with thousands of parents and well wishers for the unassuming humility and unconditional love that she has ushered to these children.

Late James Serrao
A dedicated and selfless commitment of Serrao made him sail through rough and tough conditions managing Mahooz Coffee Estates situated in Balupet of Hassan district for over 47 years, out of which he spend 25 years in the Estate. His meticulous manner of functioning helped in training many youth and other workers to gain desirable employment and dignity of life in the rural environs.

Fighting against all odds in the rural ambience which was barren at one time without facilities including power and water, he was responsible in transforming the estate into a fruitful expanse of land, not only lending a helping hand to numerous bread earners but also beautifying the environment. Despite retirement, Serrao monitored the activities of the estate from Mangalore for as many as 22 years before his demise in 2014.

The Rasquinha family has instituted two scholarships in his name to be awarded to meritorious school or college students to pursue their educational dreams. The village of Chinna Halli will always remain grateful to James Serrao for the services he rendered towards dozens of needy native families many of whom are prospered so well today.

Write Comment
|

E-Mail
|
Facebook
|

Twitter
|

Print