Special cover on 'prohibition' released at Jnanodaya Samaj Mandir, Bolar
Mangalore Today News Network
Mangaluru, Feb 24, 2019: Mahatma Gandhi visited the Jnanodaya Samaj Mandir at Hoige Bazaar on February 24, 1934, at the invitation of the Mandir founder Mohanappa Thingalaya. Gandhiji had spoken on abstinence from alcohol to people of the Mogaveera community on the occasion. On February 23, Saturday - 85 years later, the Karnataka postal circle, has released a special cover, at the same Mandir.

It is the sixth in the series of 12 special covers on different themes to commemorate the 150th birth anniversary of Mahatma Gandhi from October 2018 to January 2019. The theme of this cover was titled 'prohibition'. Incidentally, the Mandir constructed by Thingalaya completed 100 years on February 22, Friday.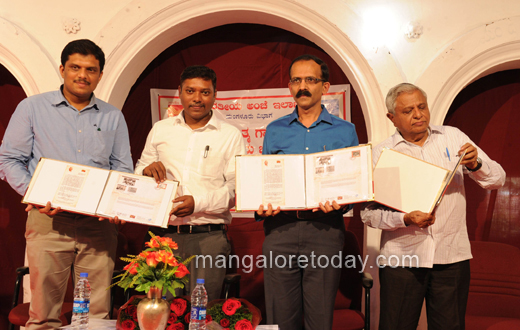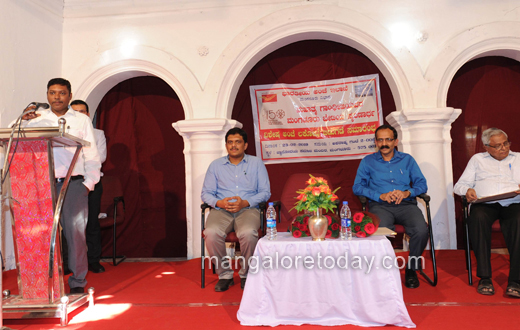 Visits to Mangaluru: Well-known philatelist and urologist Dr G G Lakshman Prabhu said Gandhiji's two-day visit to Mangaluru in 1934 was his third and final visit here. In the first visit to Mangaluru on August 19, 1920, to gather support for the non-co-operative and Khilafat movement, Gandhiji had urged the gathering at Central Maidan to return the titles bestowed upon them by British-India government, boycott councils and hearings in courts and classes in schools.

"During his second visit to Mangaluru on October 26, 1927, it was to campaign in favour of the Khadi as, then, cloth was the biggest imported item. Before leaving for Bombay via sea, Gandhiji urged the people to use Khadi and eradicate untouchability," said Dr Prabhu.

"The third visit was in 1934, called the Harijan tour, post Salt Satyagraha in 1930. It is the most cherished visit by Gandhiji. After delivering a talk on prohibition at the Mandir, Gandhiji visited Kudmul Ranga Rao's school and laid the foundation stone for the Krishna Mandir," he informed.

"It was Mangaluru that made Gandhiji wield a trowel. The stick which Gandhiji famously used during the Salt Satyagraha also came from Mangaluru," he said with pride.

DK DC Sasikanth Senthil released the special cover. Gandhiji was a phenomenon, the officer said. "The First War of Independence 1857 sowed the seeds of a nationalist feeling. But it was Gandhiji's non-co-operative movement that spread the nationalist feeling throughout the country," he stressed.

Postmaster General (South Karnataka region) S Rajendra Kumar, Senior Superintendent of Post Offices, Mangaluru Division Shriharsha, Mohanappa Thingalaya's grandson and president of Mandir Premachandra K Thingalaya were present during the release.


'Jnanodaya Samaj Mandir' in Hoigebazar is 100 years
On the facade wall of the Jnanodaya Samaj Mandir at Hoige Bazaar still prominently displays in Kannada and Sanskrit the words 'Tell the truth; do good,' it is a 100 years to Jnanodaya Samaj Mandir on February 22, 2019.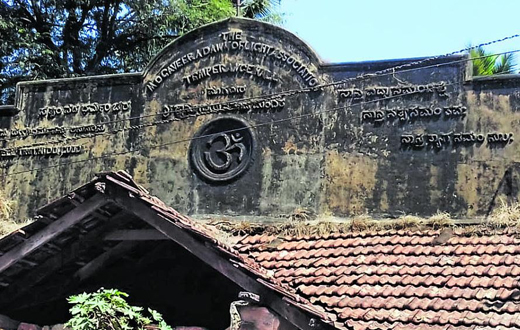 The building with leaking roof dilapidatedas it is, is steeped in history. "About 120 years ago, my grandfather Mohanappa Thingalaya was saddened by what he witnessed in villages," says Premachandra K Thingalaya, Mohan Thingalaya's grandson and president of the Mandir.

"As an employee of the British-India government, Mohan Thingalaya used to regularly visit the villages near Mangaluru city. He found fishermen, whose community he belonged to, addicted to alcohol. Their addiction to the bottle not only made them poorer but also destroyed their health. He therefore launched the Jnanodaya Samaj in 1910 with the objective of propagation of abstinence from alcohol. On February 22, 1919, the Jnanodaya Samaj Mandir was completed," said Premachandra Thingalaya.

He explained, that in order to boost the campaign, Mohanappa Thingalaya invited Mahatma Gandhi to address the fishermen at the Mandir. "My grandfather, using khadi as a medium, wrote an appeal to Gandhiji in both Kannada and English. In the letter, he said that a majority of the one lakh fishermen were addicted to alcohol. If the fishermen were freed from the habit of drinking, the fishing industry, which is like a cottage industry, would flourish, he had explained," Premachandra added.

He remembers his grandfather saying that people from distant places had come to the Mandir to listen to Gandhiji speak about abstinence from alcohol. "As there were no chairs then, 'jamakhanas' were spread on the floor. Gandhiji came in a car and delivered a powerful message to the fishermen," said Premachandra, adding that the building was utilised not only for anti-liquor campaigns but also as a school.

As the struggle for freedom intensified, the building became a centre for freedom fighters – in particular, for women freedom fighters. When Gandhiji was assassinated in 1948, all shows in film theatres were cancelled as a mark of respect.

"I was eight-years-old, when the ashes of Gandhiji arrived in a train. The vessel was placed in the government college for public viewing. The ashes were then immersed at the point of confluence of Gurupura and Phalguni rivers," said Premachandra.

He also said that most Independence issues like education and temperance work have taken a back seat. "We have also failed to attract young leaders to continue the campaign. Now, the building is being used to conduct bhajan sessions and staging a drama once a year," he added. Deputy Commissioner Sasikanth Senthil S said that the building, given its rich history, needs to be protected like a temple.

Excerpts from Gandhiji's speech on alcohol on Feb 24, 1934: I thank you for the purse (donation) and for your address. I am glad that you have frankly admitted the existence of the drink evil among fishermen. I myself belong to a fishermen's village. And therefore I know what fishermen do. And I suppose, it is from their habits that we have got the phrase, 'he drinks like a fish'. I am glad that your sabha is tackling this drink evil and that your effort is being crowned with some measure of success. Having worked at prohibition, I know how difficult it is to deal with this drink curse. I would leave with you one suggestion: that you must not be satisfied with merely asking the people not to drink. I have found that many people drink because they have nothing else to do. Therefore, you must find a variety of ways whereby you may occupy their attention, their minds, their hands and their feet.

Write Comment
|

E-Mail
|
Facebook
|

Twitter
|

Print