Somanath Nayak of Nagarika Seva trust sentenced to six months imprisonment
Mangalore Today News Network
Mangaluru, Aug 29, 2017 :The Additional court in Beltangady sentenced Somanath Nayak, the President of Nagarika Seva trust, Guruvayanakere to imprisonment for repeatedly making false allegations against Dharmasthala during the last two years. This was in violation of a restraint order of the court.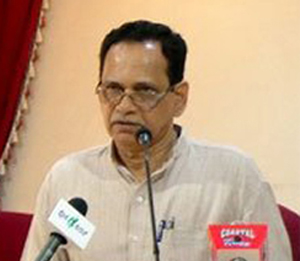 The court in the past had ordered Somanath Nayak not to make any allegations against Dharmasthala Dharmadhikari Dr Veerendra Heggade or his organization and institutions. But Mr. Nayak had published and distributed books on sensitive subjects containing propaganda against Mr. Heggade and his educational institutions in contravention of court orders.

Complaints about contempt of court were filed by the Dharmasthala organizations in this regard. The court, after hearing arguments and examining witnesses, concluded that Somanath Nayak was guilty and pronounced the judgement.

Additional court justice Anand sentenced Somanath Nayak for three months imprisonment each, for two cases of publishing books and allegations and ordered him to pay a compensation of Rs 4.93 lac. If the compensation is not paid, the court said the property of Somanath Nayak can be seized and sold by auction.

The remainder auction money, after paying the compensation, will have to be deposited in the court. These orders have to be conveyed to the concerned tahsildar. Advocates N D Rathnavarma Bunnu and Badarinath Sampigethaya appeared in the court and argued on behalf of Dharmasthala.

High court advocate, P P Hegde, who represents the Dharmasthala establishment in the high court, welcomed the verdict, observing that the concerned, Mr. Nayak, was guilty in showing disrespect to the orders of the court and 'spreading malaise' through media and social websites. He said that this has come as a warning to people who think that violating court orders does not attract punishment. He said that now legal action will be pursued against those who provided support to the guilty.

When Mangalore Today spoke to him, a defiant Mr. Nayak said he refuses to accept the judgement and plans to appeal. He said that the court judgment came against him as he did not get enough of an opportunity to justify his actions and to present documentary evidences. He said he will appeal against the judgment in the state high court.



Write Comment
|

E-Mail
|
Facebook
|

Twitter
|

Print