Siddhartha's disappearance, the letter 'utterly fishy', needs to be probed: DK Shivakumar
mangaloretoday.com
Mangaluru, July 30: The disappearance of Cafe Coffee Day founder VG Siddhartha and the letter purportedly written by him to his staff has shocked people, many of whom expressed their anguish on Twitter.

Congress leader DK Shivakumar called the alleged letter of VG Siddhartha "fishy" and demanded a thorough investigation into the same. "It's unbelievable that a courageous man like him would resort to this," Shivakumar tweeted. He said he has known closely Siddhartha and his family members for decades.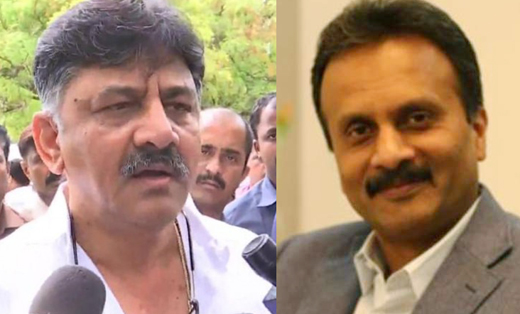 "However, I find this (the disappearance) utterly fishy and urge that a thorough investigation be conducted into this matter," he said.

Whiie, the note written by VG Siddhartha, son-in-law of former Karnataka CM SM Krishna and the owner-founder of the Cafe Coffee Day (CCD) chain, is genuine, confirmed police.

Authenticity of CCD Founder Siddhartha's Note Not Known: I-T Dept

The Income Tax Department, on Tuesday, 30 July, said the authenticity of the note being attributed to missing CCD founder VG Siddhartha is "not known". The officials added that the signature in the note does not tally with that of Siddhartha's in his annual reports.

The CCD Board held an emergency meeting on Tuesday, 30 July, in order to evaluate the situation after the company founder went missing, according to their statement.

"Will ensure continuity of all business operations consistent with past behaviour," the statement read, adding that appropriate steps are being formulated to ensure business operations are not affected.

'Was Asked to Head to Mangaluru': Driver Gives Statement

Siddhartha's driver, who was with him en route Bengaluru just before he went missing said that he was asked to head to Mangaluru instead. Here's his full statement:

"I've been driving with Siddaratha for last 3 years. I went to his Bangalore residence at 8 am and then to Vittal Mallya's office and came back home at 11 am. At 12: 30 pm he asked me to drive towards Sakleshpur. I was driving an Innova. He then asked me to head towards Mangalore. When I was entering the main Mangalore circle, he asked me to take a left to go to a site. We reached Kerala highway and drove for 3-4 kms. He asked me to stop at a bridge and asked me to be at the end of the bridge till he returns. I then got down from the car. He later asked me to sit inside the car and drive to the other side of the bridge. At 8:00 pm I called him but his phone as off. I then called his son and he said he will call him too. I later filed a complaint."

'Checking Who All Siddhartha Spoke To': Police Commissioner

Mangaluru Police Commissioner Sandeep Patil told ANI that Siddhartha's conversations through the day are being traced.

"Boat service and help of local fishermen being taken to conduct search operation in the Netravati river. We are checking with whom all he spoke last," he said.
Search Being Conducted with Help of Locals: UT Khadar

Congress leader UT Khadar is present at the site of search operation for Siddhartha.

"I was shocked when I got the news. Police Commissioner and the District Collector have ordered a search operation, it is being carried out with support from locals," he said.

Write Comment
|

E-Mail
|
Facebook
|

Twitter
|

Print