Should Nobel prize for medicine for 2018 to be shared by two Indians!?
Mangalore Today News Network
Prof. Narendra Nayak

Mangaluru, Nov 6, 2017: We are glad to announce that the next year's Nobel prize for medicine is going to be shared by two Indians- Efficient Brainy who has offices at Belgaum and Dr.Shivanand S. Patil of Eye Hospital, High school road, Gokak who is an ophthalmologist of 30 years of standing the field according to his own claims. Well the subject will be seeing without light falling on the retina which could be a boon to millions of people in this world who have problems with vision. The former has invented/discovered/modified/devised or in some way have stumbled on a way by which children can be trained to seen without the incident light from the object falling on the retina of the eye while the latter who in his own words has three decades of experience as an ophthalmologist after having graduated with a post graduate qualification in the subject. This is certainly going to bring to our country the next Nobel prize for science and medicine. The previous one if you may recall was in 1930 or so by Sir C.V.Raman.
If one goes through the attached video he 'examines' the child 'thoroughly' and certifies that there is no way by which light can enter the blind fold and then proceeds to verify that the child can see! He further gushes on to say how Efficient brainy have trained this boy to seen though all measures are taken to prevent light falling on the retina. Then he goes on to say how ancient Indians had developed these revolutionary techniques and pontificates about how the brain can be developed and impossible can be made possible. He also goes on to offer gratuitous advise to all parents to admit their progeny to the courses conducted by Efficient Brainy so that their children too could realise their potential and become super brainy.

Well if this sounds too good to be true it is so! The child in the video is clearly seen to be peeking through the gaps between the eye and the nose and it is very strange that a senior ophthalmologist with three decades of experience could not realise this simple fact. More than that it appears that many non academic considerations would have gone into this video which is being used by Efficient Brainy as publicity material to lure gullible parents into admitting their children to the WBDP( whole brain development program) of the above mentioned enterprise which claims to make super geniuses of children admitted to their above mentioned course! Of like all good things of life this does not come free! The parents have to shell out a cool 10,000 for this!

Many parents mislead by this video have admitted their children to the WBDP of Efficient Brainy and two of them from Puttur have already filed complaints with the Karnataka Medical Council under section 7.7 of IMC act which specifies code of conduct for medical professionals. It reads like this- 7.7 Signing Professional Certificates, Reports and other Documents:
Registered medical practitioners are in certain cases bound by law to give, or may from time to time be called upon or requested to give certificates, notification, reports and other documents of similar by them in their professional capacity for subsequent use in the courts or for administrative purposes etc. Such documents, among others, include the ones given at Appendix-4. Any registered practitioner who is shown to have signed or given under his name and authority any such certificate, notification, report or document of a similar character which is untrue, misleading or improper, is liable to have his name deleted from the Register.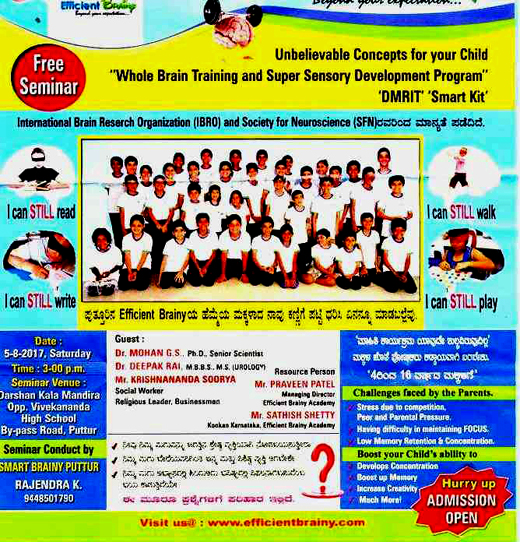 So, under this section Dr.Shivanand S. Patil is liable to get his name struck of the medical register for promoting a unproven treatment or procedure! We are going to lodge a complaint to that effect with the Karnataka Medical Council and do hope that they will take immediate action. Either that should happen if the claim is false or that he and Efficient Brainy are due for the next year's Nobel prize for medicine for having made this world shaking discovery that children can visualise objects without light falling on the retina. If we can recall the last Nobel prize for an Indian working in India was in 1930 and it was to Sir C.V.Raman for his discovery of light scattering the Raman effect! History is now going to be repeated after 87 years!

The tragedy of our nation is that he could get away even with atrocious claims like this! This is because of the lax public and the vested interests who want to promote their commercial motives with propaganda of pseudo science which the common man does not understand! When a qualified person with a MS in ophthalmology states openly that a child can see without light falling on the retina people will certainly believe and enrol their children for the course. This video has been obtained by us through our own sources as the parents used to be shown this video but not given copies.

It is a shame that the department of public instructions, the Karnataka Medical Council have not take action on such blatant misleading and false claim which amounts to support of quackery by a medically qualified person for reasons best known to himself.

Narendra Nayak is President of Federation of Indian Rationalist Associations

Write Comment
|

E-Mail
|
Facebook
|

Twitter
|

Print