Sharavu Temple replicates 'Thirupati Brahmothsava' -attracts all
Mangalore Today News Network
Mangalore, Sep 27, 2014 : The Mangalore 'Nada Habba' are Navaratri celebrations beyond all doubt. As a part of the celebrations at Sharavu Shri Mahaganapathy Temple in Mangalore, around 1,000 dolls have been arranged, decked up, worshipped and exhibited. The exhibition brought out the true spirit of the ritual, which is observed by the people who have been living in Mangalore from ancient times. A reflection of Brahmothsava of Lord Venkateshwara at Thirupati, created by the members of "Nammavaru - Old Mysore Residents Association", was much appreciated at the Dasara dolls exhibition.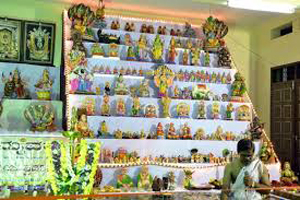 The exhibition of dolls highlighted images of Hindu Gods and Goddesses and major events from mythology along with the traditional dolls of King, queen etc.

There were also the dolls which depict rural life and agricultural activities. The celebrations such as the procession of Golden Howdah in Mysore, along with Mysore palace was recreated through dolls and elicited great interest. Historical characters such as Swami Vivekananda were yet another attraction. Inaugurating the dolls exhibition on September 25, Sharavu Shri Mahaganapathy Temple Administrator Sharavu Raghavendra Sastry said that the endeavor of 'Nammavaru Viprakoota' is significant in preserving tradition of the land. Our real identity lies in these rituals and hence there is a need to preserve and carry over these practices to the next generation, he said and added that though the dolls exhibition is not a part of Dasara in coastal area.

Sharada Vidyalaya President Prof M B Puranik also spoke. Viprakoota President Raghava Sharma, Coordinator M S Gururaj and others were present. The traditional dolls were arranged in nine steps, and the uppermost step was adorned by the King and queen dolls (Pattada Raja and Pattada Rani), as per the traditional practice.

Special feature : The Viprakoota has been featuring a special arrangement of dolls each year and this time, it is the Brahmothsava at Thirupathi. Around 250-300 dolls depict the various adornments done to the Lord Venkateshwara and his divine consorts Sridevi and Bhoodevi, at the time of Brahmothsava procession. The Lord is seen with various 'vahana' or vehicles on each day of Brahmothsava and the replica was created at the dolls exhibition, depicting 'Sooryaprabha Vahana,' 'Chandraprabha Vahana,' 'Shesha Vahana,' 'Garuda Vahana,' etc. The model of the Thirumala Tirupathi Temple, in the backdrop of seven hills has been brilliantly recreated. The dolls of devotees and priests witnessing the Lord's procession added charm to the Bramhothsava scene. The exhibition comprises of metal, alloy, clay, paper pulp and wooden dolls. The expo will be open for public till September 4. Cultural programmes will be held between 6.30 pm and 7.30 pm on all the days. It is certainly a grand opportunity for Mangaloreans.

Write Comment
|

E-Mail
|
Facebook
|

Twitter
|

Print