Shalini Rajneesh draws flak on social media for dengue remedy
www.mangaloretoday.com
Mangaluru, July 25, 2017: Shalini Rajneesh, Principal Secretary (Health and Family Welfare), on Monday, faced criticism for her Facebook post on dengue. She had suggested eating jaggery with onion to increase platelet count.

While many thanked the official for the information, a few took her to task for not substantiating her claim with any study report or research work. In her post, the official said the easily available medicine would increase platelet count and strengthen immunity thereby curing dengue. "Truly, this is an effective medicine. Spread this message and save lives," the post said.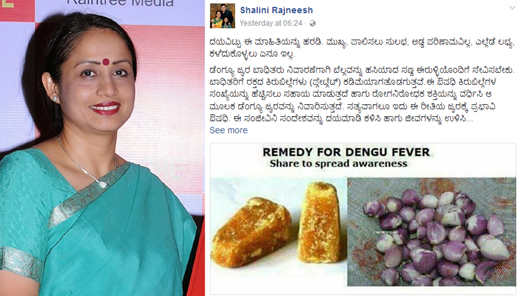 Within hours, thousands of people shared the post and even commented on it.

Narendra Nayak, convener, Consumer's Education Trust of Mangaluru, said: "While it may be harmless to eat small raw onions and jaggery for most people, it may be dangerous for those who choose to follow this and not take proper treatment." He said: "Is this cure endorsed by the Health Department and administered as treatment in government hospitals? If this really works and there is evidence for the same, it should be used as the standard protocol for all dengue patients. If it is not so, then she should retract and give a press note to that effect."

Sandeep Samethadka Nayak, a resident physician, commented: "This is not evidence based. This may mislead common man from getting scientific attention."

A.V. Krushika, a postgraduate in Regenerative Medicine, wanted to know which research paper proved this claim. He also asked how she could post "this kind of nonsense which is not verified" despite being Principal Secretary of the Health Department.

Reacting to the controversy, Ms. Rajneesh said it was a remedy tried out by government AYUSH practitioners. "At a time when dengue is spreading rapidly, any remedial measure should be shared. I'm not saying people should set aside all other scientific treatment and take only this. It is left to them to follow or not," she said and added that it was unfortunate that the AYUSH system of medicine that has history of over 5,000 years has no research to validate its treatment.

Write Comment
|

E-Mail
|
Facebook
|

Twitter
|

Print