Serious objections irregular payments under MGNREGS
Mangalore Today News Network
Manipal, March 03, 2015: Irregular payments under Mahatma Gandhi National Rural Employment Guarantee Scheme (MGNREGS) resulted in heated arguments and serious criticism at the general body meeting of Zilla Panchayat.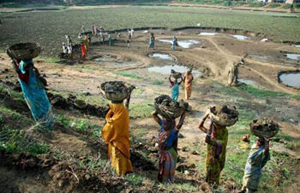 Raising the issue a member is reported to have said funds are not provided to labourers who work under various programmes initiated through MGNREGS. Works like toilet construction, wells and cattle sheds are taken up. However, no fund is released to pay labourers. There is also no scope to construct roads and bridges, wherein the programme forbids provision, subsequently labourers cannot be paid for work.

Member Manjunath Poojary said official apathy is the main cause behind hurdles in executing the scheme. Udupi District is lagging behind in utilising provisions of the scheme. He said people who take up work are pressurised to show minimum wage prices in the receipt. For instance, if cattle shelter is built at Rs 35,000, amount paid is Rs 9,000.

The officer said fund in labour component is exhausted and Rs 50 lakh was released on Feb 27 and gram panchayats, line departments and horticulture departments are informed to avail the funds. As many as Rs 2.93 lakh is paid under wage component, while Rs 38 lakh is paid under material component. It was stated there is no question of chief minister's 15 point programme causing obstacles in the fund release.

CEO Kanagavalli said funds under labour component is not released since past two months. However, there is stock of Rs 67 lakh under material component. Funds available under material component cannot be transferred to or used for wage component. She assured to look into pending wage payments during 2012-13 in her reply to query raised by a member. As much as Rs 48 lakh is pending to be given to laborers. It is said although gram panchayats are informed over released funds, the system is not accepting thumb impressions.

The other issue that was seriously taken up was irregularities in ensuring benefits of various housing schemes to beneficiaries. Member said although sites are allotted to homeless needy, the area lacks basic infrastructural facilities. There are no roads, RTC is not been provided. Another said there is plenty of government land, which is under illegal encroachment. Citing the example of Brahmavar area, wherein large area of government land is being encroached illegally.

Manjunath Poojary said there is also land in possession of various gram panchayats. However, if land remains unutilised, it would be encroached by outsiders to take up rubber plantations. CEO said as many as 143 acre of land is been reserved under revenue department. She said deputy commissioner would come out with solution shortly. Member Upendra Nayak said applications received under Akrama-Sakrama, which are not genuine, should be rejected.

Members demanded that the house take unanimous resolution with regard to implementation of recommendations made by Kasturirangan Committee Report. He demanded that except for area already controlled by forest department, other area should not be included under Ecologically Sensitive Areas (ESAs). The present criteria of considering 50 per cent cultural landscape to identify ESAs should be applied to villages, which have less than 50 per cent cultural landscape.

A member Shetty, said only reserve forest area and wildlife forest area should be considered. The area beyond these reserved areas should be drooped. Members unanimously decided to wait for the outcome of special Gram Sabhas held at village levels as assured by district in charge minister.

Drinking water scheme : To a query, ZP chief engineer said multi-village drinking water scheme in Hebri is under trial run and water would be released within 10 days in Hebri area. He said estimate for second phase is submitted to government and second phase project intends to provide drinking water to Chara and Shivapura. President instructed officials to complete pending works by March 15.

DDPI said number of students appearing for SSLC exams privately has come down to 442 as against previous year's 683 following strict vigilance from department. Mamatha Poojary raised objection for reluctance of ZP chief engineer to provide borewell to ten destitute families in Shankaranarayan area. She demanded repair of road at Iyrebailu that was cut to take up Varahi irrigation project. She said newly built road is in a very poor condition and not motorable. Several matters were discussed for mitigation in short time.

Write Comment
|

E-Mail
|
Facebook
|

Twitter
|

Print