Secular Alliance Will Win 2019 Polls: Rahul Gandhi Addresses Media
mangaloretoday network
New Delhi, May 17, 2019: Congress President Rahul Gandhi addressed a press conference, ahead of the seventh and final phase of the 2019 Lok Sabha elections, on Friday, 17 May.

Gandhi said he does not see people like BSP chief Mayawati, TMC chief Mamata Banerjee and SP patriarch Mulayam Singh Yadav support BJP-led by Narendra Modi and Amit Shah, adding that a secular alliance will win the 2019 Lok Sabha elections.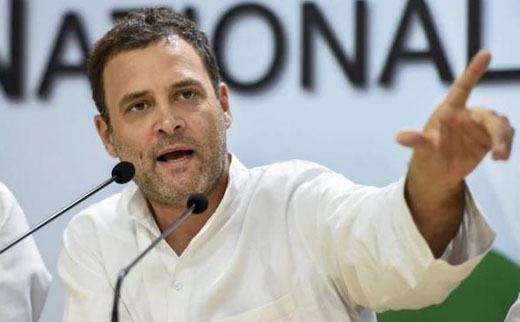 "I don't like saying this, but the role of the Election Commission in this election has been biased. The PM says whatever he wants. There is partiality. The schedule of the entire poll has been made for Modi's campaigning," said Gandhi, adding that despite all this "truth will win."

Rahul also "praised" PM Modi for holding his "first-ever" press conference in first years.

"I would have liked to see Narendra Modi actually take on the challenge in 2014. With all due respect, he lost sight of the real picture. He forgot the Indian people had not put him as the prime minister to just give speeches," said Rahul.

He said that the verdict of the people will be revealed on 23 May, following which the Congress party will take a decision about forming the government.

Responding to Modi's remark calling Rajeev Gandhi "Corrupt No 1", Rahul said he will respond to every hate the prime minister throws with love.

"Whatever hate PM Modi throws at me, I will reply with love. If PM Modi's mother and father, who are not in politics, have done anything wrong, I will never speak ill about them," said Rahul.

He also took a sly dig at the media for being lenient towards the prime minister and asking Modi questions about his liking for fruits.


Write Comment
|

E-Mail
|
Facebook
|

Twitter
|

Print