Sea of admirers pay last respects to celebrated journalist M V Kamath
Mangalore Today News Network
Udupi, Oct 9, 2014: Padma Bhushan M V Kamath, is no longer with us but his ideas and views left behind in heaps of treasured writings console his admiring readers of whom thousands exist today. He always recalled the special honour conferred on him by 'Mangalore Today' - "Lifetime Achievement Award", on the occasion of its Tenth Anniversary of in 2005.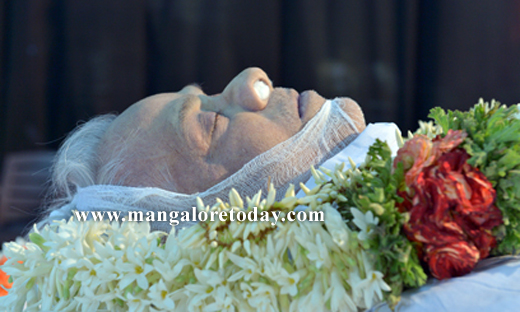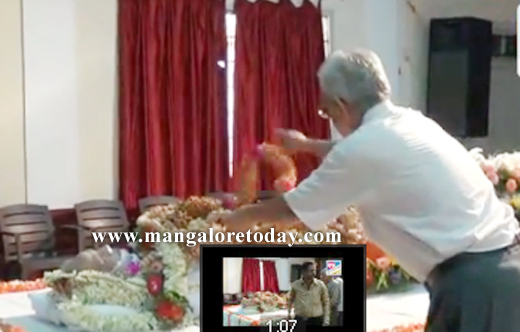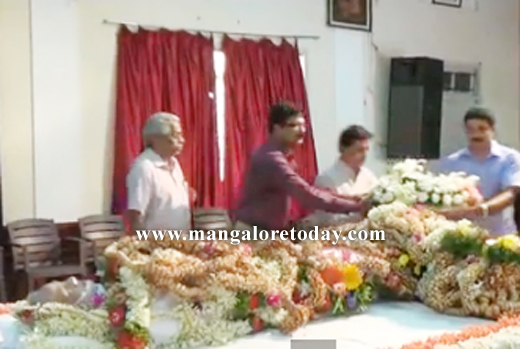 M V Kamath was the former editor of 'The Illustrated Weekly of India' and involved with numerous News papers and journals all through his long life. A former Chairman of Prasar Bharati Board. He passed away on October 8 morning. Last religious rites were performed late in the evening at Beedengudde burial ground in Udupi.

His mortal remains were respectfully kept for public viewing at Ravindra Kala Mantap in MGM College, Udupi. Thousands of people of all ages and all walks of life sincerely paid their last homage to this great soul. At 4 pm, it was taken to his ancestral house in Kadabettu, Brahmagiri, Udupi.

The members of different political parties came to pay their last repects to this icon of Kanara. Udupi District in-charge Minister Vinay Kumar Sorake, paid his last respect in Kadbettu. He expressed that the death of this renowned journalist M V Kamath is an irreplaceable loss to our society. He is a jewel in the crown among writers who has worked for many national newspapers. He made our district proud with his reputation. His death is a loss to our nation as a whole. On quote, "He was an encyclopedia, who stood as a testimony to the precious moments of freedom of the nation. The country has lost a great son. Let his soul rest in peace and god bless his family with the strength to overcome the tragedy," he said.

Shobha Karandlaje , MP of Udupi-Chikmangalur constituency and Pramod Madhwaraj, Udupi MLA, conveyed deep condolences.

Manipal University Chancellor Ramdas Pai said that the University has lost a treasure. "He was greatly responsible for the growth of the institute. He will be missed by every single student and faculty alike," Pai added. The students of Manipal institutions paid tribute by remembering their best moments with him over recent times.

At 4 pm MVK's body was taken to his ancestral house at Kadabettu in Udupi, as per his last wish. The funeral was held at Beedengudde crematorium. The last rites were preformed by his nephews.

Youth Congress leader Amrith Shenoy, Udupi former MLA Raghupathi Bhat, SP Rajendra Prasad, ACP Annamalai and H S Ballal paid their last respect to the memory of this giant of a human in the intellectual world.

Reminisces :
Manipal University School of Communication Director Varadesh Hiregange said, Kamathji wrote incessantly. "One of his columns was 'Moving finger writes'. Finally moving finger stops writing; but his books remain. Of late, he was talking more about pain and death. With his demise, we have lost one of the very few individuals who told stories of Gandhi Nehru era," he reminisced.

Sathosh Nayak, M V Kamath's driver in Manipal was deeply mourning, he said, "He never treated me as his driver but considered me as one among the family members. Due his encouragement, I resumed studies and did graduation through distance education. He always advised me not to move ahead and to dream high. He would say that there is never late and he himself started writing books after 60 years of age," Santhosh mentioned that his seven years association with Kamath made him understand value of education. "I would often do his clerical works. He would never use computer; I would do it while writing the addresses and so on." about the last weeks, Santhosh said that Kamath was refusing food, the doctor advised him to eat better, as he got sick repeatedly. He wished to die and he said so repeatedly. "I met him in the evening on October 8, he told me to take him home, as he had work pending. He wanted to write and read," a grief stricken Santhosh said.

Kalavathi Nayak, his caretaker since he came to Manipal in 2005, said that Kamath never liked eating outs. "He preferred the food cooked in house. I never took an off from this task for him, as he did not want anyone else to cook for him," added Kalavathi fighting to control tears. The passing away moved many people deeply.

Write Comment
|

E-Mail
|
Facebook
|

Twitter
|

Print