Sandesha awards, Seven to be honoured
Mangalore Today News Network
Mangaluru, Dec 21, 2017: Seven achievers will get the prestigious 'Sandesha Awards' for 2018 for achievements in various fields.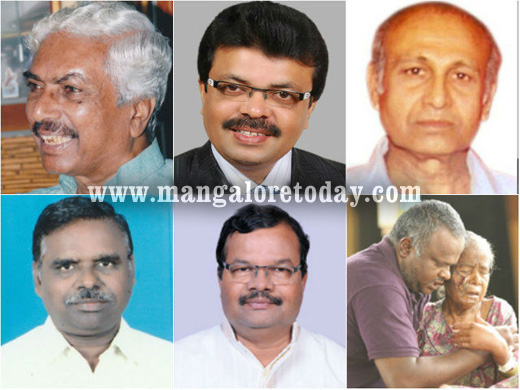 The Sandesha Foundation for Culture and Education will confer the awards on January 13 at Sandesha premises in Bajjodi, Mangaluru. The Sandesha Literature Award will be conferred on writer Prof Giraddi Govind Raj; Sandesha Konkani Literature Award for Edi Netto, Jeppu; Sandesha Arts Award for Ashok Gudigar, Sandesha Media Award for N Gururaj, Sandesha Teacher Award for K Gadhilingappa, Sandesha Konkani Music Award for Wilson Olivera and Sandesha Special Recognition Award for Auto Raja. Sandesha Jury Chairperson Na D'Souza told media on December 20, Wednesday. The award carries a citation and cash prize of Rs 25,000.

Sandesha Foundation Director Rev Fr Victor Vijay Lobo said that the Foundation has been conferring Sandesha Awards for the past 27 years and has been honouring the personalities who have made significant contributions to Kannada, Konkani and Tulu literature, art and culture. Bellary Bishop Rev Henry D'Souza will present the awards, High Court Judge John Michael D'Cunha, Mangaluru Bishop Rev Aloysius Paul D'Souza and Udupi Bishop Jerald Isaac Lobo will be the chief guests.

Recap about the awardees :

Prof Giraddi Govind Raj is known for his impressive oratory, brilliant teaching and penetrating critique. His contribution in literature includes fifteen series of reviews like 'Sanna Katheya Hosa Olavugalu', 'Vilambita', three collections of poems like 'Sharada Lahari', 'Marilyn Monroe', and three short story collections like 'Aa Mukha-Ee Mukha', and fifteen compiled works and other writings.

Edi Netto, Jeppu joined the Indian Air Force as an electrician and was then promoted as a missiles officer. He was in the battlefront during the war against China in 1962, in 1965 war against Pakistan and in 1971 Bangladesh war. Since retirement, he has been quite active in the field of Konkani literature. He has to his credit more than two thousand articles, 477 short stories and 27 poems.

Ashok Gudigar is a skilful artist and thousands of his stone, wooden and sandalwood carvings testify to his sculptural talents. He provides training on creating bronze and fibre models. His works have been exhibited in countries like Russia, USA and England.

N Gururaj joined Udayavani-Kannada Daily at Manipal as a sub-editor in 1970 and continued to work there for 42 long years till he retired as the editor in 2013. He has published several short stories and poems under the pseudonym 'Vishvamitra'.

K Gadhilingappa of Bellary has served as a teacher in many high schools. He has been working as teacher in Kolagallu Government High Schools from 2013. In addition to teaching, he has been quite active in several welfare activities such as providing three-month long free navodaya residential coaching to poor orphans, economic aid to 25 poor orphans till they become self-reliant and free tuition to physically challenged children in their homes.

Wilson Olivera is a leading Konkani singer and a music director. A deep love for Konkani language, his mother tongue, and Konkani music transformed him into a renowned Konkani singer and a musician. He has performed successfully in around fifty musical shows in Mangaluru, Bengaluru, Mumbai, Qatar, Kuwait, Abu Dhabi, Bahrain, the UAE, and other places.

Auto Raja alias T Raja, himself a loner dedicated his whole life for the rescue of the abandoned. For the past twenty years he has been reaching out to over ten thousand beggars, mentally distressed, physically and mentally challenged and the orphans in the streets of Bengaluru. He is the founder secretary of the 'New Ark Mission of India' started in 1997. He has used his autorickshaw to provide a decent burial to over 4,000 beggars in Bengaluru city. Auto Raja provides asylum to 750 orphans in a land provided to the New Ark Mission of India by the India Campus Crusade for Christ in the outskirts of Bengaluru.

Write Comment
|

E-Mail
|
Facebook
|

Twitter
|

Print