Sand scarcity in DK district - Protests expected
Mangalore Today News Network
Mangaluru, May 28, 2015: Briefing media on may 27, Wednesday, Association President M Purushotham Kottary said contractors and the local construction industry was in doldrums due to non-availability of sand and illegal transportation of naturally found sand to neighbouring districts.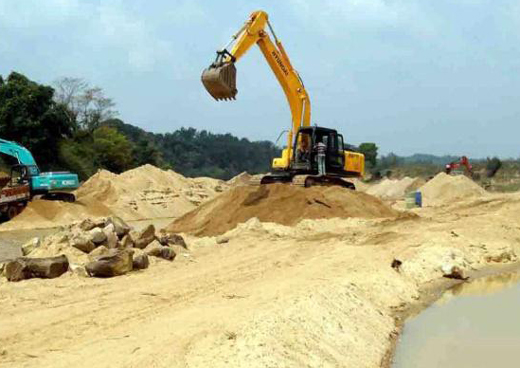 The non-availability of sand locally has affected construction activities in Dakshina Kannada district. Civil Contractors Association has warned that protests are imminent if the situation is not tackled.

President stated that extracted sand goes to Bengaluru, Hassan, Mandya, where it fetches high price and profit, or even illegally reaches Kerala. The sand fetches higher rate outside the district. Naturally, all sand finds its way to neighbouring districts where sand mining is banned. Earlier four truckloads of sand per day could be got, now after waiting for a week one load is difficult to get.

He added that 6,000 to 8,000 tonnes of sand is transported daily to the neighbouring districts in the State illegally. With lifting of ban on inter-district transportation of sand, over 300 trucks transport 20 to 25 tonnes of sand daily. This has created artificial shortage of sand in the district, he said. Several projects are on the situation locally has become bad. Though there is a directive that only 200 truckloads of sand should be transported to Bengaluru per day, over 6,000 to 8,000 truckloads are moved from Mangaluru. This is definitely affecting and the cost of construction is up.

Despite a ban on inter-State transportation of sand, it is being illegally transported to Kerala. The neighbouring state has a huge demand for sand, with the ban on mining there. The district administration should ensure that the sand is available locally for the local construction activities.

Stating that non-availability of sand has affected not only the building contractors but also transporters who have availed loan for purchasing lorries to transport sand, for livelihood. Even after waiting from early morning, the lorry drivers get only one load of sand to transport. Earlier transport of seven to eight trips was done.

Plying of overladen sand trucks, the Charmadi Ghat stretch has developed potholes and later, the district administration banned the movement of sand lorries on the stretch. In spite of the ban on use of machineries for sand extraction, the machineries are used unabated. The fine sand is not available for masonry work.

Over extraction of sand will have adverse impact on the nature. The depth of the river may increase with over exploitation of naturally available sediment. There is a need to create awareness on the adverse impact of over exploitation of sand. The contractors association members said that though the sand contractors had opened a 24x7 call centre service for the supply of sand, the sand is not available locally. It si common to wait for a week to get the sand even after calling the call centre.



Write Comment
|

E-Mail
|
Facebook
|

Twitter
|

Print