SSF 9-day Jubilee celebration validictory at Nehru Maidan
Mangalore Today News Network
Mangaluru, Nov 3, 2014 : A 9- day silver jubilee celebration of Sunni Students Federation (SSF) reached a climax with the launching by CM Siddaramaiah of a "Humane" conference to spread the message of humanity at Nehru Maidan, on November 2, Sunday evening.


Thousands of Sunni Students Federation (SSF) activists marched on the main roads of Mangaluru in the after noon sun prior to the rally. The rally culminated at Nehru Maidan, wherein the valedictory function of 9-day-long Karnataka Yatra held under the leadership of Shaikh A P Aboobakar Ahmed Muslyiar.

Activists in white, holding blue-white-green flags, began their march just after 3:30 p.m. from Thaqwa Masjid at Pumpwell Circle. After covering the long distance on foot passing through Ambedkar Circle they entered Nehru Maidan. It is noted that SSF members who participated drew the attention of the public who viewed the rally by their discipline and orderliness. Orderly road march caused traffic diversions across the city.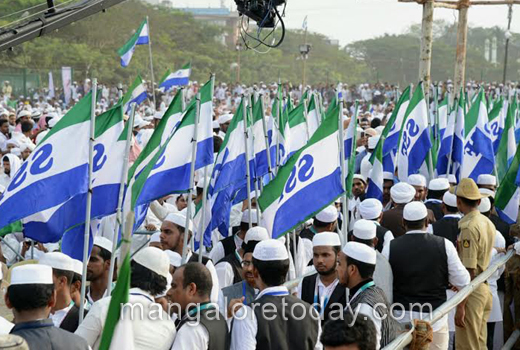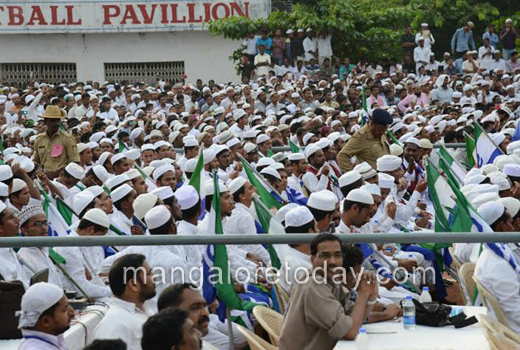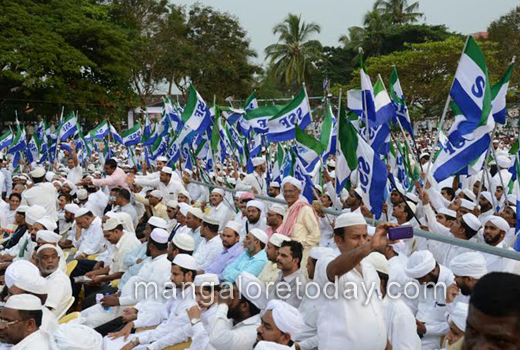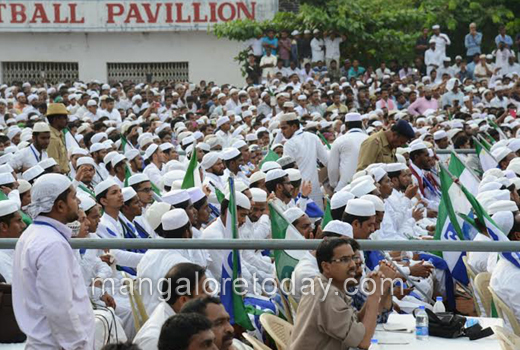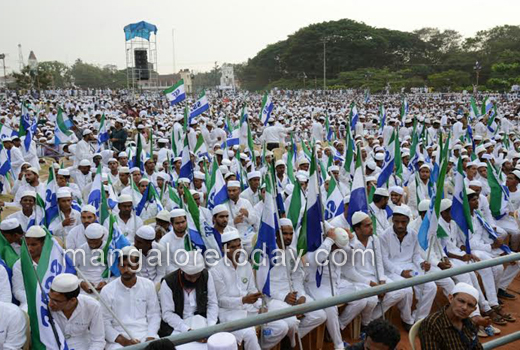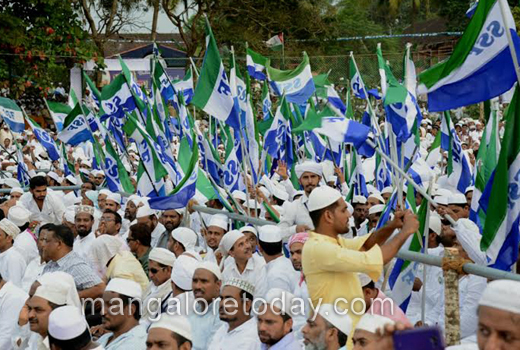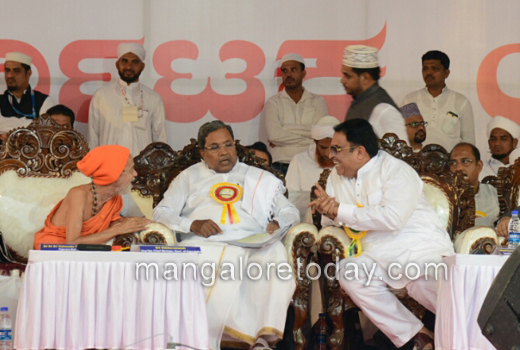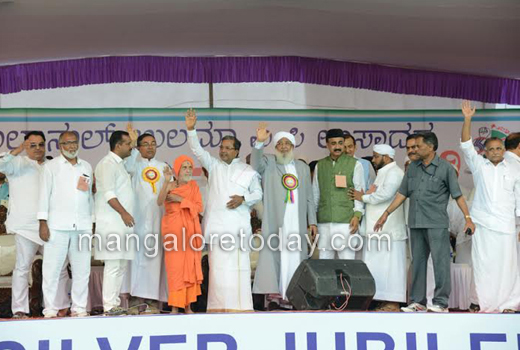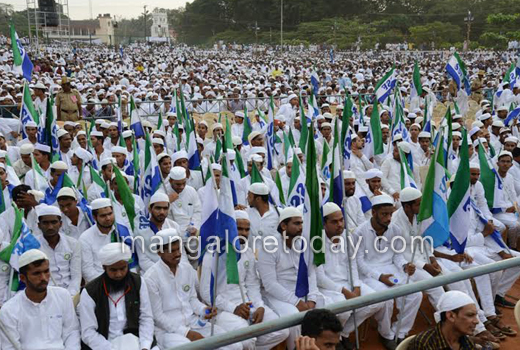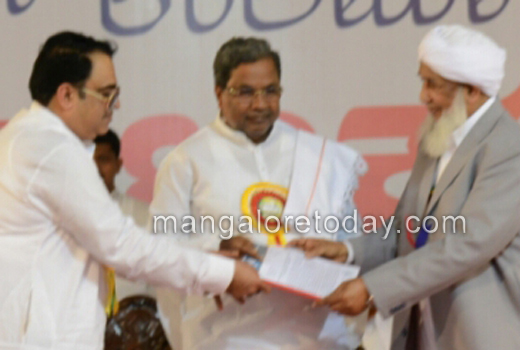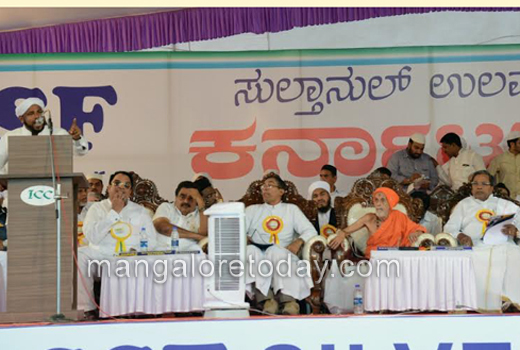 CM Siddaramaiah, who was specially present, appreciated the efforts of SSF silver jubilee yatra of the entire state conveying a message of 'Respect for mankind'. The Karnataka Yatre had started on October 25 at Gulbarga initiated and led by AP Abubaker Musliyar of Kanthapuram, ended in Mangaluru after covering 20 districts and covering 2100 kilometres in nine days; it covered - Bijapur, Bagalkot, Hubli, Haveri, Bellary, Davangere, Shimoga, Uttara Kannada, Udupi, Chikmagalur, Hasan, Tumkur, Bangalore, Ramnagar, Mandya, Mysore, Kodagu and Dakshina Kannada districts. Organized under the theme 'Respect the Mankind' to mark the silver jubilee of SSF.
Inaugurating 'Human respect conference', CM said that in India one must fight against terrorism and communalism. Terrorism is a serious hurdle for the growth of nation. It is seen many people are killed in this condemnable act of terrorism. Abubaker Musliyar condemned terrorist activities. All Muslims should unite and fight against terrorism and communalism. Despite the growth in education, terrorist crimes are increasing which is indeed bad. Terrorism demolishes peace of nation in minutes. Prevent and fight terrorism without succumbing to any pressure. The philosophy of the Govt. is to offer equal opportunity and equality as per the Indian constitution. Many criticise the initiation of projects mainly for the minority sections which is not right. As a CM, I am carrying out my duty to work for the deserving suitably.

Speaking on the duty and responsibility of youth to curb the anti social elements in society, CM said, "Youth should take an oath today that they are not giving ear to communal forces and not involve in dividing the society. Take today's message home and spread it in society day and night". He further promised to work for the good of the state and good governance in the state. SSF's silver jubilee yatra of the state has truly spread humane desires in society, he added.

Though the weather turned unusually inclement with wind and intermittent rain, a sea of people assembled for the valedictory programme of SSF silver jubilee celebration, chanting slogans about spreading and respecting humanity and mankind till the end on Nehru maidan.

On the occasion, philanthropist Dr Shamsheer, the son in law of M A Y Ali was conferred with Markaz Humanitarian Youth Award. NRI activist Shaikh Bawa was conferred with Human Service Award.

Health minister UT Khader, district-in-charge minister Ramnath Rai, Urban development minister Vinay Kumar Sorake, former minister Vishwantha, vice-chancellor of Yenepoya Abdulla Kunhi, Pejawar math Vishvesha Teertha swamiji, MLC Ivan D'Souza, Milagres Fr Valerian D'Souza and sports minister Abhayachandra Jain among others were present on the occasion which was marked by great fervour at Nehru maidan Mangaluru.

Write Comment
|

E-Mail
|
Facebook
|

Twitter
|

Print