SP details steps taken for better policing in Udupi
Mangalore Today News Network
Udupi, Mar 20, 2015: Briefing media, Superintendent of Police Annamalai said effective and public friendly policing would solve many issues pertaining to law and order systems in the district.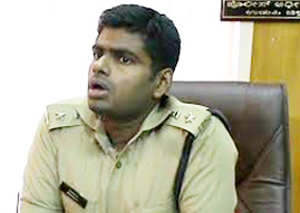 He noted, effective and intelligent policing is the need of hour. Policing systems need fine adjustments regularly to ensure public confidence. Even major problems like communal disharmony can be curbed by just maintaining friendly and meaningful public-police relationship.

He said in the aftermath of communal riots in Gangolli, police set up in the area has changed, and policing system slowly evolving towards a new level, which provides a higher place for the public.

He said the environment of Gangolli is sensitive and calls for special steps. Communal violence was also reported during British period in the region. Even a minor incident would end up triggering violence.

Detailing the future plans to strengthen the system in the days to come, he said along with good policing, the district police force would also be technologically made strong in order to handle the emergencies at any given point of time. The first step towards ensuring riot free district is to introduce re-modified Rapid Intervention Vehicle 'Vajra'. Vajra incorporates rotating camera with 360 angle. The camera would be kept focussed when communal riot is reported to capture live footage and directly connected to SP office for live telecast through internet protocol. This would enable broad view of the happenings in the sensitive area and better monitoring.

A demonstration would be held in Kundapur before introducing the vehicle, he added. He said it is planned to introduce Dye Marker Grenades as part of anti riot operation. Dye Marker Grenade helps police force counter the dilemma of identifying rioters. A hand thrown grenade, explodes with a resounding bang spraying an indelible coloured dye through plastic pellets on miscreants. This dye remains on the person or his clothes for more than 8-10 days, helping the police in identification and proving categorically individual's presence in the riot. However, the dye used is not harmful for human body, he asserted.

Asserting the district is least affected by Maoist problem, he said there are 600 ANF personnel in the camps in Hebri, Amasebailu and Shankaranarayana. Expressing his dissatisfaction over the fact that people taking advantage of the situation, he said people are misusing Maoist issue to gain publicity to issues like Kasturi Rangan report. The last incident was in Hebri wherein Maoists visited some houses.

Regarding traffic issues, he said there are three signals working in Udupi besides blinkers working at all crucial junctions. He said Municipal authorities are directed to construct small bridge at Kalsanka junction to divert the vehicles plying in the Kalsanka-Gundibailu stretch. There is a need to expand the stretch to minimise traffic problems in the area. The police department is working on ensuring better traffic system and to eliminate the parking problems.

Write Comment
|

E-Mail
|
Facebook
|

Twitter
|

Print