SIO staged protest demanding probe in Bhopal encounter case
Mangalore Today News Network
Mangaluru, Nov 3, 2016: Student Islamic Organisation staged protest outside DC office on November 03, Thursdaydemanding independent enquiry on both alleged jail break and fake encounter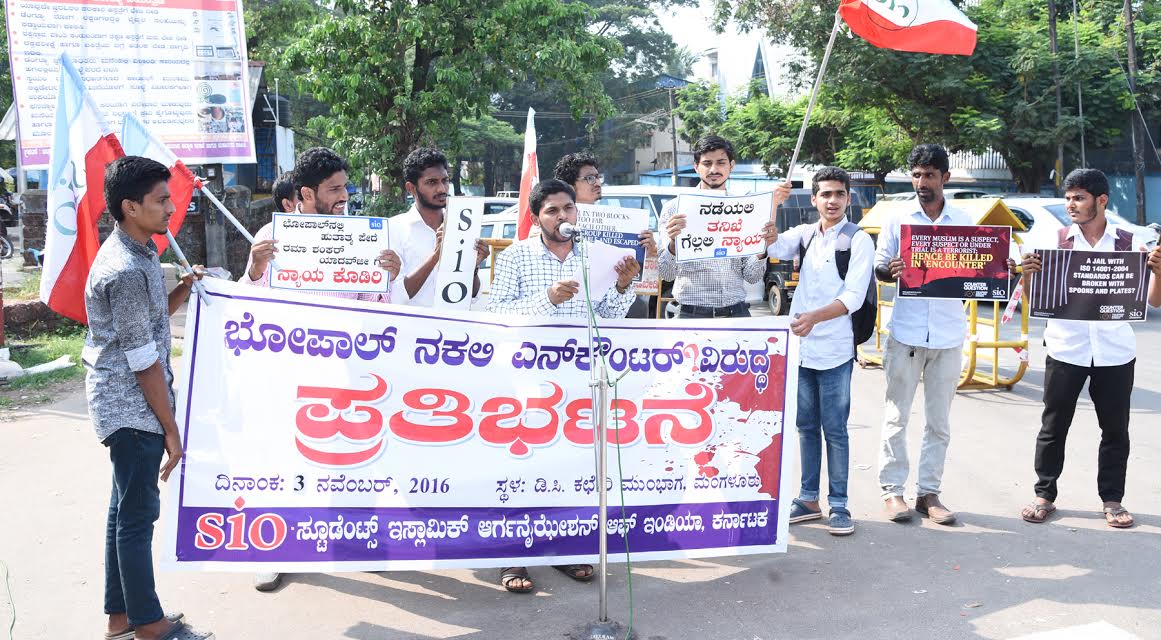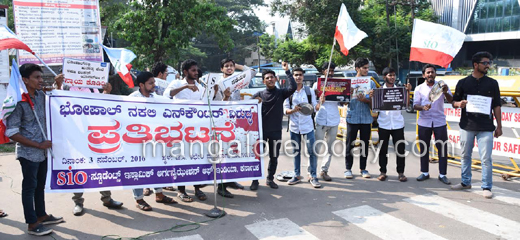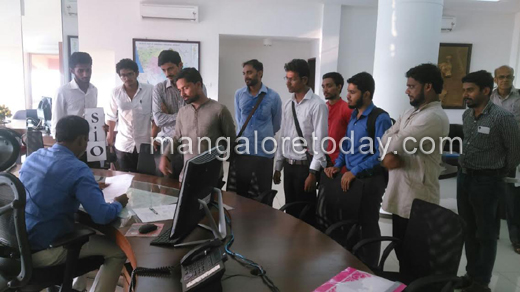 Addressing to the protestors SIO National Secretary Thousif Ahmed condemned the encounter at Bhopal killing eight Simi activists who able to fled from Bhopal Central Jail and traced and killed by Madhya Pradesh police in an encounter at hillocks of Acharpura Village
He also questions that even after having tightened security at the jail, the prisoners easily able to cross high security wall, the under trial prisoners escaped the jail after killing a guard and justice should be provided.
He also said that, it is impossible for the activists to cross 32 meter high wall without the inner help. Bhopal jail is an ISO certified jail and nearly 47 CCTV camera was under surveillance and it can't be a coincidence where all 47 cameras were out of function.

He also demanded independent enquiry by sitting Supreme Court judge on both alleged jail-break and 'fake' encounter.

SIO totally reject the "encounter theory" framed by the government. We appeal to the people to rise up against the repeating encounter killings carried out by the state and security forces as part of the Hindutva agenda of silencing dissent. We reject the alleged escape theory concocted by the police. The cold-blooded murder of these 'SIMI activists' is suspected to be a pre-planned one as the trial was to be concluded shortly with the case itself turning in their favour.
The perpetrators of this crime should be brought to book and an impartial enquiry should be conducted about the whole issue, he added.
Later memorandum was submitted to DC Dr KG Jagadeesha.
SIO raised several questions on Bhopal encounter:

1. Sanjeev Shami, the Inspector General of the Anti Terror Squad, said that the 8 SIMI undertrial escapees were unarmed, and no cop was injured. It is thus evident that the escapees were shot in cold blood.
2. Bhupesh Singh, M.P. home Minister said that the escapees were armed only with spoons and plates.
3. There is a video clip showing 5 escapees waving from a rock, and some policeman shouting Control these 5 men are trying to talk to us. They are trying to run away
4. There is a video clip showing policemen pumping bullets into some escapees,, possibly still alive, lying on the ground.
5. Video clip with someone shouting " Zinda hai, maaro. Put one in his chest. He will die ".
1. Jail with International Standards - ISO 14001-2004. High security. How did they escape? According to jail manual they must be in lockup and keys should be submitted to Jail office before sunset.
2. 3/8 alleged to be absconding from Khandwa Jail.
3. 8 were in two blocks - A& B. Too far from each other. If one group killed a constable and escaped what about the other group?
4. Blanket does not reach the top of the hi-wall. And there is no place on the wall where the blanket can be hooked.
5. "Weapons" - spoon and plate according to home minister and police! Killed a police. How can mere killing of one police man lead to escape from a central prison..! How come when one policeman was attacked no one else tried to stop them?
6. Why were all of them KILLED when they had no weapons? Why not even one of them has been taken alive so that co-conspirators if any could be unmasked with evidence
7. According to photos and videos, they were wearing neet colorful dresses - Jeans TShirt Coat, watch, shoes etc which is not allowed in central jails. This is allowed to wear while shifting to other jails or while going to court. Where they brought out in that manner..? Or were they purchased at mid night in the deserted wood?
8. No CCTV footages of killing the guard and crossing the high security wall till now

9. All 8 were together while encountered. Even stupidest of criminals won't wander around together after escape.
10. The encounter took place at a time and place where there were no witnesses apart from police personnel. It was the same with all previous fake encounters.



Write Comment
|

E-Mail
|
Facebook
|

Twitter
|

Print