SATIRE - Don Quixote and the Corona War Game
Mangalore Today News Network
By Mahesh Nayak

Mangaluru, March 26, 2020: Our city Mangalore has a new Commander-in-Chief and his name is General Nalin.

Even as clueless world leaders as trying to grapple with the cartoon-like enemy in the upcoming Great War, the responsibility has fallen on the shoulders of our man to hold the fort in Kudla Theatre.

His first tactical move was to set up a 'War Room', which in brief is a brief directory of phone numbers.

And this, when the official District Administration has its own 'Control Room'.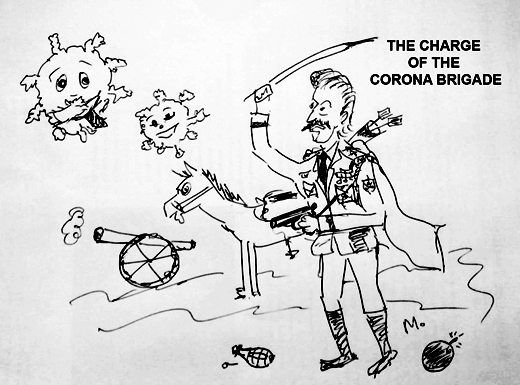 Then when the going gets tough, it is but natural that the tough should get going. So here is Gen. Nalin at the end of Day-1 telling us with guns drawn that there's gonna be no shopping tomorrow. Behave like good boys and stay at home, he says.

This, when the prime minister himself has said that grocery and essentials will be available. The union home ministry and the city police commissioner too.

But Gen. Nalin has better ideas. No means 'NO', he says. He has no words of hope or solace for people who fear imminent starvation, if not today, then one day. Panic ensues.

The Director General of Police intervenes to tweet: 'All groceries will be open 24x7'. The Deputy Commissioner follows, saying the city is open to shopping every morning.

That's as official as it can get. And that's a lot of muck on the General's face. A few hours of mindless panic comes to an end.

But the fault is not the General's alone. Like him there are too many cooks boiling the broth. And loose tongues wagging too.

So this was bound to happen. The CM says one thing. The cops the other. An array of ministers have their gems to add. Then the District Administration and the elected representatives uttering more gibberish. So we have the recipe for the perfect soup.

What is urgently needed is for the state government to immediately appoint a centralized 'Crisis Management Cell'. Make it the only decision-making authority which will formulate and issue clear directives that citizens can believe. It can monitor the situation and also plan ahead so that our miseries will soon come to an end, if at all.

But is it a bridge too far? I wonder.

Write Comment
|

E-Mail
|
Facebook
|

Twitter
|

Print