Rohini Salian's warning finds echo in Ajmer blast case
mangaloretoday.com
Mumbai, July 05: Since June 2014 and the change of government at the Centre, 14 key witnesses in the 2007 Ajmer dargah blast case have turned hostile, weakening it considerably. One of them is now a minister in Jharkhand.

Last month, Special Public Prosecutor Rohini Salian told The Indian Express that she had been under pressure from the National Investigation Agency (NIA) to go "soft" in the 2008 Malegaon blasts case from the time "the new government came to power" — a charge the probe agency denied.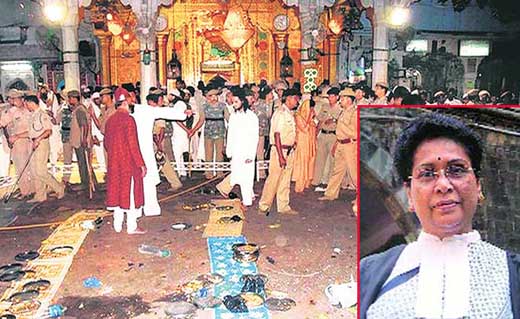 The Ajmer dargah blast, which killed three and injured 17 people, was handed over to the NIA in 2011.

It now emerges that all 14 witnesses have gone back on their statements recorded before the Anti Terrorist Squad (ATS) and a magistrate under Section 164 of the Code of Criminal Procedure in 2010.

Public Prosecutor Ashwini Sharma told The Sunday Express: "These 14 witnesses who have turned hostile since the hearings in June 2014 were all key witnesses who had recorded their statements before the magistrate under Section 164 (of the Code of Criminal Procedure)."

"It was all the more important because in this case, there are only 15 witnesses who recorded their statements under Section 164, of whom three were later named accused. A large number of the remaining witnesses are the injured or police officers who are not key witnesses."

"The testimonies of those who have turned hostile would have made for a watertight case. Despite tough cross-questioning, they refused to admit in court what they had once told the ATS or the magistrate. This considerably shakes the ground of the case," Sharma said.

The witnesses who have turned hostile — Randhir Singh, Rohit Kumar Jha, Bhanu Singh, Sonu Pandey, Vishnu Patidar, Swapnil Joshi, Ishan Chawla, Vinod Kumar Shav, Parimal Pal, Gautam Pal, Vimal Pal, Sugandhi Devi, Govardhan Singh and Hari Narayan — are either active RSS workers or owe allegiance to the Sangh in some capacity or the other.

The case was handed over to the NIA in 2011 but hearings kept getting postponed since the witnesses moved over a dozen applications, delaying their appearance before the court.

The witnesses cited, among other reasons, threat to their lives.

In 2014, it was decided that hearings in the case would be fast-tracked — at least five hearings a month. Since then, 90 of more than 170 witnesses have been cross-examined, of whom 14 have turned hostile.

These are statements of five of the 14 witnesses who have turned hostile:

* Randhir Singh, RSS loyalist, now Jharkhand minister:

On July 21, 2010, Singh told ATS: "Zila pracharak Giridih Mahendraji, vibhag pracharak Ranjan and Indore RSS pracharak Manoj alias Sunil Joshi came to my house on a motorcycle four years ago and told me we would have to go to Akhil Mandal's (vibhag karyavaha) place in Godda. I took them in my Bolero JH 15R 5555. Devendra Gupta came along with Akhil Mandal and took us to a village. I don't know the exact village's name. They got off the car to go to a house but I kept sitting. Later, Akhil Mandal, Devendra Gupta and Manoj came out and fired from a pistol. When I asked about the pistol, they said 'forget about these things, you just drive'. Later, I distanced myself from Devendra Gupta."

He repeated the statement under Section 164 on September 27, 2010 but did not mention the firing.

On May 6, 2015, Singh turned hostile in court: "ATS pressurised me. Met Devendra Gupta only at RSS baithaks. I do not know Mahendra and Manoj."

* Vishnu Patidar, RSS worker, Shajapur, Madhya Pradesh

On September 1, 2010, Patidar gave a statement to ATS and on September 23, 2010 recorded a Section 164 statement: "I know Chandrashekhar. He used to come to my house. Two years ago, at Pankaj's shop, he gave me three mobile phones. I tried using all three. One of them was used by Santosh, one was not working and one my wife used. On the day of Diwali, ATS officials came to my house to investigate. Chandrashekhar told me that I should tell them that the phones belonged to Pankaj Patidar, who was already dead."

On November 21, 2014, he told the court: "I do not remember saying that Chandrashekhar had asked me to say any such thing."

* Rohit Kumar Jha, RSS worker, Jharkhand

Jha recorded his statement before a magistrate under Section 164 in New Delhi on August 21, 2010, voluntarily in English. "In 2005 summer, one guruji came from Madhya Pradesh to visit Devendra Gupta at Mihijam. Later on I came to know his name was Sunil Joshi alias Manoj. Guruji stayed there for one day. After he left, Devendra asked me for a voter ID card. I asked him for what purpose did he need it. He said he had come from outside, needed local address to arrange for a mobile number. In Dumka, one of my friends Ravi told me his father was a mukhiya and distributed ID cards at their village. At their house, I saw 30-35 voter cards lying. Without permission I picked two and gave to Devendra Gupta. I was cleaning Devendra Gupta's room and saw pencil cell with red wire attached lying in his room. Later on came to know it was a detonator. There were 10-12 such wrapped in a newspaper."

On January 13, 2015, he told the court: "I do not know English. Not my statement."

* Sonu Pandey, RSS worker, Jharkhand

On November 24, 2010, Pandey told the magistrate under Section 164: "I gave Devendra Gupta my mother's voter ID card in 2006. My grandfather was in the Railways and after his death, my mother would have got an ad hoc job for which I gave the ID card. Later, when I asked for it, Devendra Gupta gave me other documents but did not give the voter ID card. He said get another made."

On January 16, 2015, he denied this in court.

* Hari Narayan, RSS worker, Shajapur, Madhya Pradesh

On September 25, 2010, in his statement under Section 164, Narayan said: "Bhanu and Govardhan came on a motorcycle to my house and kept an attache. They said they will take it later and did so. When the ATS called, then I got to know there were phones in the attache."

On November 21, 2014, he told the court: "ATS pressurized me to give such a statement."

The next hearings in the case are slated from Monday through Friday where more new witnesses will be introduced.

ENS adds from New Delhi: NIA Director General Sharad Kumar said: "All these cases were finalised during the UPA regime, and the then DG of NIA took whatever decisions he seemed fit. As for some witnesses turning hostile, there are more than 300 witnesses and it should not have a very damaging impact on the case. We are examining this."


Courtesy: India Express


Write Comment
|

E-Mail
|
Facebook
|

Twitter
|

Print