Ro-Ro service top choice now on coast - NMPT chief
Mangalore Today News Network
Mangaluru, Nov 04, 2015: Speaking at a programme on 'The Introduction of Ro-Ro Service by Sea from Mangaluru to Gujarat', at the KCCi - Kanara Chamber of Commerce and Industry in Mangaluru. NMPT chairperson P C Parida stated that its cost-effectiveness and environment-friendly nature as well as convenience made the Ro-Ro (Roll-on / Roll-off) facility a be preferred over other modes of present goods transport.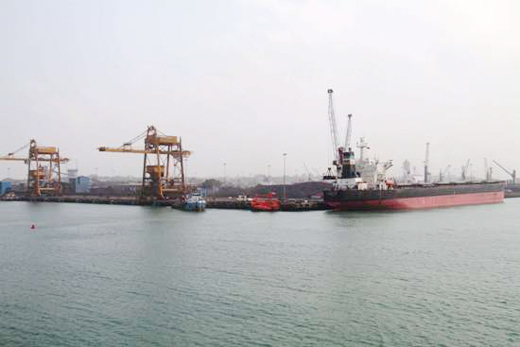 He said that the Ro-Ro service is an environment-friendly and fuel-efficient way of transport, as compared to road-based cargo service. The coastal cargo movement at the NMPT - New Mangalore Port Trust, was facilitated with the transportation of cement, pet-coke and iron ore pellets and other industrial goods. The induction of the new service at NMPT will open new avenues of friendly trade relations with other ports and this will coincide with the Jal Marg scheme implemented by the Central Government. Road congestion, accidents, end costs of transportation are all reduced in coastal cargo service, which will, in turn, facilitate reduced product costs. The import of polypropylene from Gujarat to Mangaluru port will be facilitated in the near future.

The chairperson said that the NMPT is also looking at the possibility of an import of sand from Gujarat and Odisha and if it is done through the sea route, the price of sand would reduce. He also said that there is a proposal to reserve a site of around 100 acres on the outskirts of Mangaluru City for parking of transport vehicles.

Giving a presentation on Ro-Ro service, Aditya Suklikar, director of Link Shipping and Management System Private Limited, Mumbai, said that the service was an integration of road and coastal shipping. Link Shipping is the first company to utilise the service. The capacity of the shipping mode is high and the main parameters of the Ro-Ro service are port infrastructure, customs department procedures and sales tax/VAT.

B A Naniappa, Joint Commissioner of Commercial Taxes (Enforcement), West Zone, Mangaluru, said that the Konkan Railway has not been cooperating with the officials of commercial taxes with regard to the checking of goods trains at the Railway yards. He stressed on the security needs and the necessity of checking of goods in both incoming and outgoing vehicles. He said that the establishment of check-posts is a requirement under Section 53 and the issue of transit passes to the state-to-state transport vehicles as per Section 54. Each vehicle needs to be checked by the Commercial Taxes Department.

Naniappa, meanwhile, requested the NMPT chairperson to reserve a good space for a checkpoint to carry out the inspection of documents of the incoming vehicles at the port and added that only one gate is opened for the inspection. KCCI president Rammohan Pai Maroor, vice-president Jeevan Saldanha and Customs Department, Mangaluru, Assistant Commissioner V Selvadurai were present among others.

Write Comment
|

E-Mail
|
Facebook
|

Twitter
|

Print