Righteousness is mantra for all, Odiyuru seer
Mangalore Today News Network
Mudipu / Mangaluru, Mar 24, 2016: Addressing the formal programme at the Paichil Dharma Nemotsava at the Sri Durgalaya Daivasthana at Durgalapu, Kananthoor Sri Dharma Arasu Thodakukinar Daivasthana; Odiyuru seer Sri Gurudevananda Swami, stated that the nation is supported by righteousness. The misleading incidents around us need an in-depth analysis, advised and opined that diverting River Nethravathi will adversely affect Tulu Nadu. "The fight to preserve the river should go on. By observing events like dharma nema, one gives greater thrust on righteousness," he said.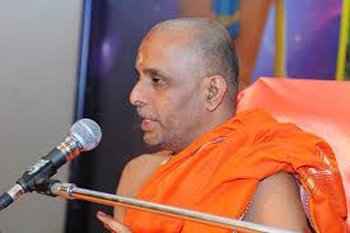 Sharada Ganapathy Vidyakendra convener T G Rajaram Bhat spoke on the occasion. Sri Kshetra Kananthoor managing trustee Naryaguttu Thimmappa Konde, Indian Red Cross Society district unit president C A Shantaram Shetty and Kadri Sri Manjunatheshwara Temple managing trustee H K Purushottam Dattanagara were present among others.

Devotees gathered large numbers, as the nema events of Sri Kananthooru and Kootattajeya are held once in 12 years. Free buttermilk, juice and meals were given to the devotees.

Nemotsava : Thodakukinar Daivasthana at Kanathooru in Balepuni is one of the holy place of worship in Tulu Nadu. The kshetra has a history of over 800 years. According to the belief of the people, the 'daiva' (demi-god or spirit) came behind Poyyathaya Brahmin family and was spotted on a mango tree beside a water body. Hence, the place is known as Thodakukinar.

Durgalapu is known for the ritualistic worship of four major spirits (daivas) - Sri Thodakukinar and Parivara daivas, Sree Kshetra Kootathaje's Sri Ullalthi daiva and Banta Javade Daiva. Paichil Dharma Nemotsava – a special religious ritual – is also organised once in 12 years at Durgalapu.

Preparations for the event begin one year in advance, with the organisers seeking permission from the daiva. The permission is sought from the demi-gods by holding 'Boolya' to hold 'Paichil Dharma Nema'. Accordingly, on an auspicious day, 'mara muhurtha' is performed where a 'haale mara' is felled to prepare seating arrangements and 'Mundye' for the daivas. The remaining parts of the felled tree is used for erecting the pergola (chappara) for the religious ritual.

A procession is taken from Ullalthi kshetra in Kootathaje to Kananthooru Kshetra, where the participants will have darshan of Sri Thodakukinar Daiva. From Kananthooru, the Bhandara will leave for Durgalapi. After worshipping the daivas at Naryaguthu house and offering meals to the devotees, the Bhandara will reach Durgalapu where the Nemotsava will be held. The last Paichil Dharma Nema was held on April 15 and 16 in 2003.

Write Comment
|

E-Mail
|
Facebook
|

Twitter
|

Print