Rev Walter Albuquerque SJ, doyen of music in city no more
Mangalore Today News Network
Mangaluru,Oct 8,2016: Jesuit Rev Walter Albuquerque, Music legend, respected priest of the country, passed away on October 7 Friday late evening in city. he was 93. a resident of St Aloysius College Jesuit community during his last years. He breathed his last at Father Muller's Hospital.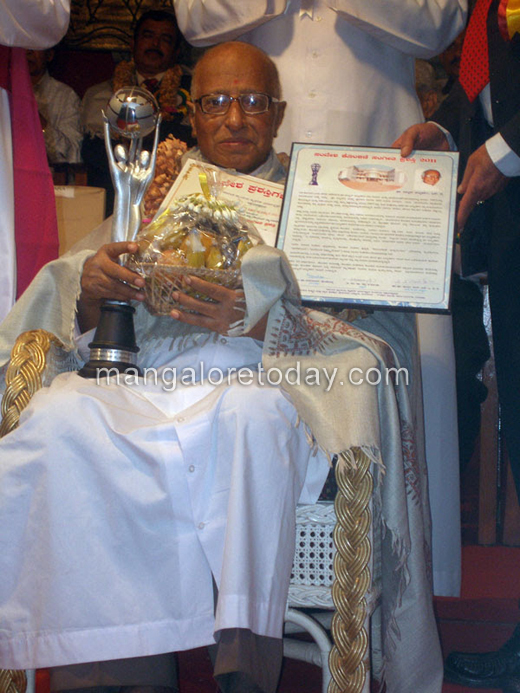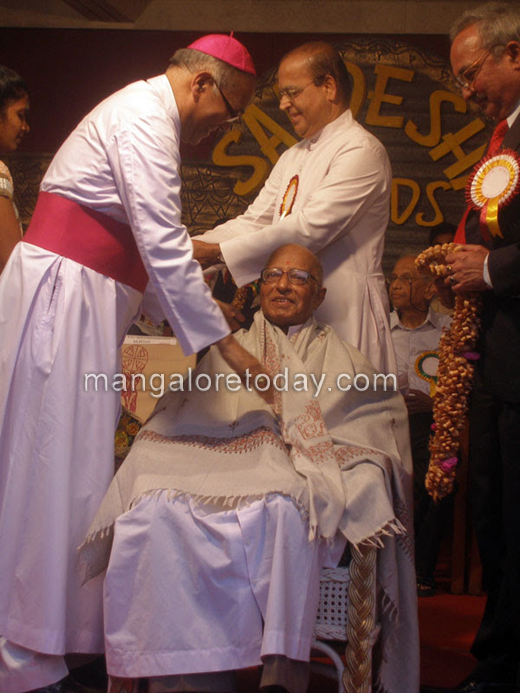 Born on December 8, 1923 in Bejai, Rev Walter Albuquerque hails from a family of known musicians. John Sequeira, his cousin a singer, player of organ and violin was the choir master in Bejai church. Fr Walter learnt to read music and play organ and violin from him as he used to hold music practices every Sunday at the church. John's brother Fr Charles Sequeira was also a good singer and composer and his association with his talented cousins helped him learn music at a young age. Having picked up the talent for music he started writing songs for dramas of Konkani Natak Sabha and others. Fr Walter lost his voice when he was 14, he regained his voice after some years, and always said that his unflinching faith in Mother Mary was his blessing.

Rev Albuquerque SJ a down to earth no-nonsense musician and priest, a composer nicknamed "Dhovi Kogul" (the White Nightingale) for his music knowledge, talent and contribution to music in a multi faceted way. Fr Walter Albuquerque's contribution liturgical and social, is legendary deserving high recognition and pride of place. A music teacher and choirmaster in schools, convents and churches in undivided Mangalore diocese, he has made a stamp on people over decades. He is a leader in spotting many talented Konkani singers and raising Konkani language and music to a high plane.

Konkani musicians of Mangalore have been the product of the school of music called 'Fr Walter Albuquerque' these singers always pay tributes to the 'guru' Rev Walter Albuquerque. Spotting talents, Training others he has inspired many Konkani composers and singers including Konkani Kogul late Wilfy Rebimbus to take to Konkani music in a big way. In 1993 Fr Walter Albuquerque went to Nagaland as a missionary among the Nagas and later came back to Mangalore.

In the 1970's the Vatican approved use of vernacular languages in place of Latin, the hymns used during mass were changed to vernacular Konkani and here Fr Walter Albuquerque was able to demonstrate his music talent to the fullest.

In 1967, Fr Walter was transferred to Fatima Retreat House he was put in charge of music there and here he invested his time and energy to improve Konkani Liturgical singing. He wrote hundreds of Konkani hymns for mass for different seasons of the year. Though hymns were coming from Mumbai periodically and were popular he composed hymns to match with those popular tunes and helpe popularize Konkani hymns in a big way. Being multi-talented he spent his time in writing hymns, printing them, preparing music for editions of the same in three voices, each of it in different schools and parishes. He founded "Sangeethalaya" at Fatima Retreat House with the main objective of providing a podium for training young musicians in vocal singing both Western and Indian style. Interested youngsters were also taught to learn musical instruments like Organ, Guitar, Violin, Tabla and Drums. Through Sangeethalaya he brought out many cassettes, thus giving a big encouragement to budding singers.

Even through this his last year 2016, he used his ministry for glory of God. Be breathed music all his life and on October 7 in 2016, this musical genius ended his swan song and surely continues with his LORD for eternity.

Write Comment
|

E-Mail
|
Facebook
|

Twitter
|

Print