Release of the Book "Small Things That Matter Much" - Connecting Thoughts with Reality
Mangalore Today News Network
By I J Saldanha Shet
A maiden book By a young final year medico (Dr) Edmund Fernandes, published by "Dhatri Pustaka" Bangalore ( ISBN 93-81440-15-8) was released at St Aloysius College Auditorium on May 30,2012. The function was full of enthusiasm with the student community was in full strength which speaks volumes on their admiration for books from their own-a rare happening. The adulation and admiration that the author received from the dignitaries and those present should go a long way to encourage and support more good work from the Author for a long time to come.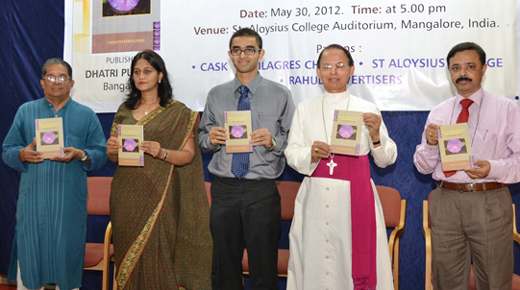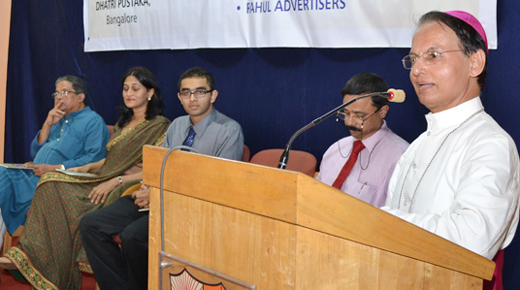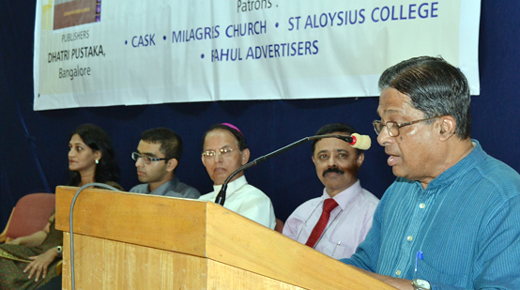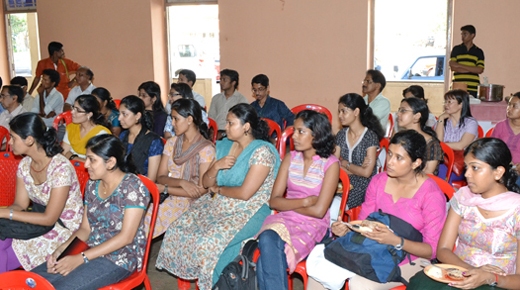 This little book of hundred pages is indeed a guide on life's road irrespective of age or status-a self help guide too. Just like 'sand in your shoes' the vitality of small things in life is put in focused. It should never be underestimated since the author is a young person. The depth and belief of the book as I would say is very unusual. The supporting quotes from the Vedanta, Bible, Gandhiji, sages, well known authorities and so on lend a unusual ambiance which is not often seen. The price is very nominal for such a useful book to all sections of humans and one that will never become obsolete.

The Chief guest of the evening was Rt Rev Dr Henry D'Souza Bishop of Bellary,Guests of Honour were Ms.Giselle Mehta, Entrepreneur and Author and Dr. B K Ravindra Dean, Karnataka State Law University and Chair, SDM Law College, and Dr Derek Lobo President CASK. The occasion was moderated by young law professor, Mr D'Souza. The Introduction of the centre of the evening the young Author was done by Prof Princy Palatty, Professor of Pharmacology Fr. Muller's Medical College, a long time teacher of the Author. Alvera Rodrigues, AIMIT,Beeri delivered the welcome address and Anil Dsouza, Lecturer, SDM Law College was the MC. It was most fitting to hear the serious praise that brought out the potential of Edmond Fernandes. Sensitive and unusual in it's depth; the paucity of time may have given rise to the printers devil, it seems proof reading may be insufficient but it does not have a serious impact on the matter. This is certainly a book worth having around in institution and a reference for people in many walks of life for a while to come. A lot is put into this little provoking valued book. This short book of 100 pages is divided in to 17 sub-heads attractively for reading at ease. As a potential future Doctor and writer of fame, Edmond Fernandes' observations of the anatomy of the human life in this little book are sound. Chemistry of the flesh and physics of the mind deeply analytical and calculated to benefit the reader a great deal. The Author told this correspondent " This book is a collection of my thoughts, reflections and reminiscences. It questions the inherent worth of human being in this materialistic age."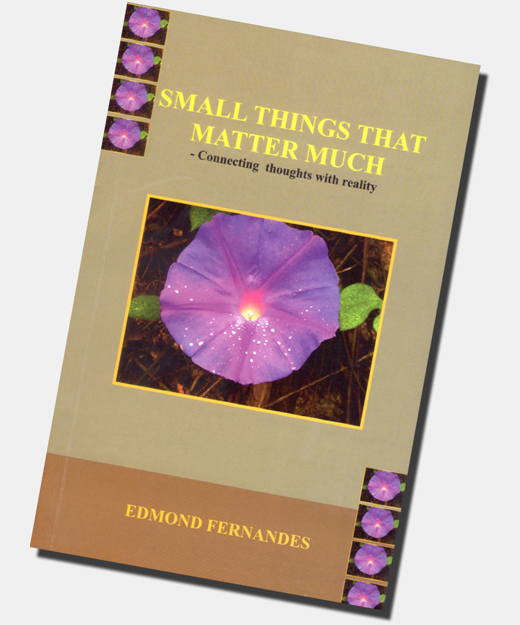 Speaking on the occasion Bishop Henry D'Souza said yesterday is a waste paper, today is a newspaper, tomorrow is a question paper and one should make his life an answer paper. He extolled the greatness of the 'small things' focused in the book which can make or marr life and how sensitively young Edmond had approached the matter - the book he said will prove very handy. Eminent author Giselle Mehta said that small things add up to a big picture contributing to the human personality. "Edmond has mediated positivity into awareness with panache. I am impressed the his advocacy of the joys of service in our selfish times," she said and added that the book gives a direction that helps the thought process and life in real time.

CASK President Dr Derick Lobo was all praise for the efforts of the Author and said the young should emulate his ides and traced some important points of the book impressing all present. Dr B K Ravindra said that when youngsters are losing their focus and interest in life Edmond is a role model as he is filled with promise and potential. It is tribute to parents when the children are on a productive path and the young must always value their parents as Gods!

Author Edmond, placed on record his special thanks to the Publishers Dhatri Pustaka, Bangalore ; also conveyed the gratitude for kind wishes sent to him by Dr Veerendra Heggade, Dharmadikari, Dharmasthala and others who support him. He cordially thanked his sponsors , Catholic Association of South Kanara ( CASK ), Milagres Church, Rahul Advertisers, St Aloysius College and above all he thanked his parents, well wishers and friends at large from different backgrounds and races of life.

On Page 86 the Authors own word are significant.He says "Let each day find you farther than yesterday, hoping for a better tomorrow".

The Author dedicated this book to his parents and reader.
ABOUT THE YOUNG AUTHOR:
Branded By The Times of India as "A Leader in the Making." Recognized by Mangalore Media as "Mangalorean Whizkid" . At the age of 17, made a name as a journalist; At 18, entered medical school At 19, was invited for guest lectures At 21, seeking the paths of glory as a Medico-writer. Considered as arguably among the youngest medical student to have ever delivered a guest session at South India Level Research Conference. This author is keenly interested to be part of world institutions like the United Nations, his writing and communication skills enhance his potential. His integrity to speak the truth may ruffle feathers, but his people skills and abilities have won him many admirers from a wide circle of the intelligentsia!

Current Activities:
Officer for Internal & External affairs, Indian Medical Students' Association Final year MBBS, Father Muller Medical College, Mangalore; Developmental & Medical Journalist, Mangalore Media Company, Reviewer, Student BMJ, The BMJ Group, UK. Section Editor, International Medical Journal of students' research. Independent Journalist & Feature writer Editor, Mullerpulse 2012 Certified Rescuer by American Heart Association, in Basic & Advanced Cardiac Life support Medical Researcher.

FROM THE INTRODUCTION TO THE BOOK:
Capt. Ganesh Karnik MLC & Deputy Chair, NRI Forum , Govt of Karnataka. : In his forward of this book, says that Edmond's sentiments that come across through the book are very sensitive,humane and focused and could well represent the views of a silent majority of young India. The essence of the book reflecting the life experiences of the young author brings out the truth propounded by many great minds a path to attain / achieve happiness seldom got from what the material world offers. It also explores the human mind for attaining personal perfection. Capt.Karnik enthuses that with this throbbing Book Edmond Fernandes enters the list of a few writers across the world who have published a book during their undergrad days and a real talent to watch!


Padmashree Dr G Bakthavatsalam, Chairman, KG Hospital,Coimbatore. : In his message has extolled the contents of the book and it's affinity to value nature and the basic human. The stress laid by the author to be kind to humans and nature to make a difference in their lives has an important thinking. If the readers follow some of the good things in the book there is sure to be a positive transformation in lives.


Among several who have expressed their views on the book the significant comment on the book by Dr.D G Jain, MD, FRCP(IRe), FRCP(EDIN),FRCP(Glasg),FICP, FNCCP, FIMSA,FIACM,FCPS Consultant, Internal & Pulmonary Medicine,Trustee, Tirath Ram Shah Hospital, New Delhi Hon Physician, Fortis Jessa Ram Hospital,New Delhi, " The book is a capsule with nutrients and antioxidants for the mind presently assaulted and injured in the mad,unending rat race in this digital jet set world. An enriching must read for all wanting to nourish the mind and soul for a joyous and fruitful onward journey of life.

Write Comment
|

E-Mail
|
Facebook
|

Twitter
|

Print