Re-energised Siddaramaiah builds up suspense on stability of Kumaraswamy Govt
Mangalore Today News Network
Bengaluru, June 29: Minutes after his aircraft landed in Bengaluru on Thursday night former chief minister Siddaramaiah tweeted that after 15 days of Ayurveda treatment and body detoxification his body and mind are re-energised to get back into politics.

Though it sounds like a routine, innocuous tweet, Siddaramaiah has sent a subtle message to both his own party Congress and the coalition partner JDS that he should not be ignored and he will play a bigger role in the coming days. And it is a politically loaded tweet.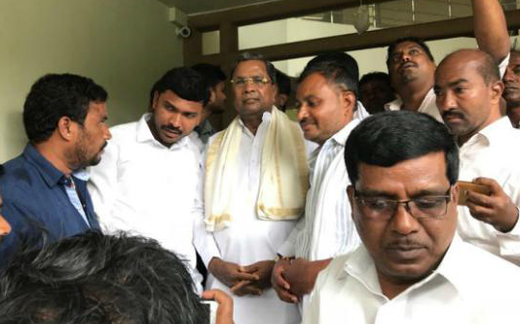 After reluctantly installing the JDS-Congress government in the state, Siddaramaiah who is also the leader of Congress Legislative Party (CLP) and chairman of JDS-Congress coordination committee had left for a naturopathy centre at Ujire near Mangalore. Even though he had "barricaded" himself from the outside world for two weeks, his followers met him there and their "private" conversation was leaked to the media by some mysterious characters.

Siddaramaiah, who is miffed with the Congress high command for directly dealing with the JDS ignoring him, has made his discomfort public through these leaked videos and audios. A worried Congress tried to downplay these and chief minister H D Kumaraswamy who shares an uneasy relationship with Siddaramaiah has reportedly complained to Congress president Rahul Gandhi asking him to rein in the former chief minister.

A Siddaramaiah loyalist and Congress MLA Narayanarao has warned the party that the shaky coalition government will not survive if the party ignores Siddaramaiah. Another loyalist MLA Dr Sudhakar has also made a statement asking the Congress and JDS not to offend Siddaramaiah.

On Wednesday, in his first interview since he came to power with News18, Kumaraswamy had tried to downplay Siddaramaiah factor saying that all is well and the government will last full term. A day earlier Siddaramaiah had told his followers that it may not survive after the Lok Sabha elections.

H D Deve Gowda, the JDS supremo and one time guru of Siddaramaiah who had maintained a radio silence over the on goings in Bengaluru broke his silence on Thursday. Addressing a press meet in New Delhi, the former Prime Minister said that the issues were minor and the coalition would survive.

Siddaramaiah's issues with the Gowdas are entirely personal and the Congress is not endorsing them. Most Congress leaders in Karnataka feel that his hatredness for the Gowda clan should not lead to the collapse of coalition government.

The Water Resources and Medical education minister D K Shivakumar who played a major role in unseating the Yeddyurappa's 56-hour government in last month has hit back at Siddaramaiah telling the party workers and MLAs to stop hero worshipping and start worshipping the party instead.

The deputy chief minister and KPCC chief Dr G Parameshwara and the party stalwart M Mallikarjuna Kharge have also asked Siddaramaiah to cooperate with the JDS to ensure that BJP will not take the advantage.

A senior Congress leader said "if the BJP makes a re-entry into Karnataka, Siddaramaiah will be solely responsible for that. He has spoken so much against BJP, RSS, Hindutva, Modi and Shah in the last five years. If he is really a secular leader and against them, he must prove that by backing the coalition government fully. His personal issues with the Gowda clan should not come in the way. But like Nitish Kumar, he is also from the Janata Pariwar background and he can do anything".

To pre-empt any moves by Siddaramaiah the father – son combine of the Gowda – Kumaraswamy are reportedly keeping the back channels open with the BJP. Lehar Singh, BJP MLC and a close confidante of Yeddyurappa met Deve Gowda on Thursday triggering all kinds of speculations. Later Singh told News18 that it was just a courtesy call and nothing to do with the state politics.

The state Congress wants party chief Rahul Gandhi to prevail over Siddaramaiah reminding him that he made him the chief minister for full five years and gave him a free hand.

The powerful religious leaders have also joined the issue by warning the political leaders. A Vokkaliga seer Nanjavadutha Swamy has warned both Siddaramaiah and the BJP not to destabilise the Kumaraswamy government. Hitting back at him a Kuruba seer of Kaginele Niranjanananda Swamy has warned the Congress of dire consequences if they ignore or insult his caste leader Siddaramaiah.

Write Comment
|

E-Mail
|
Facebook
|

Twitter
|

Print