Ray of Hope for cancer patients at Justice K.S. Hegde Charitable Hospital
Mangalore Today News Network
Mangaluru, Aug 28, 2018 : Cancer treatment generally involves the use of either or combination of surgery, drugs (chemotherapy) and radiation. In spite of all these modalities, cancer treatment still remains a challenge specially in advanced stages when the malignancy has spread to other areas of body. Newer technologies and innovations aimed at better compliance and treatment outcomes are being evolved for improving quality of life of cancer patients and cancer survivors. One of such modern technologies is Hyperthermic intraperitoneal chemotherapy (HIPEC).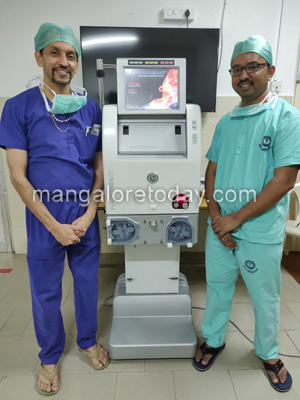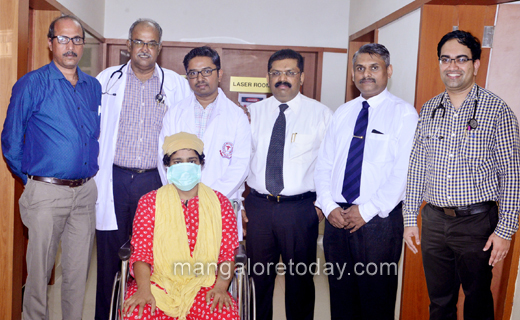 HIPEC is a technique where highly concentrated cancer drug is heated and delivered directly into the abdomen during surgery. Unlike the conventional chemotherapy in which drugs are infused into blood though the veins after surgery to destroy cancer cells, HIPEC on the other hand, delivers the chemotherapy directly to cancer cells in the abdomen. Heating the solution also improves the absorption of chemotherapy drugs by tumor cells and destroys microscopic cancer cells that remain in the abdomen after surgery as they are not revealed to the eye during conventional surgery.

45 year old lady Rani (name changed) underwent surgery and chemotherapy for ovarian cancer 8 months back, but cancer recurred and it was spreading to all parts of abdomen.

The HIPEC procedure was performed on her as per the international guidelines using dedicated HIPEC machine imported from Italy and procedure took around 15 hours. Patient is recovering after the operation. The specialists were trained in HIPEC from NCI Milan, Italy and AIIMS, New Delhi. The procedure was done by Dr. Vinay Kumar Rajendra, Surgical Oncologist & HIPEC Specialist alongwith the team of Oncologists Dr. Vijith Shetty ( Medical Oncologist), Dr. Jayaram Shetty( HOD Radiation Oncology), Dr. Ail Sandeep and Dr. Mallikarjuna Rao, a team of Anaesthesiologists headed by Dr. Sripad Mehandale and surgeons of Justice K.S. Hegde Charitable Hospital headed by Dr. Rajashekar Mohan.

In this procedure it is important that the recommended drug concentration and temperature is achieved, if not the treatment would be ineffective. More so any variation in drug dosage or temperature variations could be fatal. Hence this procedure is to be performed at a tertiary care center where skilled and experienced staff are available.

Justice K.S. Hegde Charitable Hospital takes pride in informing that we are one of the first few cancer centers to use this technology at subsidized prices, at about 1/5th of the cost, which is currently ranging from 8 – 10 lakhs without compromising the safety and quality in any way. Availability of skilled and experienced doctors who can perform modern and complex procedures such as HIPEC, and affordable costs have instilled a new ray of hope among cancer patient even in advanced stages of the disease.

Medical Superintendent of Justice K.S. Hegde Charitable Hospital Major (Dr) Shivakumar Hiremath and K.S. Hegde Medical Academy Dean Prof. (Dr) P. S. Prakash congratulated the team of doctors who performed the procedure. Prof. (Dr) Jayaprakash Shetty, Vice Dean (Admin) KSHEMA was present and wished the patient to get well soon.

Write Comment
|

E-Mail
|
Facebook
|

Twitter
|

Print