Rationalist Prof. Narendra Nayak debunks Baba Ramdev claim
Mangalore Today News Network
Mangaluru, Dec 3, 2019: In yet another effort to demystify the high sounding claims of god men, Prof. Narendra Nayak, the president of Federation of Indian Rationalists Associations (FIRA) has come out with a scientific explanation to Baba Ramdev's claim that Tulasi leaves have the power to neutralize the radiation emitted by cell phones.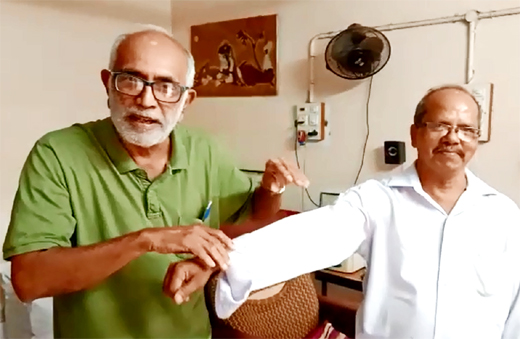 Recently a video has been doing the rounds on WhatsApp and other social media about how cell phone radiations 'weaken' people. The yoga guru Ram Kishen Yadav more popular by his name Baba Ramdev had shown in a demonstration supposedly held in Udupi about how a man's arm can be bent easily when he has cell phone in his hand. Then, after he (Baba Ramdev) puts a Tulasi leaf into the cell phone cover, he goes on to show how difficult it is to bend his arm. The demonstration purports to prove how Tulasi leaves have the power to protect people from the alleged harmful effects of radiation emitted by cell phones.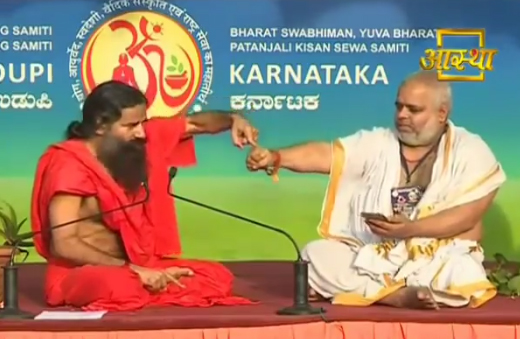 In order to expose this as a false claim made by Baba Ramdev, Prof. Narendra Nayak has released a video in which he demonstrates Ramdev's claim as unfounded. In the video Prof. Nayak holds a volunteers hand and bends it quite easily. Then he pulls out a mobile phone and inserts it in the volunteer's pocket. Then he hold up his hand shows how it has become strong and unbendable. This is quite opposite to Ramdev's act where the presence of a cell phone supposedly makes the person weak and the same person instantly become strong after Ramdev protects the phone with Tulasi leaf.

Explaining the phenomenon, Narendra Nayak says: "This is called applied kinesiology in the West and it is often used by quacks. In the West they call this technique as muscle testing, in which the arm is bent easily or with difficulty as wanted by the manipulator. The volunteer who offers his arm has nothing to do with the outcome. The same was done at IIT, Kanpur by another so called guru Ravi Shankar. The incident happened several years ago and the video has been removed from the net. But the photo is still with us. Looks like the so called gurus who shout from rooftops about wisdom of the East and ancients have to resort to tricks of quacks from the decadent West!"

Prof. Narendra Nayak's video has gone viral on social media and created quite a stir.


Write Comment
|

E-Mail
|
Facebook
|

Twitter
|

Print