Rarest of the rare, unique display of rosaries thrills the city
Mangalore Today News Network
Mangaluru, Nov 10, 2017: In 1569, the Dominican Pope Pius V, officially established the devotion to the rosary in the Catholic Church. Co-incidently it was, just a year befor, in 1568 that the Catholic Church, was established in Mangaluru.....a forerunner of the Rosario Cthedral seen now here. a prelimeinary to the 450 yrs celebrations in 2018; yesterday November 9, 2017 saw a unique exhibiltion of more than 50,000 thousand rosaries and related religious articles with mint information on display at the spacious Rosario Cathedral Cultural hall. Most of the collection material and motivation came from a Keralite enthusiast Sabu Caiter and family who were very present and interacting with delighted visirotrs who pured in and the popularity is set to grow before the exhibition closes on Nov 12, Sunday evening.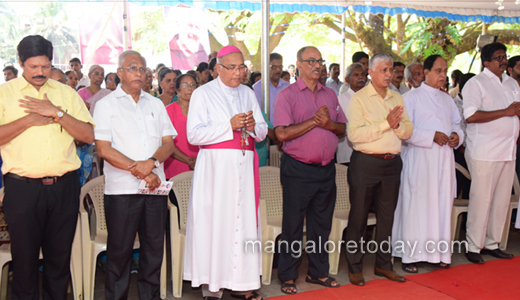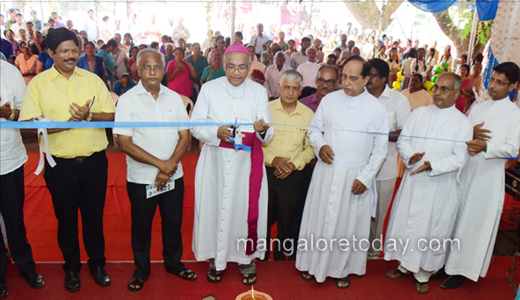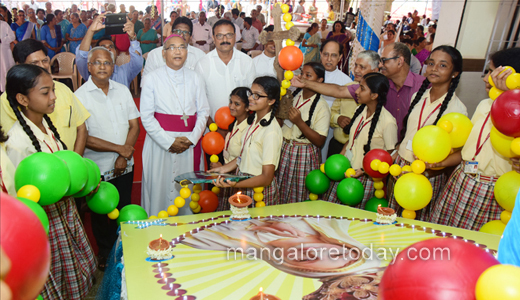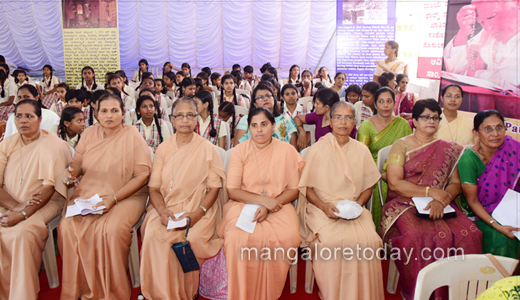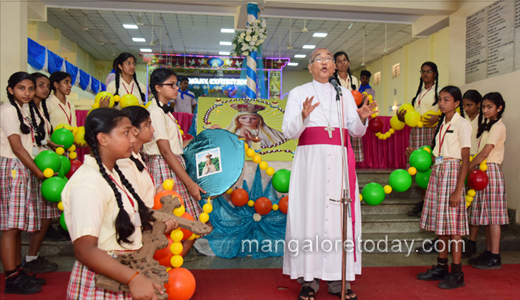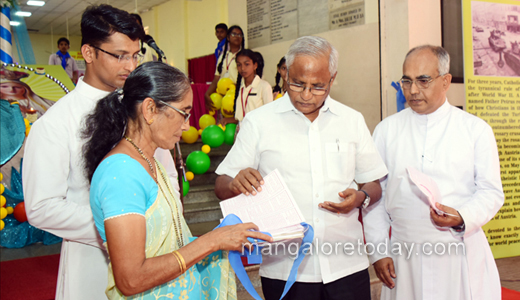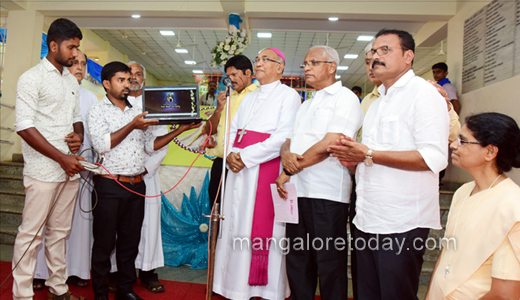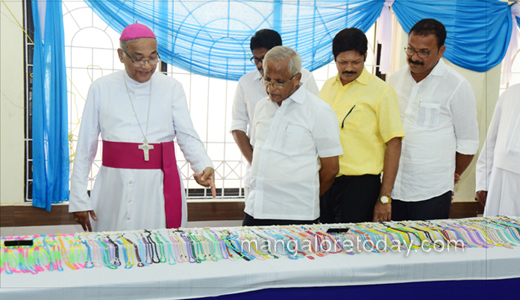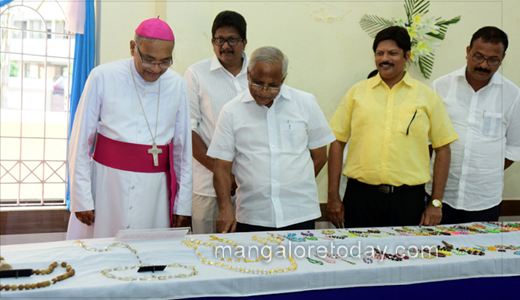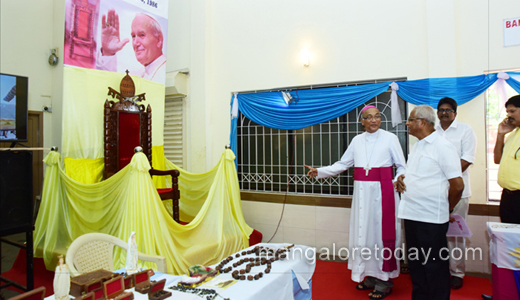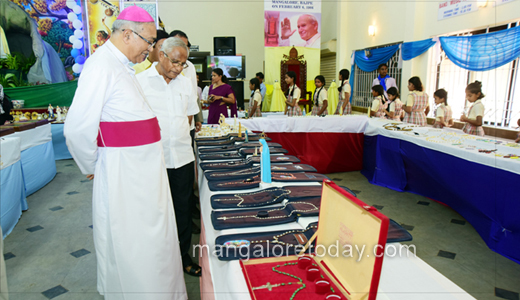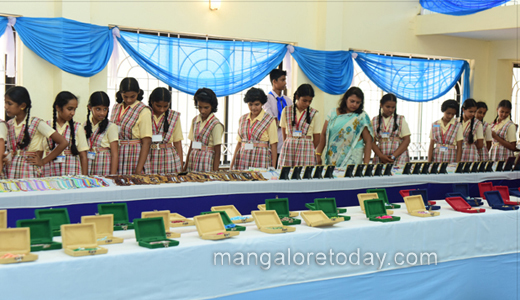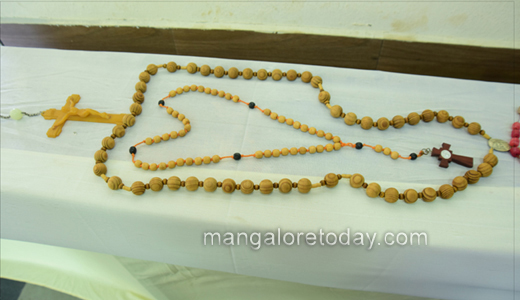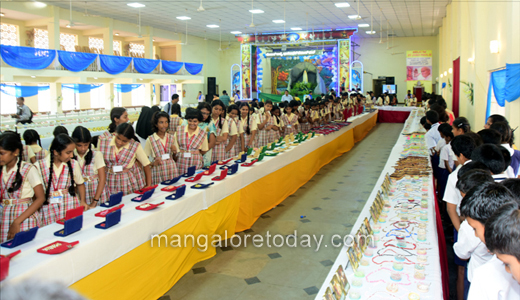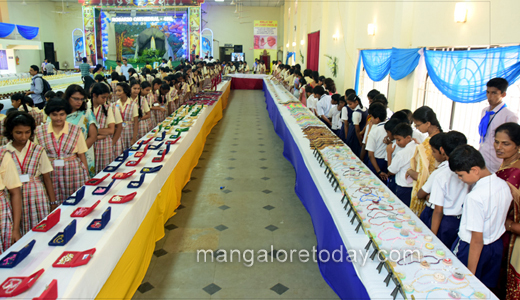 Sabu Caiter, a rare collector of rosaries from Parur, Ernakulam, Kerala. He told this correspondent the exhibition aims to motivate people to return increase the practice of family prayers, specially use of the Holy Rosary, devotion of Mother Mary. See the picture here of Mr.&Mrs Sabu Caiter, a picture here shows him holding in his hand a rosary costing about 5 lakhs, made in Singapore with white gold and red diamonds.

Sabu's passion goes back to 1981 when he was handed over a rosary from his grandfather who was on his deathbed. collection started by receiving two rosaries from Velankanni. His collection of rosaries are gifted to Sabu by Popes, Bishops, Cardinals, Priests, Nuns, relatives and from his friends across the globe. He said he adds new and unique rosaries to his collection often. He has been fortunate enough to be gifted with rosaries used by Saint Mother Teresa, which she handed him over, in person.

His prized possession includes the rosary given to him by Pope Francis. His request to Pope Francis, for a rosary, bore also a special blessings from the Pope, not only in the form of the Rosary which he wanted but also in the form of a Holy Cross, a memento and a letter by the Pope, for Sabu's commendable work.

Rarest of the Rare : No two rosaries are alike; Each rosary is different from another in colour, size, design, material and other things. Some were special from the point of their antique value. There are 800 such old rosaries. Three hundred are from Vatican City alone.

The exhibition has 9,000 certified rosaries. There are also Holy Rosaries from Jerusalem, Bethlehem, Fatima and Lourdes. Rosaries made out of rubber, wax, stone, Crosses, and also 'Rudrakshi', took the onlookers by surprise. The unique collection also features a credit card rosary, used by soldiers in Saudi Arabia.

Sabu has organised this exhibition in the city for the first time. He said he has displayed his rosary collection in Bengaluru and Mysuru, apart from Tamil Nadu and Kerala. He is planning to go to Mumbai next week. He has also exhibited his collection in 150 churches. Incidently this one here at rosario is his 125th major exhibition.

His wife Benetta and son Francis Aghil are also contributing to the collection, he added. Sabu, who has stock market background, felt that the blessings in the form of rosaries matter him a lot. His collection, in that way, is priceless, he added. He also has the hobbies of collecting idols of Mother Mary.

Rosaries made of gold, silver, ruby and emeralds. Some are made of tulsi leaves, coir, and olive wood. My most astonishing rosary is one in which there are a thousand beads. A friend from Kerala made it especially for me, and this Rosary is special for our family.. I am a ardent devotee of Mother Mary, having prayed more than a lakh times using this rosary. Mother Mary means everything for me. The most unusual rosary is the one made in the USA. It is called, 'Unborn child'. Each bead represents Mother Mary's tears for aborted children," said Sabu. In 2002 Pope John Paul II introduced the Luminous Mysteries as an option in an Apostolic Letter on the Rosary, Rosarium Virginis Mariae.

The show was opened to public by a team of dignataries lead by Mabgalore bishop Dr. aloysius Paul D'souza, now on the verge of retirement. Here seen are rosaries flowing, blessed by Saints, St John Paul the second and Mother Theresa. It also has nearly 200 statues of Mother Mary in different shapes and 100 Crosses, nearly 700 other statues and 400 Relics- all collections of Sabu, a layman. The exhibition is intended to help the devotees to meditate mysteries of Lord Jesus, strengthen our faith and look after our families with love. The Exhibition also includes those Rosaries that are blessed by St John Paul II and Mother Teresa. This is a first-of-its-kind exhibition in undivided Dakshina Kannada district and Sabu wants to enter Guinness world record by organizing more of such expos. His family has dedicated itself to organise such exhibitions across the country free of cost. I want a large number of Catholics to come and patronize this Expo.

The Rosary Exhibition was inaugurated by Bishop of Mangaluru Diocese Rev Fr Aloysius Paul D'souza, along with other dignitaries namely Msgr Denis Moras Prabhu, the Vicar General of the Diocese of Mangaluru; MLA J R Lobo, Roy Castelino- Former President of Karnataka Konkani Sahitya Academy; Sabu Caiter, among others, by cutting the ribbon and lighting the Diyas placed around a Rosary. Addressing the gathering the Bishop said, " We should be all grateful to Sabu for his efforts in collecting thousands of Rosaries, and today displaying them at this Expo for us to view. Like Pope John Paul II had said that Rosary was his favorite prayer, we also need to follow in his footsteps and say Rosary daily and gain many blesings.


Write Comment
|

E-Mail
|
Facebook
|

Twitter
|

Print