Rare bird 'Crab plover' photographed at Mulki first time in Karnataka
Mangalore Today News Network
Mangaluru, Dec 25, 2017: The Crab Plover or Dromas ardeola is a strange bird. While it is grouped with waders, it seems to be a strange combination of body parts from many different birds... nothing motivates birdwatchers or photographers into action more than the news that there is a Crab Plover in town.While photographers may go crazy over a sighting of the bird as this also happens to be the first time this was sighted in Karnataka.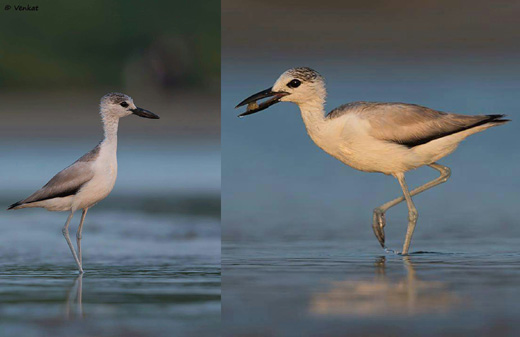 "I was overjoyed to have sighted this bird along with senior birders Arnold Goves, Avinash Adappa and Suresh Kamath. I was on business trip to Mulki and as on most trips, I always carry my camera with me in hope of capturing some rare species. After finishing my work I just planned to visit my usual spot Chitrapur beach .Arriving there I saw a flock of waders,Great knot and Gulls.


I drove along the sand flats behind the beach to get a closer look at the hoards of waders finally caught up with our most wanted bird, the CRAB PLOVER. It was truly a spectacular sight and one I have never experienced before, I stood mesmerized . As a birder It was always on my wishlist to shoot crab plovers which is common in Northern parts of India.They are winter visitors to Jamnagar, Kutch. This one was a juvenile as it is still showing grey plumage on the crown and wings. I immediately started photographing it . I was overjoyed as the trip felt complete now with this rare sighting.I even got an opportunity to shoot it while it was feeding on crab" said dedicated bird photographer and bird lover, about his exploit at Chitrapur Beach in Mulki on Dec 22, Friday; his two pictures can also be seen here. Ullal Venkatraya Mallya , who sent the information is an Industrialist ( rice Miller) of Mangaluru, whose Hobby is photographing wildlife/birds and is a great 'Birder too'.

Bird Information : A 'Plover' is a bird with a short tail and long legs that is found mainly by the sea or in areas covered with grass As their name suggests, Crab Plovers rely mainly on crabs to sustain their diet but will also take mollusks marine worms. Crabs are stabbed with open bill, then crushed and eaten. This is a species of shorebird that appears to resemble plovers (hence its name), but its relationships are confusing and unclear and they are being researched.There are many characters that are peculiar to this bird, but most impressive is its breeding habits. These birds dig a nest burrow in sandy banks and they rely on the sun to incubate their eggs for as long as 58 hours at a stretch. Another strange behaviour is that, after hatching, the chicks are unique amongst wading birds because they cannot walk. So the chicks remain in the nest for several days after hatching, whilst both parents feed them. After fledging, the chicks remain dependent upon both of their parents for a long time. Only a dozen or so crab plover breeding colonies are known and several of those that have been pinpointed have not been visited in recent years. Its distribution is very localized. Indeed, only nine nesting colonies are known in the entire world! Crab plover flies strongly, with wing beats rather slow. . At high tide, Crab plover use roosts with other shorebirds, or wade out among flamingos. They are also considered as noisy birds, calling frequently on their breeding and wintering areas.Crab plover lives on coasts of Indian Ocean. These beautiful black-and-white birds migrate to India's coasts in winters.It breeds on shore of N.W. Indian Ocean, Persian Gulf and Red Sea, and Somalia in April – July. Non breeders range Kenya, Tanzania and Madagascar, and Sri Lanka.

Crab Plovers though globally not considered as endangered species but Habitat loss and oil spills are the main threats that may endanger the survival of these crab-plover species..

Write Comment
|

E-Mail
|
Facebook
|

Twitter
|

Print